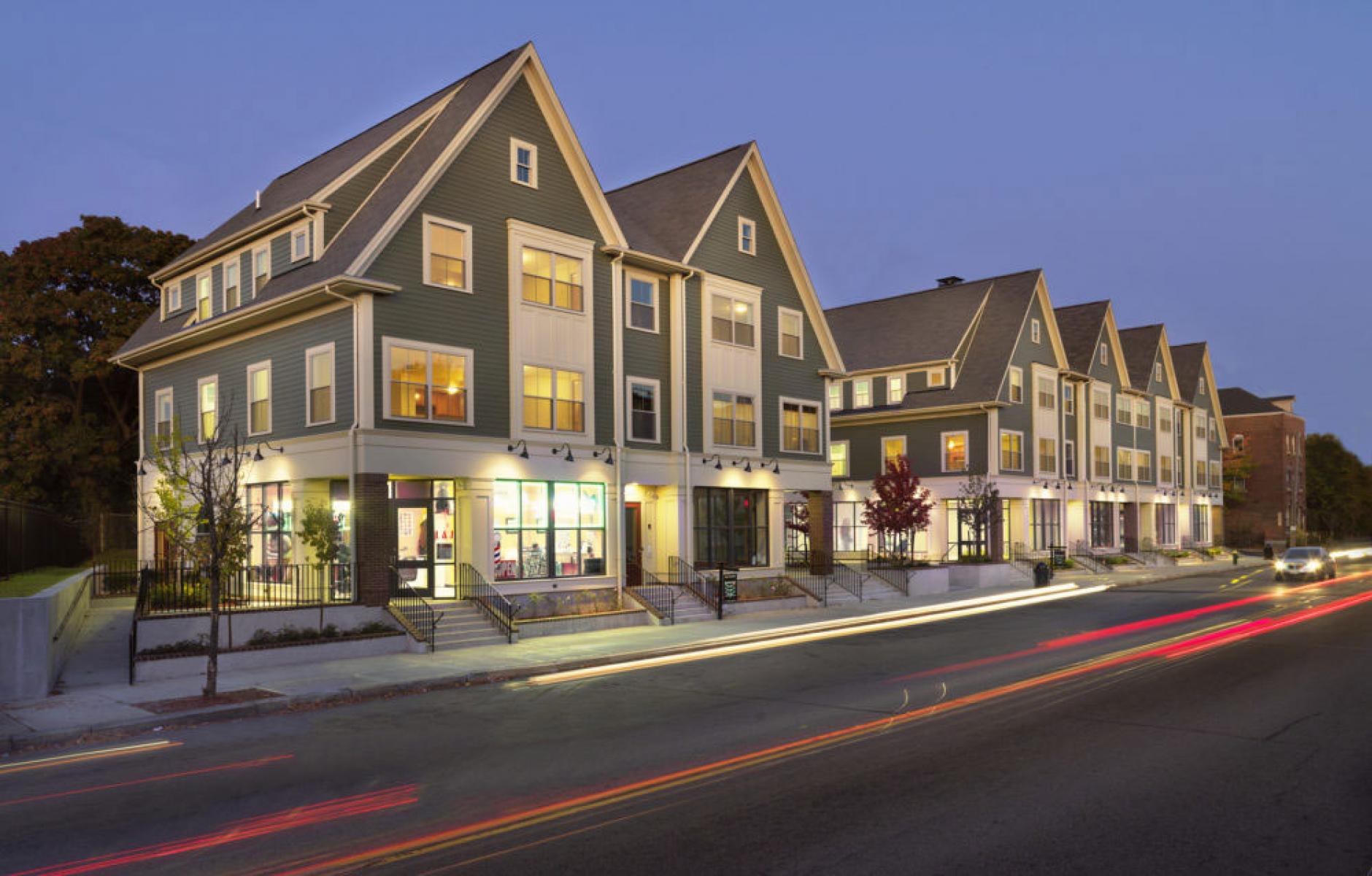 Capitol Square.
Achieving quality in affordable housing design
Note: CNU and Public Square are closed the week of June 5, following a successful CNU 31 in Charlotte.
Too often affordable housing looks like affordable housing, with mediocre-to-poor materials and details on the outside. In and around Providence, Rhode Island, Union Studio has been designing affordable developments that meet a much higher standard. Examples include the Trinity Place & Townhomes and Capitol Square, both in Providence, and the CNU Charter Award winner Cottages on Greene in East Greenwich, Rhode Island. 
For these efforts, the firm with offices in Providence and Philadelphia was recognized with the second annual Gindroz Award for Excellence in Affordable Housing from the Institute of Classical Architecture & Art (ICAA). Union Studio "draws inspiration from historic communities in American cities and towns, delivering on average 200 units of affordable housing annually," ICAA reports. 
Designing and building high-quality affordable housing poses unique challenges. In addition to architecture on a limited budget, quality affordable housing responds to neighborhood context, engages the community well, weighs social impact, and commits to building "neighborhoods for all," ICAA observes. 
In giving the award, the jurors were particularly impressed with three developments mentioned above.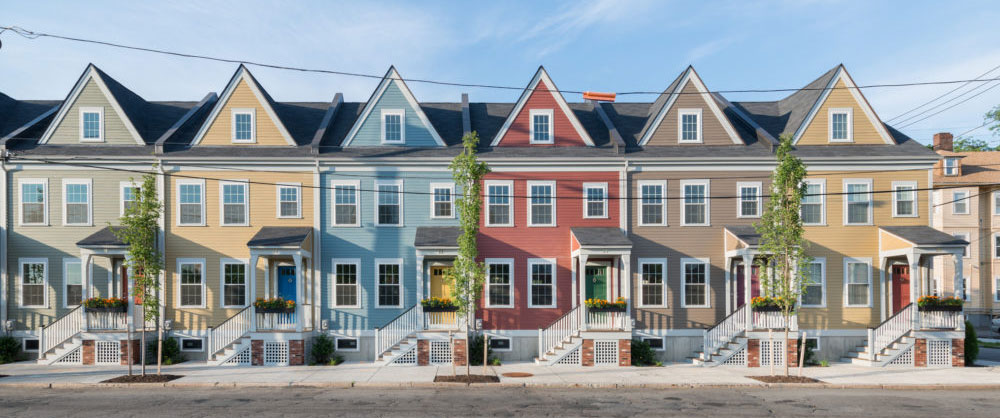 Trinity Place & Townhouses
This 24,000-square-foot development was built in 2015 by the nonprofit SWAP (Stop Wasting Abandoned Property). A derelict site in the West End of Providence was infilled with a new mixed-use building containing affordable rental apartments and retail space. The rehabilitation of four existing buildings nearby updated the aging housing stock. The second phase created homeownership townhouses on newly established adjacent lots. Together, these buildings help to revitalize an urban neighborhood in the heart of Providence.
Capitol Square
This 22,000-square-foot development includes 13 residential units and 5,500 square feet of retail (see photo at top) in the Smith Hill neighborhood of Providence. Designed to be a gateway to this historic neighborhood, these two buildings created much-needed affordable housing and economic opportunity to support the neighborhood's ongoing revitalization.
Cottages on Greene
This 2010 development includes 15 two-bedroom living spaces grouped around a central courtyard green near the main street of the small village—East Greenwich. Although Cottages on Greene appears to be a cluster of one-and-a-half-story free-standing cottages, they are a mix of free-standing single units, attached duplexes, and a three-unit townhouse, notes Union Studio. The range of unit types was built to provide attainable housing for new and existing residents looking for walkability and proximity to the village. The project demonstrates the type of strategic interventions key to re-centering small towns and suburbs, according to the CNU Charter Awards jury, which recognized this development in 2011.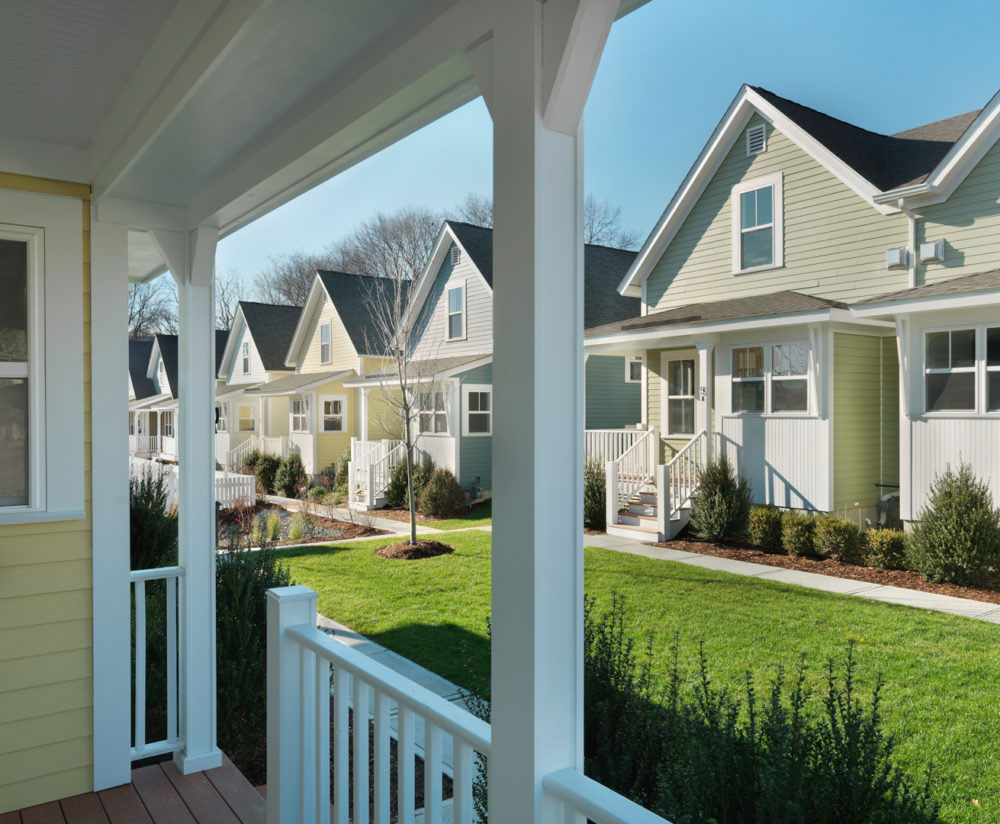 The government website Huduser calls Cottages on Green "privately financed infill development composed of mixed income housing located in the historic downtown of East Greenwich, Rhode Island."
The Gindroz Award is named for Raymond L. Gindroz, FAIA, co-founder and Chairman Emeritus of Urban Design Associates, whose 50-plus year career has been dedicated to improving the quality of affordable housing and the built environment. Gindroz is a former Board Chair of CNU.