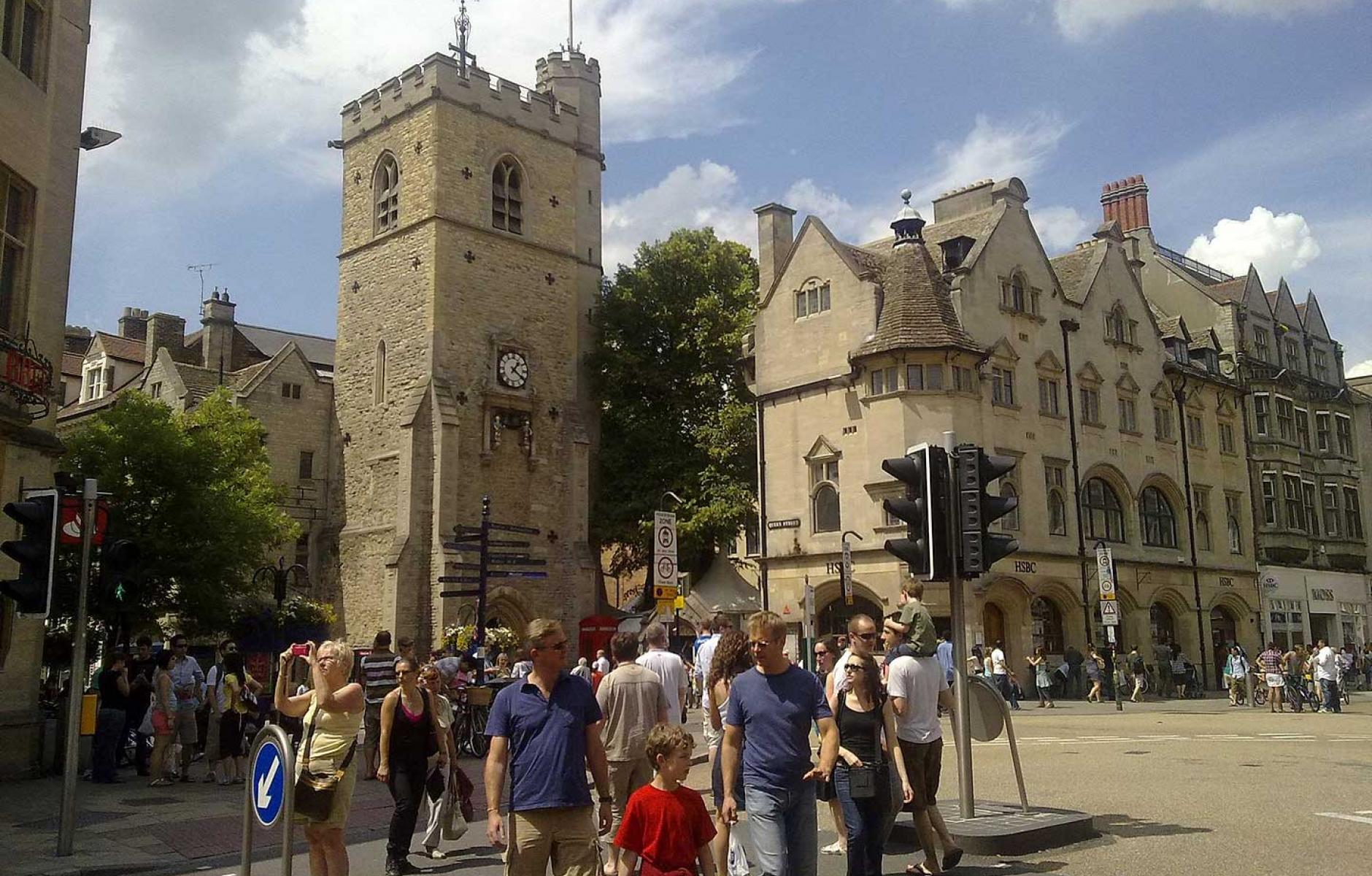 The center of Oxford, England, ground zero for 15-minute city conspiracies. Source: Wikimedia Commons.
Debunking the 15-minute city conspiracy
The 15-minute city has nothing to do with restricting freedom—it's about restoring freedom.
If you spend much time on social media, and you are interested in urban planning, you know that the "15-minute city" has recently been the subject of controversy and conspiracy theories. As one Instagram user claimed in a video that has 5,600 likes:
"You won't be able to use your own car on certain roads and highways without the government's permission and consent. You will be constantly monitored by surveillance cameras to ensure that you don't leave your designated residential zone without first being authorized to do so."
The controversy may remind urban planners of the brouhaha a decade ago over the UN's "Agenda 21," and the assertions that a non-binding worldwide sustainability document would take away personal freedom in local communities. Most community planners had never heard of Agenda 21 before they were faced with angry residents at public meetings. The connections were dubious and that storm dissipated over time.  

Similarly, the 15-minute city has nothing to do with restricting anyone's movement, surveillance cameras, or authoritarian control over people's lives. Two very good articles published today offer promise that the 15-minute city conspiracy can be debunked before it does much damage to legitimate planning efforts. The Associated Press published a piece today explaining the 15-minute city and how it came to be a source of controversy, called "FACT FOCUS: Conspiracies misconstrue '15-minute city' idea." (Disclosure: I was interviewed for this article.)
As AP writer Philip Marcelo explains, "The urban planning concept is simply about building more compact, walkable communities where people are less reliant on cars."
Paranoia over the 15-minute city taps into anger over COVID-19 lockdowns, the AP reports, and the term "was conflated with an effort to impose new traffic restrictions to ease congestion in and around the famous university community of Oxford," England. If you want the details on the traffic restrictions and why they are confused with "the 15-minute city," I suggest reading the article. 
The 15-minute city is also a goal in Cleveland, Ohio, where "there has been no talk of imposing new traffic regulations or restricting personal freedoms," AP reports.
Another good piece came out today on the controversy, in a British publication Conservative Home. Nicholas Boys Smith explains why conservatives need not fear the 15-minute city. 
Would you like to live in a more prosperous place? A neighbourhood where there are more local businesses, where shops do better, where the air is cleaner, where people are healthier, a neighbourhood which people move to, not from? Do you want your children to grow up readily able to go for a walk, to the shops, to friends a street or two away, not sequestrated from friends and family, sheltering timidly at home?
If the answer is yes, then you support the idea of the 15-minute city or (for it goes by many different names), the traditional village, market town, 20-minute neighbourhood, complete community, mixed-use neighbourhood, or a place of walkable gentle density.
As Smith explains, the 15-minute city is about increasing personal liberty and access, not restricting freedom. These two pieces are good resources for pushing back against unfounded theories.