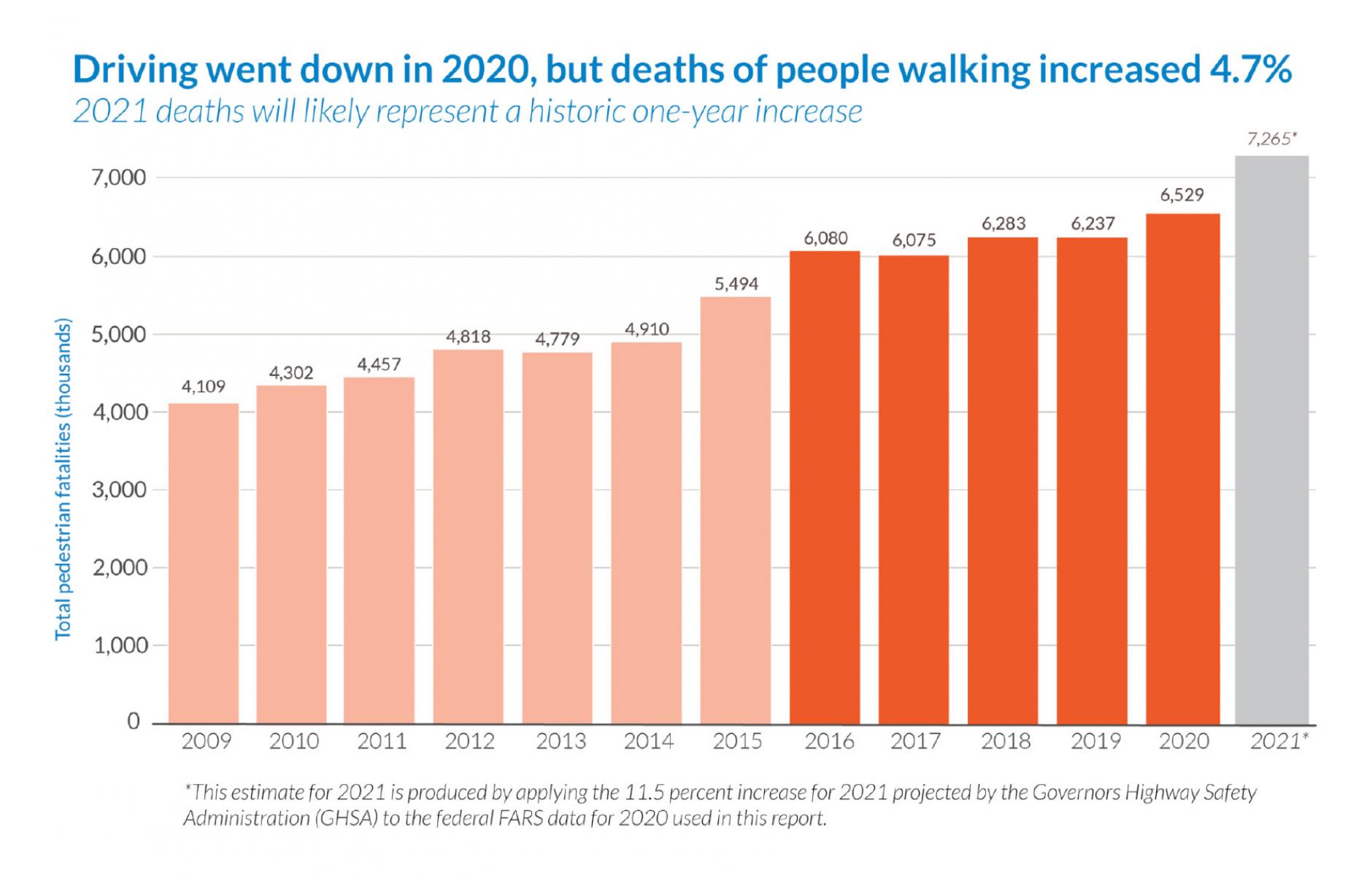 Graph of US pedestrian deaths. The actual number is higher (7,485) than the estimate for 2021. Credit: Smart Growth America, Dangerous by Design 2022
Changing street design is critical to reducing bike-ped deaths
Planner and author Jeff Speck argues that efforts to make our streets and roadways safer will fail unless the traffic engineering profession reforms its design practices.
The US is experiencing "a grave upswing of roadway deaths," and that trend is most pronounced among pedestrians and bicyclists, according to Jeff Speck. "Cycling deaths are up 44 percent over the past decade, and pedestrian deaths have risen a stunning 82 percent since 2009 — and that in the context of 115 people dying every day in car crashes," Speck writes in The Hill, a widely read political publication.
Speck's article is a stinging rebuke of the US traffic engineering profession. The audience is US policymakers, who have authority over the engineers who design public roadways, but they rarely exercise that authority. 
In building his argument, Speck points out that pedestrian fatalities in Europe have been declining for years. These trends diverge on both sides of the Atlantic even as US DOT allocates significant resources to reduce mortality and morbidity on US roadways. "Transportation Secretary Pete Buttigieg recently announced $800 million in grants to reduce traffic deaths (with $1.1 billion more on the way)," says Speck, a planner and author of Walkable City and Walkable City Rules.
This well-intentioned effort will fail unless our leaders address street design and the practice of traffic engineers, he argues. "For every deadly street that these grants make safer, American engineers continue to build dozens of new streets that are just as lethal," Speck writes. "The problem is not just a few streets, but rather an entrenched apparatus of practices and standards that actively welcome dangerous driving. For this reason, only a dramatic change to the traffic engineering profession itself will produce the safer cities and towns Americans need."
Speck summarizes three systemic problems that are responsible for the upward trend of American highway deaths, which fell in the latter 20th Century due to automobile safety features, but have been rising for the last 15 to 20 years. "Two of these – the proliferation of highway-fed suburban sprawl and 2.5-ton SUVs – have been well discussed, and would be difficult to fix," he explains. 
"The third factor would be easier to fix, but almost nobody is talking about it: the design of our roads, or, more precisely, the practices of the American traffic engineering industry. Put simply, the roadway design standards enshrined by our nation's professional civil engineers are unnecessarily deadly to the point of criminal negligence. It's time to place blame and demand change."
Yes, it appears that street design is the elephant in the living room of the persistent and rising problem of US roadway carnage.