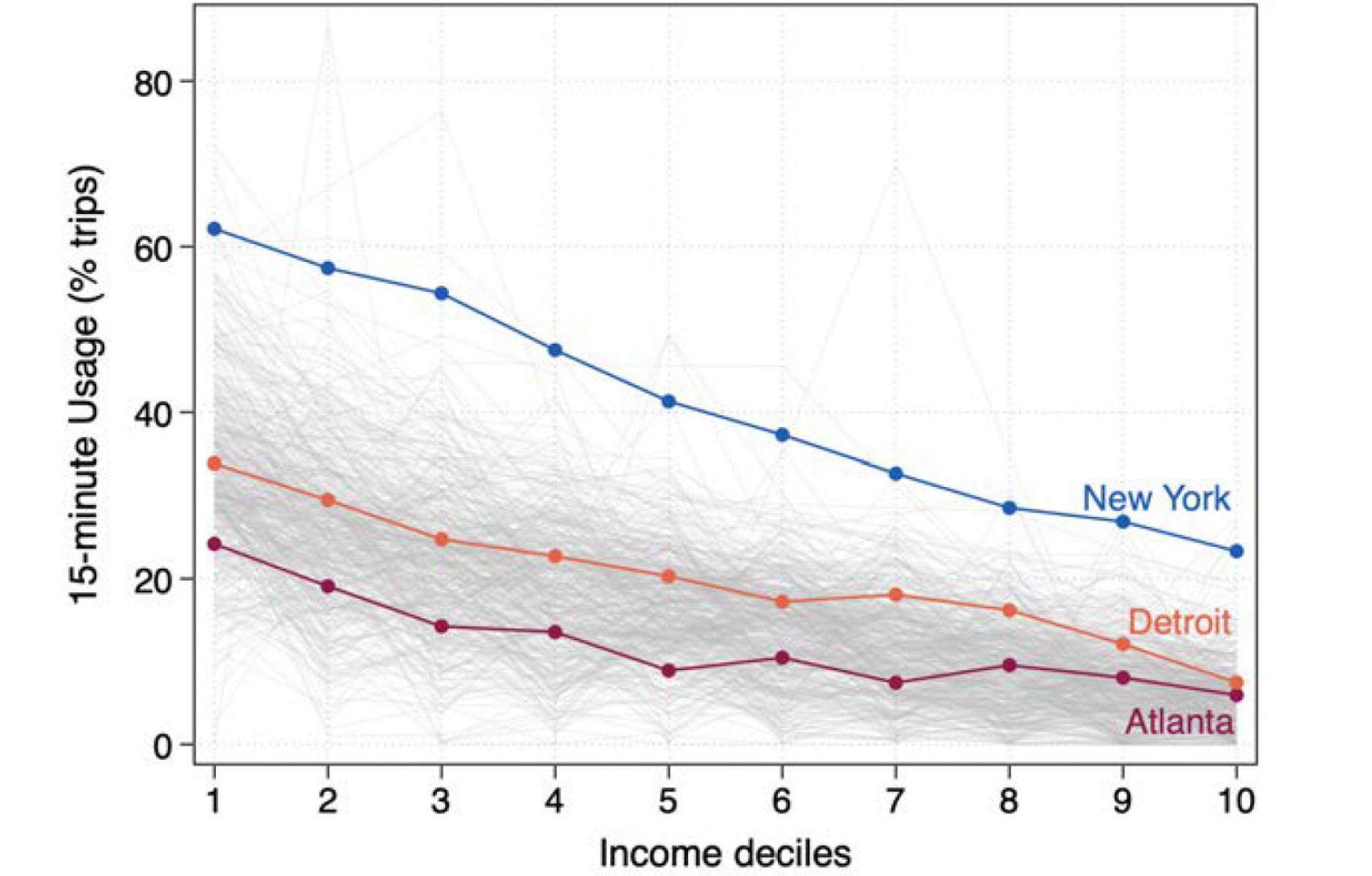 Source: Glaeser et al
Low-income people need '15-minute cities' the most
Those who think "15-minute cities" are for wealthy urbanites should consider this graph from a recent nationwide study. It shows a powerful reverse correlation between household income and use of services and amenities within a 15-minute walk of home. In other words, the wealthier you are, the less you rely on goods and services within your immediate neighborhood or adjacent neighborhoods. (You can easily afford to drive, or take a cab or Uber/Lyft to more distant locations). 
The graph focuses on three cities—New York, Detroit, and Atlanta—that all have a degree of walkability (much less so for the latter too, which explains why the overall numbers are highest for New York). Households in low-income neighborhoods in all three cities are much more likely to access critical goods and services within a three-quarter-mile (15-minute walk) radius of home.
The December 2022 study by Glaeser et al, The 15-Minute City Quantified Using Mobility Data, makes many important points. Americans, who mostly don't live in walkable places, travel surprisingly far distances for goods and services on average (7-9 miles for goods and recreational services). But here's a critical point revealed in the data—in walkable cities and towns, people need amenities within a 15-minute walk. That statement is even more true for moderate-to-low-income households. This makes sense when you consider the cost of automobile travel, which doesn't just include car payments and fuel, but also maintenance, insurance, licensing, parking, etc. Being able to reduce or eliminate driving costs, and do so with dignity, is very important for low-income people.
Planners who focus on equity need to focus on the 15-minute city, and make sure that a diversity of activities and uses are available within walking distance of people's homes—and that that walk is safe and comfortable.