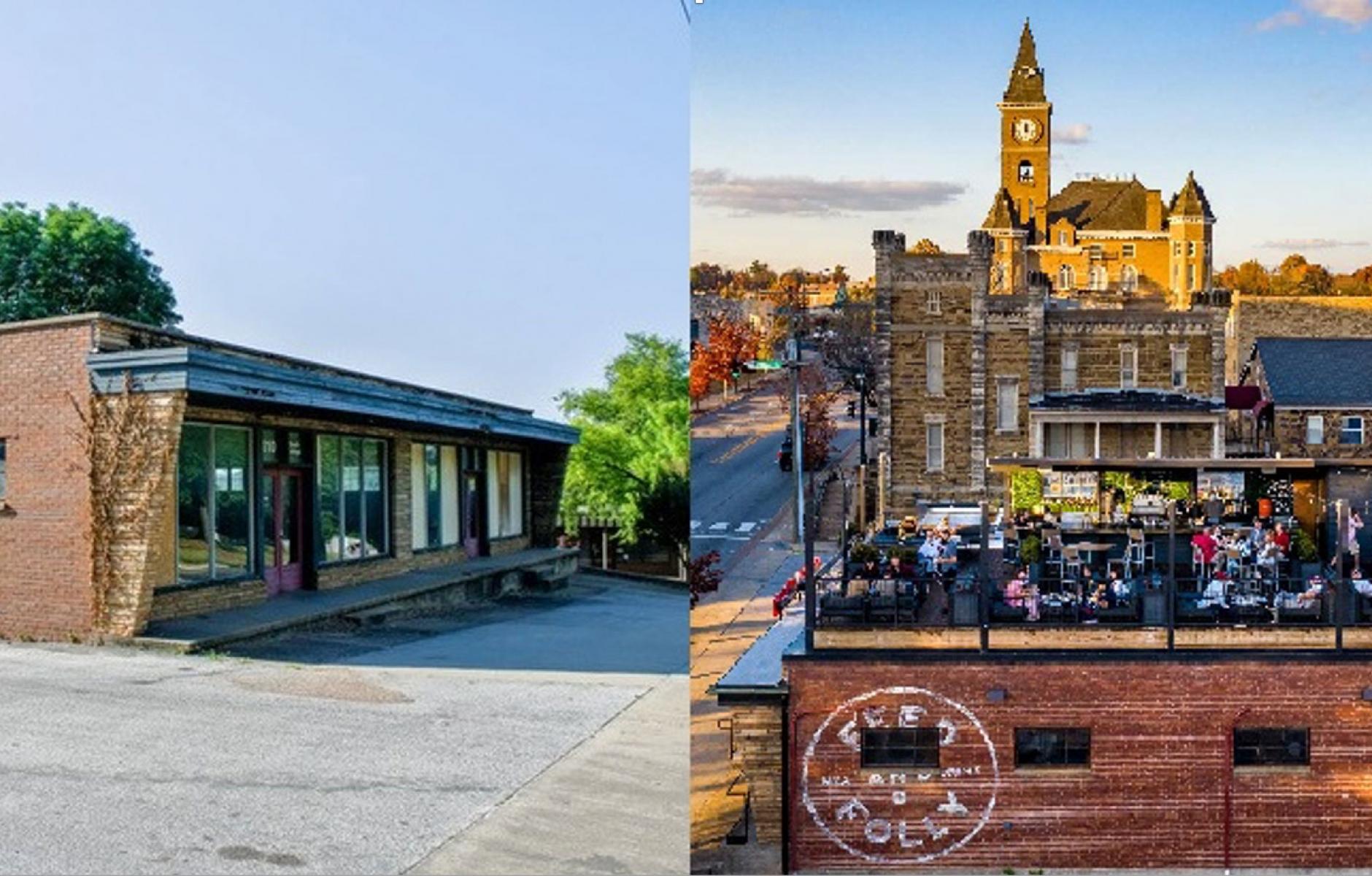 The elimination of commercial parking requirements in Fayetteville, Arkansas, made new projects possible, including the conversion of a long-vacant building into Feed and Folly restaurant. Credits: Katie Mihalevich, Realtor®; Courtesy of Feed and Folly.
Citywide parking reform enables reuse of vacant buildings
While some cities opt for a targeted approach to parking reform, Fayetteville, Arkansas, finds that a citywide policy change is transforming buildings that were long-vacant.
On the edge of downtown Fayetteville, Arkansas, a building that had stood vacant for nearly 40 years now houses a local restaurant with a rooftop patio. Down the road, a formerly abandoned gas station is back in use as retail space. The reuse of these once-forgotten properties was made possible several years ago, when Fayetteville's city council voted to remove commercial parking requirements citywide. 
While most cities start with reducing parking mandates in a central business district, like Hartford, Connecticut, did (see Part 2 in this series), planners in Fayetteville were fielding requests about properties throughout the city, and opted against defining a smaller boundary. At 44 square miles, Fayetteville is a fairly spread-out city of 95,000 people.
"As a city planner, you receive phone calls about what's possible with this property," Fayetteville planner Quin Thompson explained. "What I began to see was the same properties over and over again. Some of those properties were downtown, but a lot weren't." None of the parcels had enough space to meet the parking requirements in place at the time. 
The planning staff approached the city council with the idea of eliminating commercial requirements citywide. Some of these properties were so constrained, they explained, it was impossible to imagine how they could be redeveloped under the current rules. They also said investors taking on the financial risk of a project were best suited to determine their own parking needs, and would act as a backstop even when the city was no longer regulating off-street parking spaces. In October 2015, Fayetteville's city council agreed. 
What happened next? "The buildings that I had identified as being perpetually and perhaps permanently unusable were very quickly purchased, redeveloped, and are in use right now," said Thompson. "I can't think of any that are still out there that I had used as case studies that haven't been redeveloped." 
Thompson and his colleagues were right that the distinction between parking needs in a central city versus outlying neighborhoods can be arbitrary. In the lead-up to the removal of parking requirements in Edmonton in 2020, a citywide study of 277 sites found no clear geographic trend that related to how full parking lots were, even after factoring in variables like population density, walkability as measured by Walk Score, or drive-alone rate. Of all the sites surveyed, only 7 percent neared capacity at the busiest times of day. It was far more common for parking lots to remain half empty, as was the case for 47 percent of observed sites. 
In Fayetteville and other cities, eliminating parking minimums citywide has had another benefit: reducing administrative work and freeing up city staff to work on other things. "One of the things you find in American cities is that they've got all of these college-educated planners, many of whom actually have graduate degrees, and what they're doing is spending hour after hour processing parking variances," explained Siegman. 
Kevin Robinson was one of those planners, until he was hired as director of Planning and Development Services for Albemarle, North Carolina. To his surprise, the city had almost no parking requirements, having eliminated virtually all of them two decades prior. "However you came about it," he recalls telling city officials, "I think you're on the right track." 
Towns where he had worked previously had only reduced parking requirements in central business districts, not citywide. "From an administrative standpoint, it's a heck of a lot easier to deal with," said Robinson. "Quite honestly, a lot of times [parking minimums] are very arbitrary numbers," Robinson said. Now that he no longer has to enforce them, he has more time to spend on other aspects of development—including a downtown parking plan. He has plenty of data to rebut complaints that there isn't enough parking. Even at peak hours, public parking never gets more than half full, his heatmaps indicate.
Robinson acknowledges that eliminating parking minimums wasn't a cure-all: "We are still seeing far more parking being built than is absolutely necessary." Construction in Albemarle is picking up as people get priced out of nearby cities like Charlotte. In the last two years, this small city of 16,000 has approved permits for 3,000 new housing units, with another 1,000 in the works, including middle housing like duplexes and townhouses. 
Robinson is nervous that the parking requirements, which were discarded at a time when the city wasn't growing, might return as development accelerates. "I'm trying to keep them from going in that direction," he said.
This is Part Three in a special four-part Public Square series that highlights the growing wave of parking reform. © 2022. Lincoln Institute of Land Policy. From Shifting Gears Why Communities Are Eliminating Off-Street Parking Requirements—and What Comes Next, Catie Gould. Land Lines October 2022. Find the original article here.