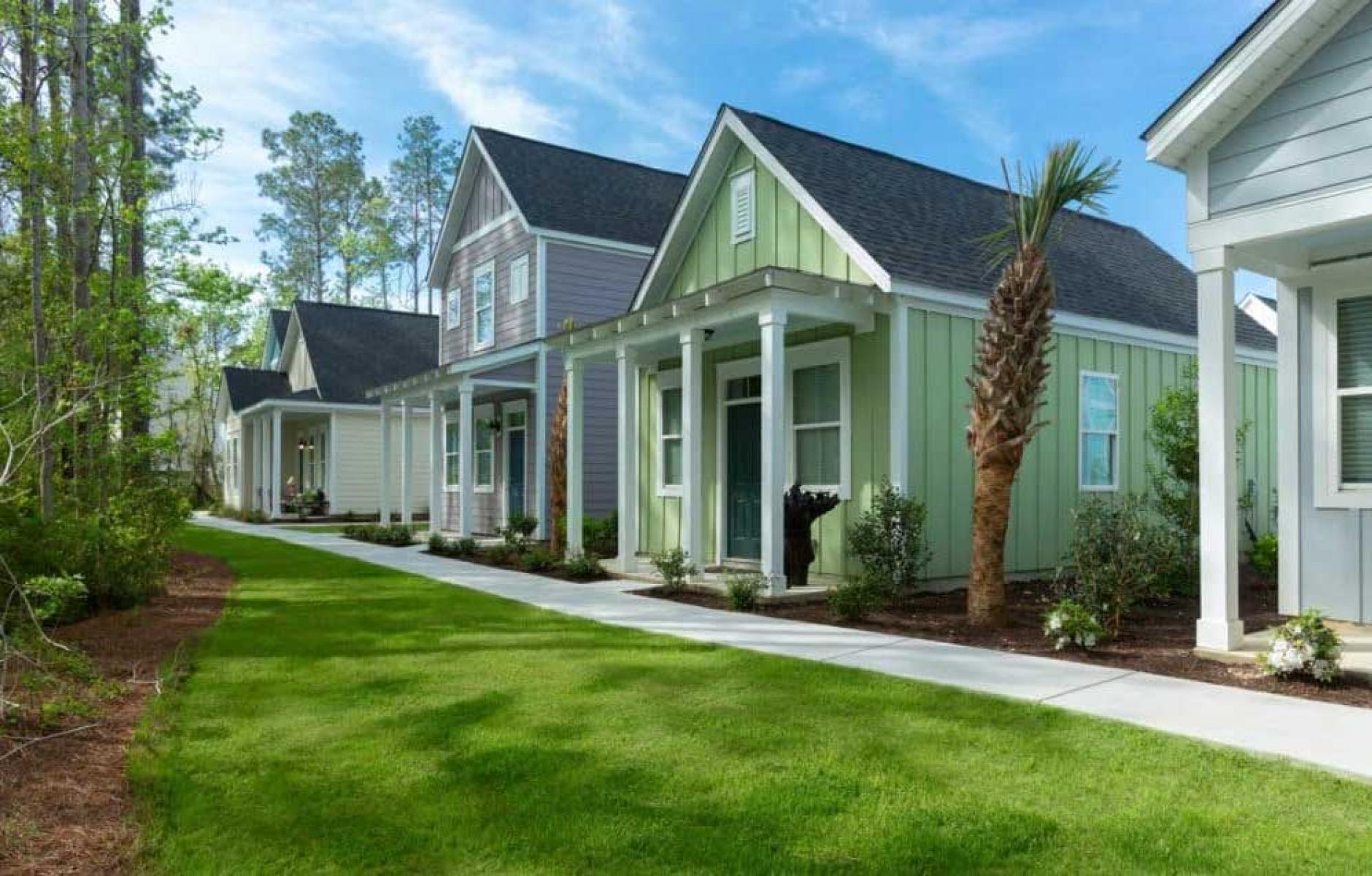 Cottages for rent in Gainesville. Source: Sands Companies
Building 'missing middle,' first step to suburban retrofit
For much of the last six or seven decades, we've seen limited housing options in suburbia—generally single-family housing for sale, or apartment complexes with units for rent. In Gainesville, Florida, a South Carolina developer is offering a different option—namely cottages, for rent, with the illustration showing them fronting pedestrian pathways. 
The cottages achieve a density of about 10 units per acre over the entire site, which is higher than a typical suburban subdivision. Although the area is conventional suburban in character, the 212 units are planned to be built within 500 feet—walking distance—of a Publix supermarket and a Starbucks. The developer, Sands Companies, is using a "missing middle" building type, the cottage court, that is more typical of New Urbanism than sprawl. 
Missing middle housing generally includes types that range from cottage courts to townhouses, stacked townhouses and flats, duplexes, triplexes, fourplexes, courtyard housing of various kinds, and small apartment buildings. These types exist in the middle density between production-built single-family subdivisions and large apartment complexes.
Typically, when "missing middle" is discussed, it is in the context in an older neighborhood, or a new neighborhood, that is mixed-use and walkable. In this case, the Gainesville project and its surroundings do not comprise a complete neighborhood by any stretch of the imagination. However, the development could be a first step toward a suburban retrofit process—and eventually something approaching a complete neighborhood. With a high demand for single-family rental, it also seems like a kind of project type that would make sense in many areas and communities. 
The developer is transplanting its model across state lines. "With this new project, Sands is bringing the model it has perfected in the Carolinas and Georgia to the Sunshine State," the company said in a press release. In other words, the developer has found the cottage rental format works in a variety of locations. 
The cottages will contain 1, 2, and 3 bedrooms, and range in square footage from about 500 to 1,700 square feet. There will be amenities—such as a clubhouse, pool, fitness center, and outdoor fire pit with kitchen. Rents will likely range from $1,400 to $2,800 per month.
The Gainesville location is near the intersection of West Newberry Road and NW 143rd Street.