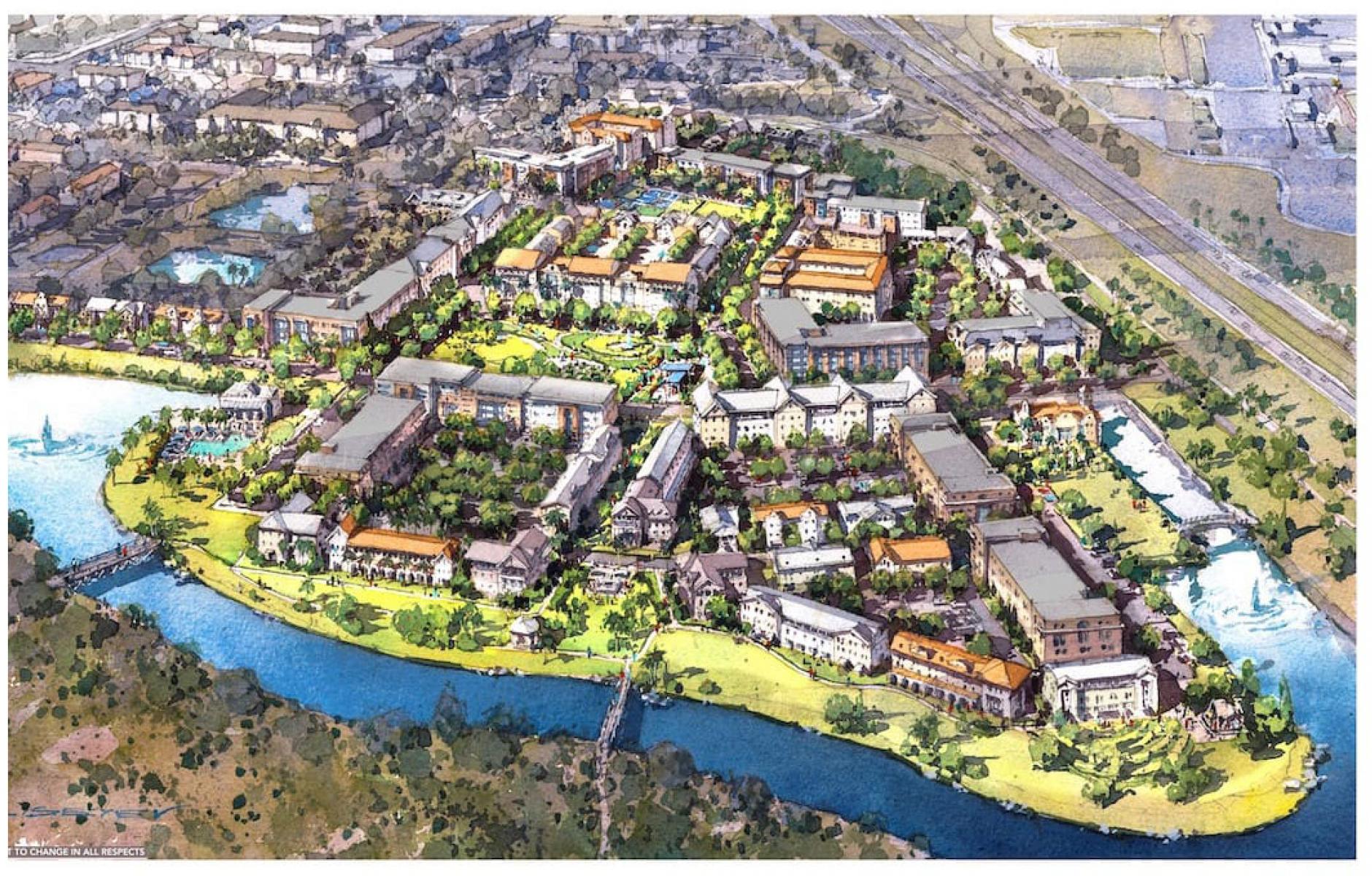 Affordable neighborhood designed for Disney
The entertainment giant has donated land to create affordable housing, and the chosen developer has envisioned a new urbanist neighborhood.
The aerial rendering above shows a new urbanist, affordable housing neighborhood that is proposed near Walt Disney World in Florida, sponsored through a land donation by Disney. The 1,300 units on nearly 80 acres will be built and operated by The Michaels Organization, a national affordable housing developer. 
The neighborhood is proposed to counteract rising housing prices in the Orlando region, a growing issue for Disney. The average housing price in the region is $360,000, an increase of 9 percent over the previous year. Housing prices rose dramatically with the pandemic. In early 2020, they were around $250,000—a far more attainable number for many Disney employees and their families. Disney announced that the neighborhood will be open to area applicants, "including Disney cast members." The development will be income-restricted.
The project is about two miles west of the Magic Kingdom, in an area that is a mix of agriculture, sprawl, and scrub forest and wetlands. Disney describes the land as "near schools and shopping," but those services are generally not walkable to the site. A high school is located on the other side of a limited-access highway, State Route 429, and the roads in between are not a pleasant stroll—although there are some sidewalks. A shopping center, Flamingo Crossings Town Center, is a mile or so to the south along automobile-oriented thoroughfares.
The neighborhood needs mixed-use so that something besides residential can be reached on foot. The new aerial rendering looks like mixed-use is planned in a walkable neighborhood, yet it is hard to be sure about specific uses. Older renderings that have surfaced indicate a similar approach.
It's not often that Disney announces real estate projects that are not part of its theme parks, so this is news. More than 25 years ago, the Town of Celebration was announced, a much larger project, about four miles to the southeast of this site. Celebration is famous for its neotraditional design, and it influenced many other developments.
Because Disney is involved, consultants are restricted from speaking to the media—so most of the information on this project comes from a Disney blog post, plus other public details. The Michaels Organization typically uses low-income housing tax credits (LIHTC), so that is a likely approach for the subsidized housing.