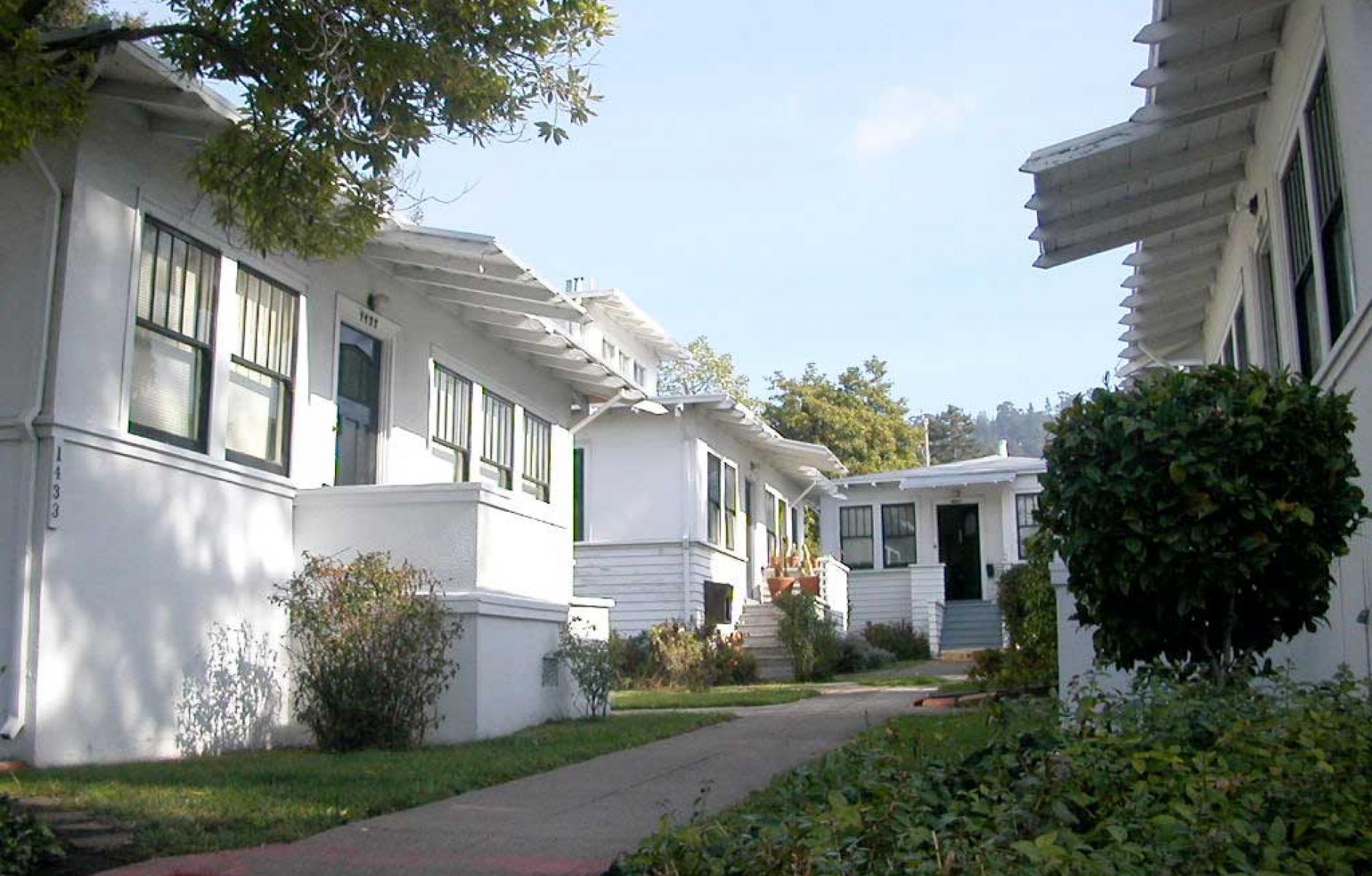 Missing Middle bungalows. Photo Credit: Opticos Design
Ending exclusionary zoning is one way out of our housing crisis
Reforming zoning to allow missing middle housing would create more paths to homeownership and mitigate a national housing shortage.
The US is experiencing a severe housing crisis that will require a wide toolkit of strategies to mitigate. A recent study released by Up for Growth estimates that there is a 3.8-million-unit housing shortage nationwide, affecting urban, suburban, and rural areas across the country, not just a few coastal cities. A major barrier to additional, affordable housing is exclusionary zoning. The New York Times estimates that on 75 percent of all residential land in the US, only a single-family house is permitted per lot. Most single-family zoning districts limit housing to extremely low-density, with miles of asphalt in between and no destinations within walking or biking distance. Exclusionary zoning was also used as a covert tool to prevent minority families from living in the same neighborhoods as white families. As cities and states look to fix the housing crisis and amending the systemic racism built into housing policy at the local and national scale, ending exclusionary zoning is an important strategy to consider. 
In comparison to single-family homes, other housing types, such as duplexes, triplexes, and fourplexes (also called Missing Middle Housing) can offer increased housing within walkable and bikeable contexts. Missing Middle Housing (MMH) types are great tools to increase housing because they blend in with single-family neighborhoods with their house-scale form. Exclusionary zoning prevents MMH through several types of regulations. Most obviously, land use is typically limited to single-unit homes in these zones. Restrictions on the number of units permitted per acre are often far too low to allow even the least intense MMH types. Even where multifamily is allowed, high parking requirements per unit make MMH types unfeasible. Fortunately, many cities are updating their zoning codes to remove these barriers to housing choices.
Many cities and states across the country have adopted zoning reforms or new policies to address exclusionary zoning. By zoning to allow MMH, paired with other anti-displacement strategies, cities can combat gentrification and allow residents to build value from within their communities. In Sacramento, California, all parcels are permitted to have 2 accessory dwelling units (ADUs) per parcel, with no parking required for each ADU. Sacramento is also including a Displacement Risk Assessment within its ongoing Missing Middle Housing Study to develop context-sensitive strategies to mitigate gentrification. Other cities, like Portland, Oregon, have adopted ordinances to allow duplexes, triplexes, and fourplexes on all single-family zoned parcels citywide while removing density as a standard and regulating by floor area ratio instead. As a part of Minneapolis' 2040 General Plan, new policies were implemented to permit up to three units on all residentially-zoned lots with minimum off-street parking requirements eliminated. Minneapolis also made financing available for buildings of two to twenty units of affordable housing through the Minneapolis Missing Middle Pilot program. The state of California has adopted numerous housing bills in the past few years to counter the housing crisis. Among them are Senate Bills 9 and 10, which together allow up to four units to be built on a single-family zoned parcel. As more and more cities and states adopt policies to change exclusionary zoning, how does this affect the average person?
These efforts to fix exclusionary zoning are great news for those with an entrepreneurial spirit! Although the cost of owning a home is very high, different financing strategies and the option to rent out additional units to offset a mortgage create more avenues for homeownership. Federal Housing Administration (FHA) loans are backed by HUD, reducing risk for lenders and lowering the down payment required. With a single-unit FHA loan, an individual could purchase their first home with a 3.5 percent down payment. From there, acquiring financing for ADUs to rent out can be easier since an individual can leverage their existing mortgage. Another alternative is for an individual to use a multi-unit FHA loan—this allows the purchase of 2 to 4 units (a duplex, triplex, or fourplex) with a 3.5% down payment if the owner will occupy one of the units for at least one year. Although both options are an investment, these financing options combined with the increasing number of cities allowing up to four units on a lot make for a great opportunity for those willing to explore the possibilities. Whether these additional units house family members or non-related tenants, these scenarios could not only increase the housing supply with new, more affordable housing alternatives to apartment buildings and single-family homes, but also allow homeowners to build equity with the rent they collect from additional units.
Note: This article first appeared in the ENU Newsletter, a newsletter written by Emerging New Urbanist members about topics and debates within the movement. Subscribe to the newsletter.