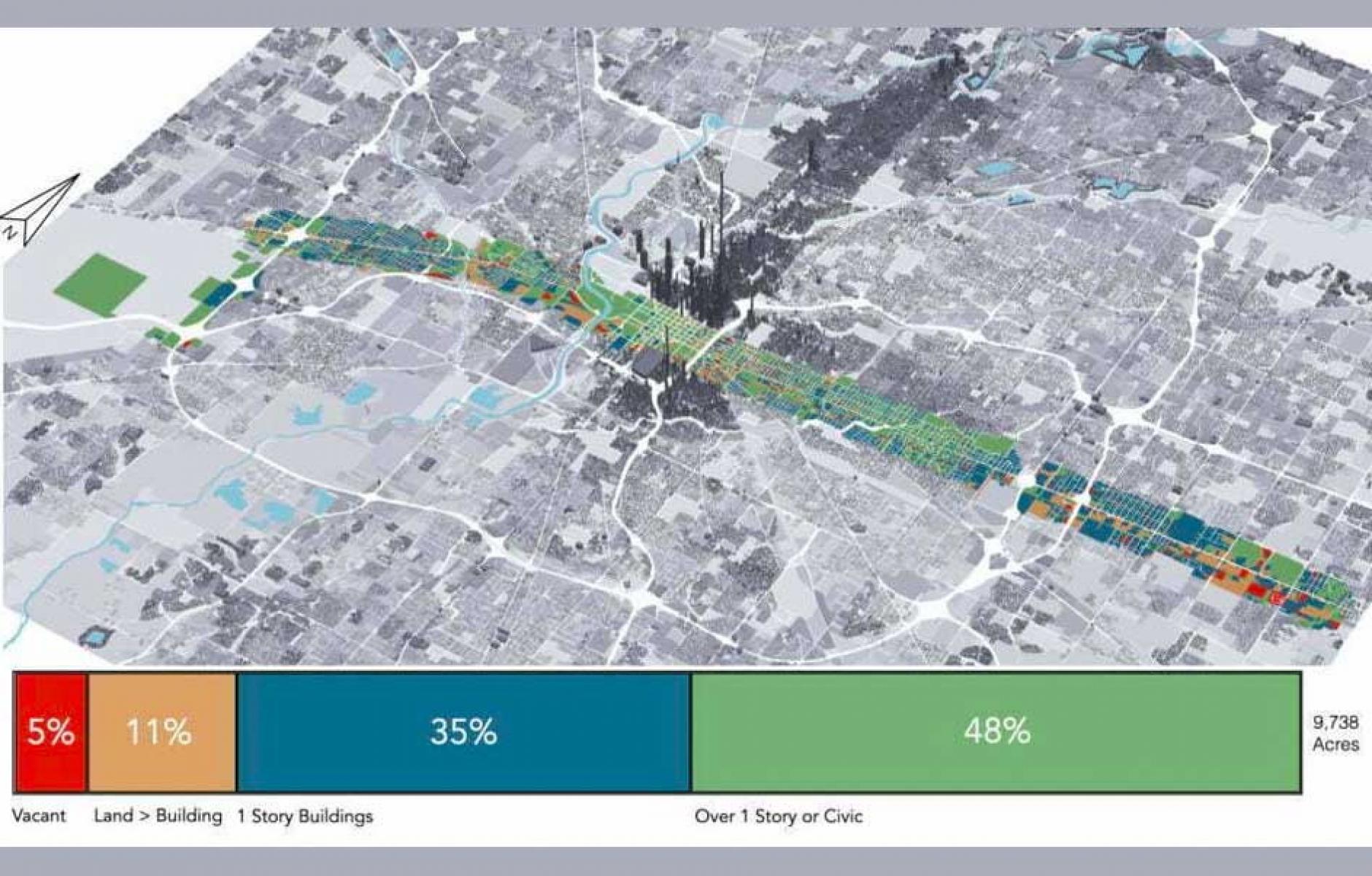 Urban3 analysis of BRT corridor in Indianapolis
Analysis furthers code reform in Indianapolis
Indianapolis has reformed its zoning along current and future Bus Rapid Transit (BRT) lines to support transit-oriented development, aided by a "geoaccounting" analysis, according to a report in Strong Towns. The analysis graphically showed land underutilization along the transit lines.
Urban3 found that a great deal of land within the study area was underutilized surface parking, 16% of properties within a half mile of one of the projected routes were either vacant or costing local taxpayers more than they generated. 35% were simply low-density, single-story structures. 
That means that more than half of the parcels closest to the planned rapid transit line were not equipped to absorb the demand that transit would attract, nor were they strengthening the fiscal position of local government.  
Urban3 and Multistudio examined existing zoning regulations for the city, and determined that they require too much parking (often two parking spaces per unit, while half of Marion County households own one or no cars). This drives an excess of the least productive land use in the city, generating only 73 percent/square foot of public revenues, the consultants said.
This analysis led to the reform overlay, which is in concert with other zoning reform in the city—such as enabling missing middle housing on lots in the pre-WW2 area. 
Indianapolis is revamping its transit strategy—moving from a hub-and-spoke system to more frequent crosstown service with BRT. The Red Line opened in 2019, the Purple Line is scheduled to open in 2024, and after that the Blue Line.