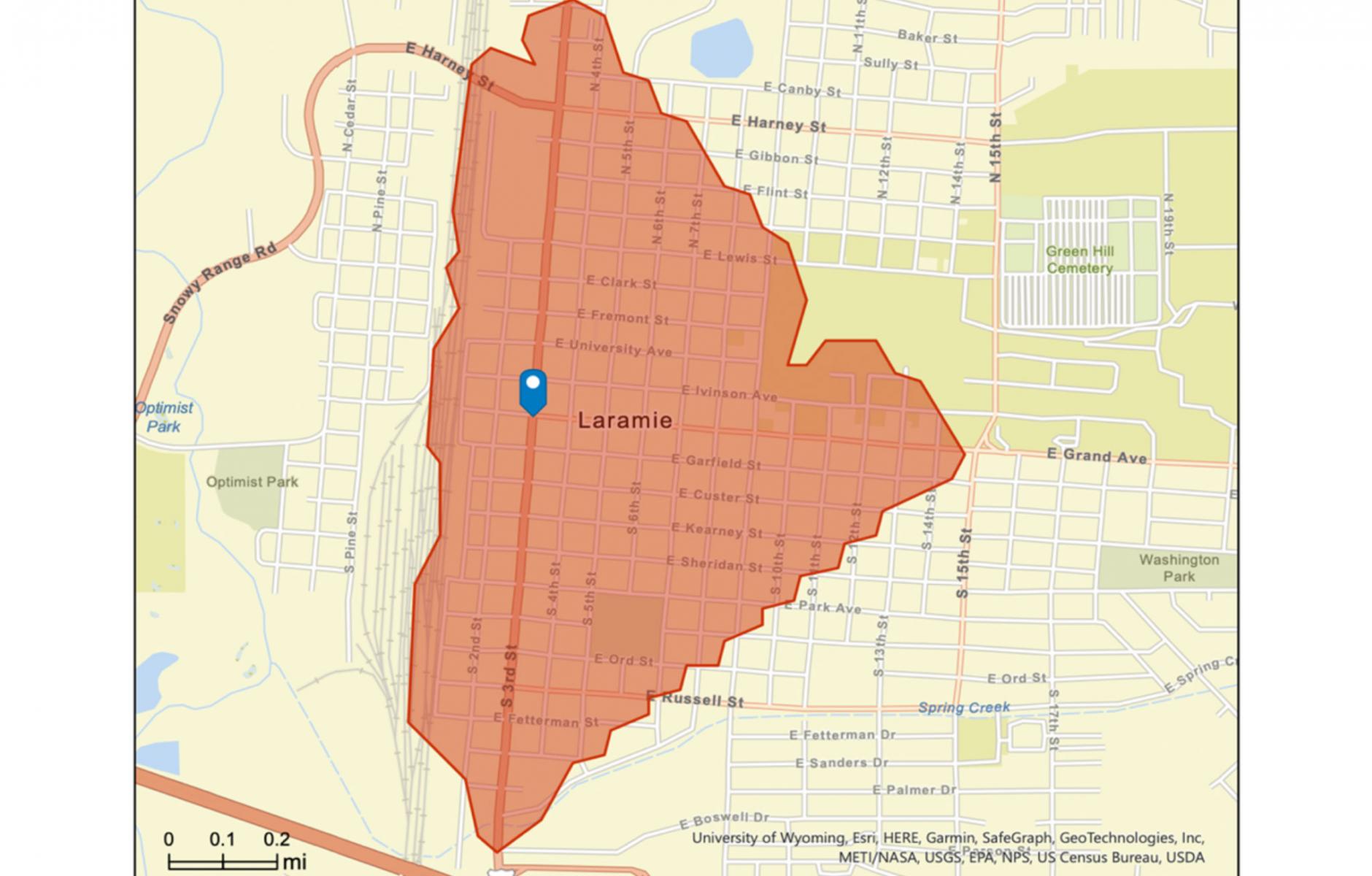 The downtown 15-minute walk shed in Laramie, Wyoming
A 15-minute city in rural America
Laramie, Wyoming, is a case study showing that the 15-minute city is a viable concept far from major metro areas.
Carlo Ratti and Richard Florida have argued that 15-minute neighborhoods and cities are only viable in highly urban areas.1 In a prior publication, I have argued that 15 minute geographies—neighborhood and city—should be viewed as being composed of 1) a basic Core Area and 2) many larger Associated Access Areas. The Core Area is defined by a 15-minute walk shed from some central point, with supportive services that meet many human needs and desires, but not all. The access areas are places core area residents can go to within a 15-minute trip of any kind. Core areas thus serve as a base for residents to access additional venues and places located well beyond its borders that additionally can meet its residents' needs and wants.
Rather than carrying over a specific transportation mode to define access areas, I carried over the 15-minute travel time constraint because of its implicitly strong association with providing the opportunity for enjoying a higher quality of life.2 A better quality of life is perhaps the most fundamental argument in favor of 15-minute geographies. 
Looking at Laramie, Wyoming, provides one compelling counter example to the Ratti-Florida argument, while providing an excellent example of a 15-minute city—and illustrating the connections between 15-minute geography cores and their associated access areas. Laramie's 15-minute geographies can help us refine our understanding of what such entities are, building up from what the real world shows us, and how they should be defined.
The City
Laramie is a geographically isolated city with a population of around 32,900. It is the home of the University of Wyoming. It lacks the population size and economic dynamism of similar university towns in Colorado and Montana, though it has strong quality of life. One of the nation's largest fiber pipes runs through it, with a university operated business incubator sitting on top of that asset. The local population is highly educated: 56 percent of the residents in the city have a bachelor's degree or better. Laramie has I-80 running through it, and is a major center for rail traffic, with a large rail yard bordering the western side of the downtown. It has an airport. The Snowy Mountain Range that offers many scenic views and recreational opportunities is within a 30 minute drive.
The nearest major employment centers are Cheyenne, a 50-minute drive; Rawlins, a 92-minute drive; Casper, a 144-minute drive, and Fort Collins, Colorado, a 66-minute drive. Cheyenne and Fort Collins also have major retail attractions.
The 15-minute drive shed
Laramie is a city easily contained within a 15 minute drive shed centered on the key intersection in its downtown. The drive shed contains greater area, but only slightly more population and businesses. See map below.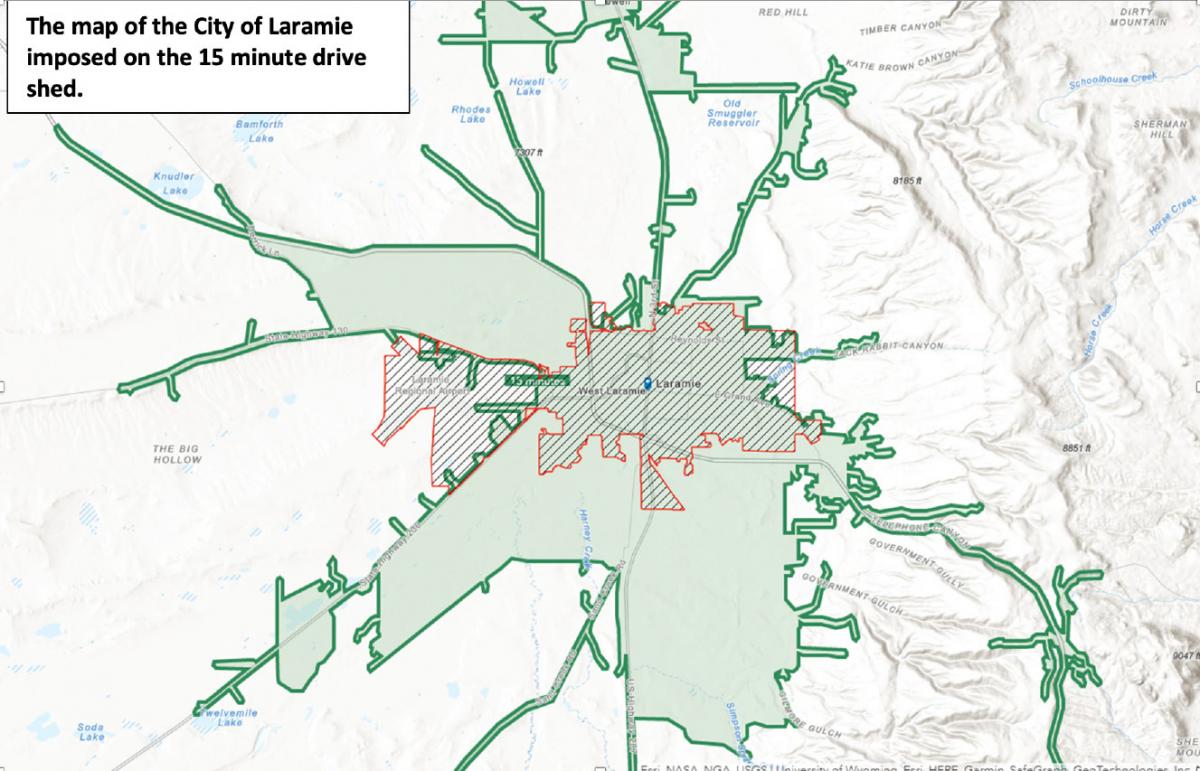 Economic characteristics
65.7% of those working in Laramie also live there
68.9% of those living in Laramie also work there. Both of these numbers are very high.
The average commute time is just 12 minutes!
79.7% of Laramie's residents commute via car, truck or van, 1.4% by bus, 10.6% by walking and
4.7% via taxi, motorcycle, bicycle, etc. The City has signed up with Bird for a trial program to provide e-scooters.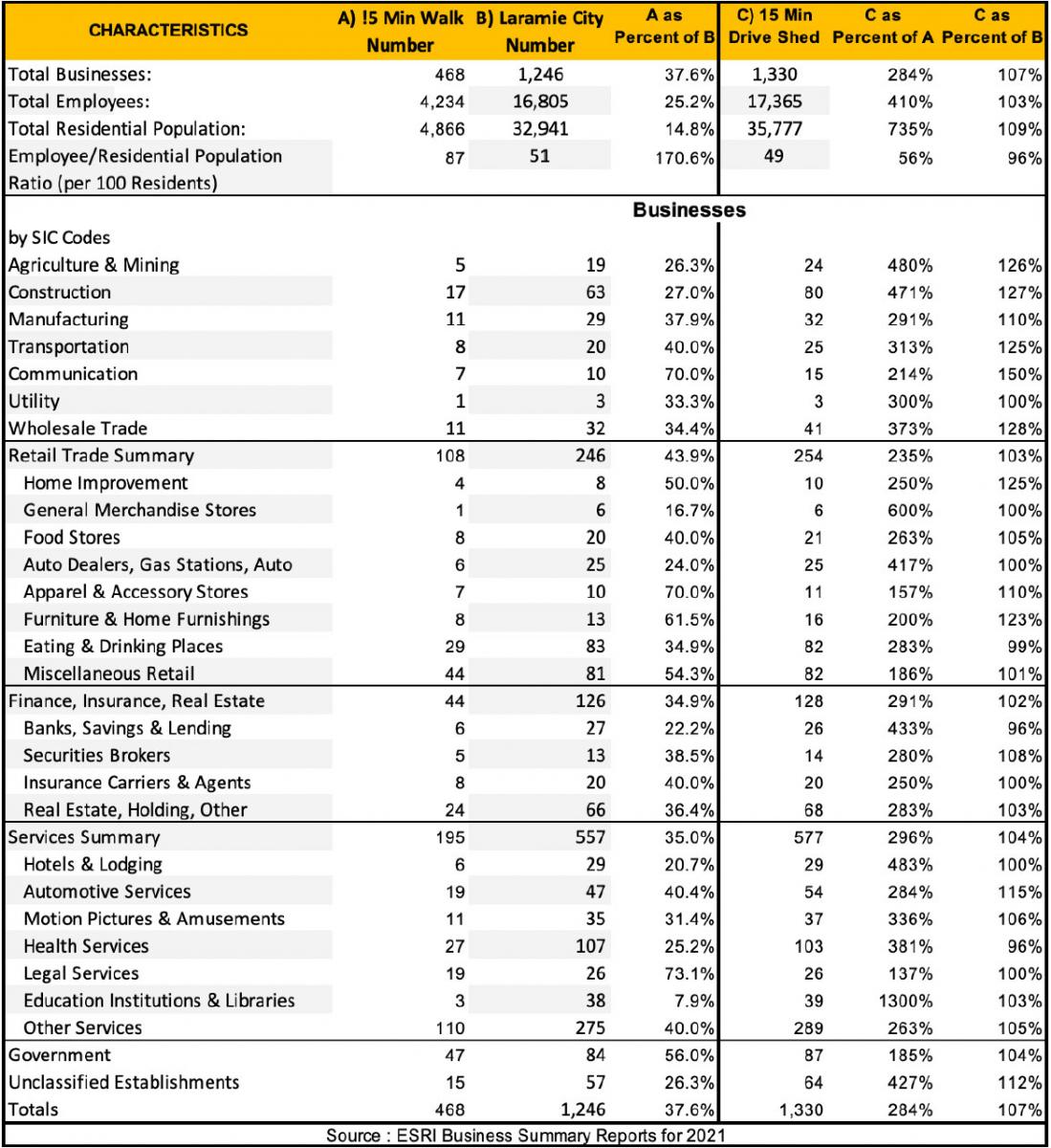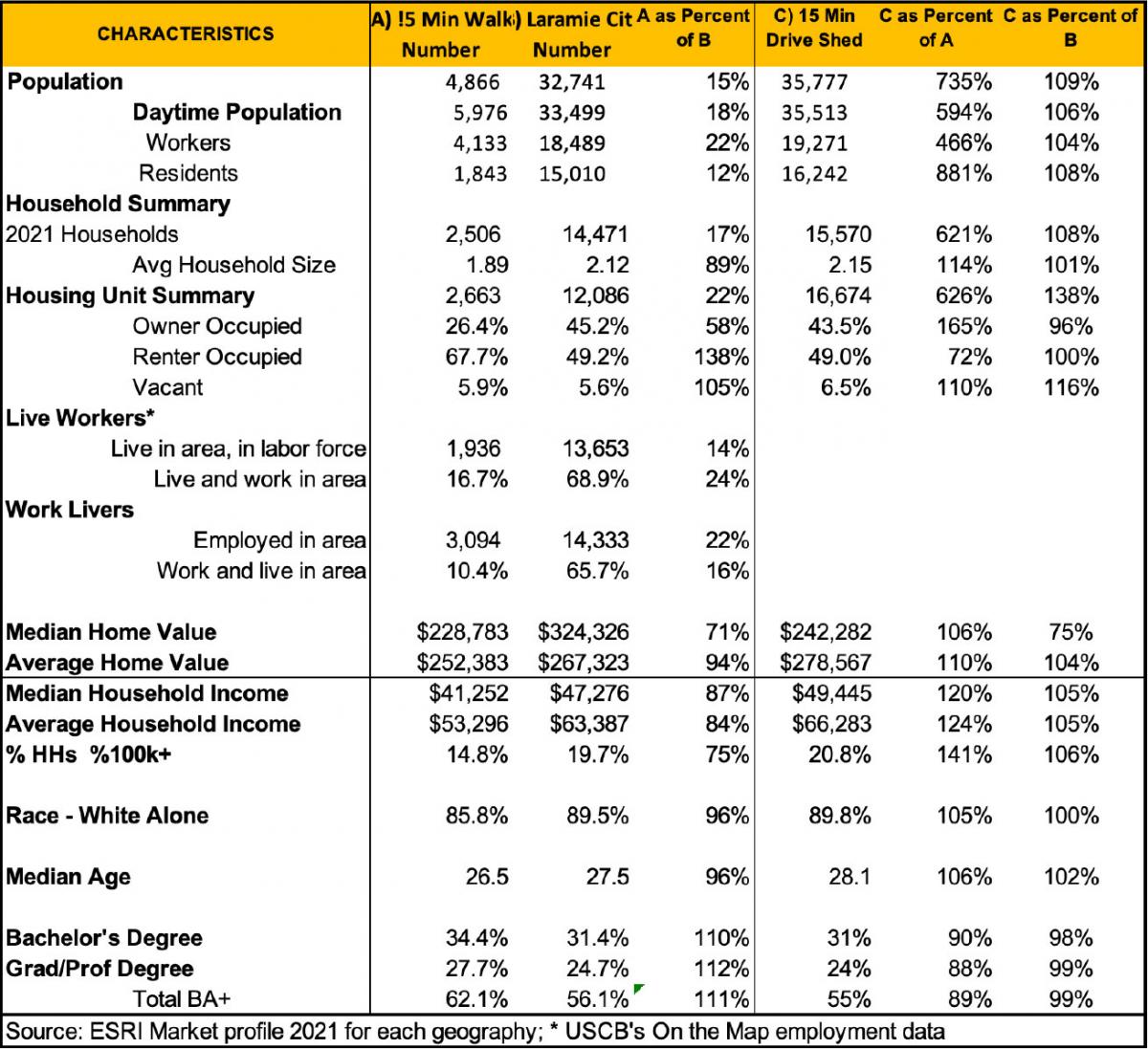 Residents can easily access about 246 retailers in the city and 254 in the 15-minute drive shed, but 55% to 74% of residents shop out of town or on the Internet for general merchandise such as clothing, shoes, furniture and home furnishings, electronics, sporting goods, jewelry and books. The city just does not have the trade area population and spending power to attract the related chains that Laramie's shoppers prefer.
Residents also have easy access to 557 firms in the city providing an array of services and 577 in the drive shed. Relatively few Laramie residents go out of town to obtain such services. Services may be much easier to provide than comparison shopping in 15 minute cities.
The downtown 15-minute neighborhood
We also looked at a 15 minute neighborhood defined by a 15 minute walk shed centered on the downtown's key intersect­ion. See map at the top of the article.
This neighborhood is obviously heavily business oriented and an employment center. It also is very close to UW's campus. The university has 9,342 students in 2022, with 87 percent living off-campus. There are 468 business in the neighborhood and about 4,234 people employed there. That means there's 87 workers for every 100 residents. The downtown 15-minute neighborhood has about 15 percent of the city's population, but 25 percent of the folks working in the city. 
Its critical daytime population, excluding visitors, is dominated by employees, with about 4,100 workers and about 1,800 residents present.
Census Bureau data show that only 16.7 percent of those living in the neighborhood also work there, and just 10.4 percent of those who work there also live there. This contrasts strongly with the numbers for the whole city. Many of those work living, or live working may still be only traveling 15 minutes or less to and from their jobs. For many of those living in the downtown 15 minute neighborhood, the rest of the city is a very accessible area within a 15 minute drive.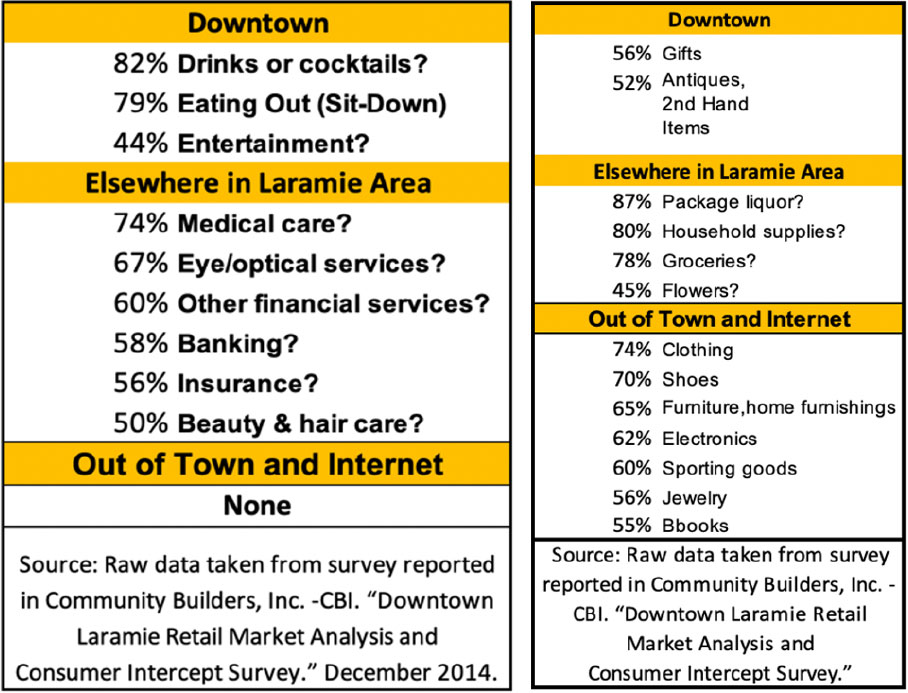 The actual downtown district only occupies a portion of this neighborhood, and it lacks any real population density, with perhaps about 100 above-store units. A housing plan does call for another 230 units to be built by 2030. Greater housing density is to be found beyond the district, but within the walkable neighborhood there are about 2,700 housing units. Still, this is not a neighborhood strongly driven by residential uses.
Though the 15-minute neighborhood has about 108 retailers, it is only for gifts and antiques and secondhand items that Laramie's shoppers are more likely to go downtown than to elsewhere in Laramie. or to out of town, or on the internet. However, many of the downtown shops are quite attractive and unique, so they probably do relatively well with the significant number of tourists the city attracts.
The downtown is much more successful when it comes to services, but those associated with central business district functions or that are prone to rent office spaces are not among them. Instead, it's going for drinks and cocktails, eating out in sit-down restaurants, and entertainment that draw Laramie's residents more to their downtown than to other places in the area. Laramie's downtown has strong Central Social Function venues.
The City's experiment with Bird e-scooters may find its highest usage in the downtown and on the nearby UW campus and increase the economic ties between the two. If it will reduce auto trips is to be determined. One caution here re e-scooter use: the city is 7,000+ feet above sea level, very windy, with average winter month low temperatures between 8 and 11 degrees. Such conditions can impede e-scooter use and stress their maintenance.
The core and access area components of the 15-minute geographies
There can be little doubt that rural Laramie, located in a relatively weak metro district, is a drive time defined 15-minute city that is operationally viable. 
Looking at what can and cannot be accessed in this 15-minute city, we found numerous retail locations, yet considerable retail leakage for general merchandise. It goes mostly to retailers in Cheyenne and Fort Collins, both about an hour's drive away, and to online vendors. Because of the city's geographic remoteness, it lacks most potential 15-minute access areas. Some may exist that are related to accessing venues for skiing, hunting and fishing. On the other hand, the demand for services seems to be adequately met by the providers located within the 15-minute city.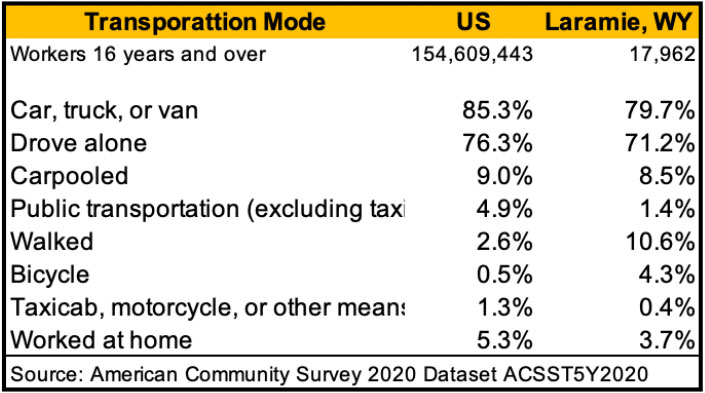 Certainly 12 minute commutes by vehicles will produce much less environmental damage than the 26 minutes average for the nation. The extraordinarily high level of people who live and work in the city is the reason for the low commuting time, and its geographic isolation reinforces the maintenance of that high level of live-work. This is not countered by the 79.7 percent of commuters using an auto to go to and from work, a usage level below the national rate of 85.3 percent. As is often the case in college towns, walking and bicycling to work in Laramie is well above the national levels. The introduction of e-scooters may have additional favorable environmental impacts. 
Contrary to the argument I made about the Kew Gardens, New York, 15-minute neighborhood, the one in Laramie centered on a downtown intersection is not focused on residential uses. The residential units are more likely to be found in what might be called the Greater Downtown, a pattern likely to be found in most other downtown-centered 15-minute neighborhoods.  
For the residents of the downtown 15-minute neighborhood, there is walkable access to numerous retail and service establishments, though many may not be the most popular in the city. This is due to where the downtown is on its development arc and the city's overall economic situation. The city's cluster of creatives and quality of life are strong growth assets that could be leveraged to great advantage as they have been in Boulder and Fort Collins. The downtown district definitely could also benefit from a substantial infusion of market rate housing. Still, the neighborhood's residents can easily access the more popular establishments within the 15-minute drive shed. The core of the downtown 15 Minute Neighborhood enables residents to reach into just one 15-minute drive shed access area for numerous types of additional businesses and activity venues to visit.
1 Carlo Ratti and Richard Florida. "The 15-minute city meets human needs but leaves desires wanting. Here's why". World Economic Forum. https://www.weforum.org/agenda/2021/11/15minute-city-falls-short/
2 N. David Milder. "Non- Autarkic, Easy to Define, Pedestrian Friendly, and Residentially Centric 15-Minute Neighborhoods/Cities?" Downtown Curmudgeon Blog. https://www.ndavidmilder.com/2022/03/non-autarkic-easy-to-define-pedestrian-friendly-and-residentially-centric-15-minute-neighborhoods-cities