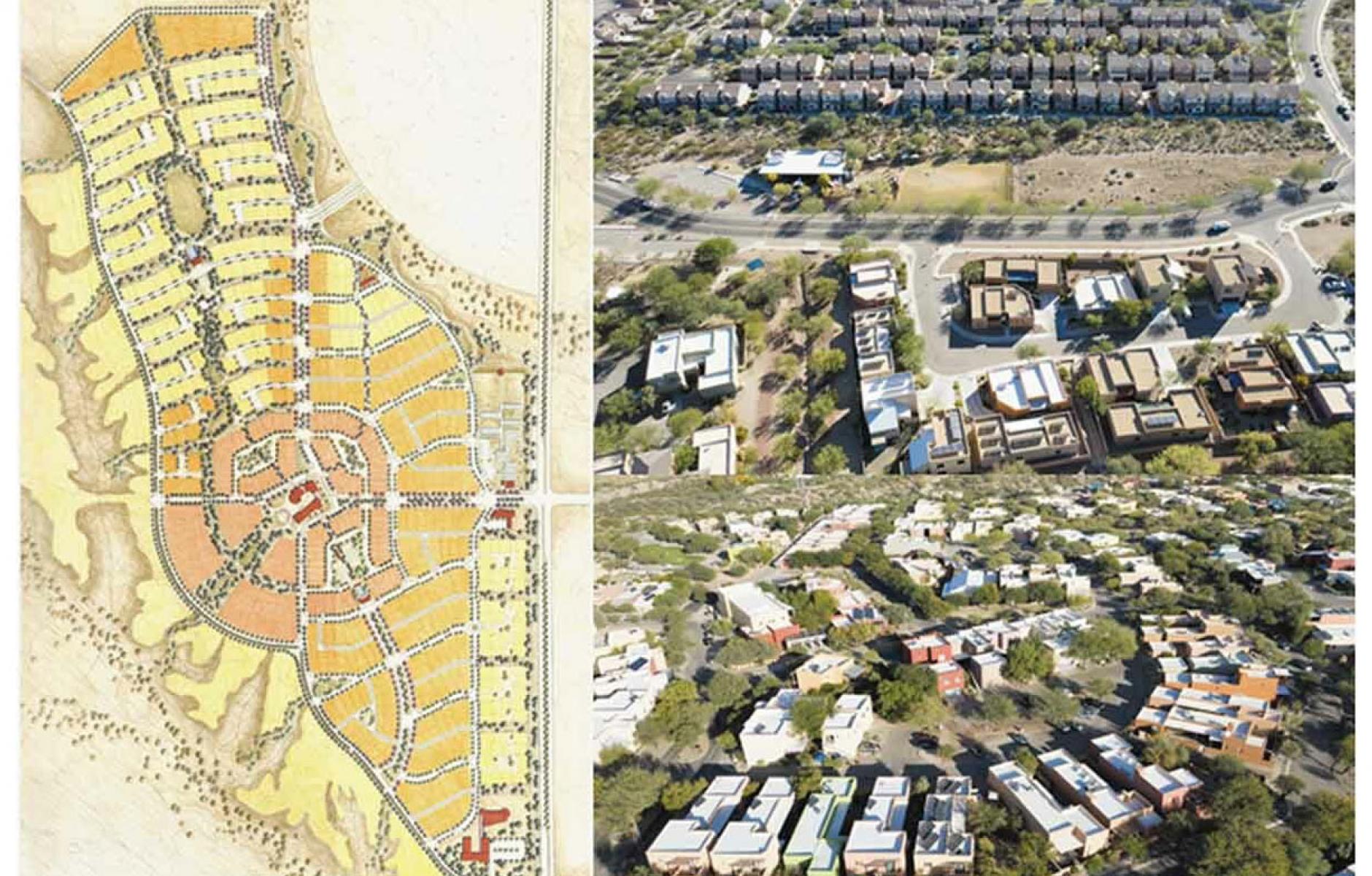 Civano plan (Left, source: Moule & Polyzoides). Larger 'compound housing' across from conventional single family housing (top right, source: James Nicholas Polyzoides), centrally located 'courtyard housing' (bottom right, source: Stefanos Polyzoides).
Urban design boosts 'passive cooling,' responds to climate change
Civano, a new urbanist town in Tucson, Arizona, provides a useful model for how three-dimensional design cuts energy and water use—and also adapts to and mitigates climate change.
The shade provided by buildings and trees in walkable neighborhoods could be a key to making urban places more adaptive and resilient to a warming planet, according to a study of Civano, an early new urbanist town in Tucson, Arizona. 
Green design characteristics of Civano—especially its white roofs—contribute to lower land surface temperature (LST) compared to neighboring developments, according to UCLA researchers. LST is used widely by cities to measure "urban albedo"—the ability of buildings, pavement, and landscaping to reflect sunlight and heat back into the atmosphere. I previously reported on Civano's remarkable performance related to surface temperature.
But LST may be less important than mean radiant temperature (MRT), a composite measure that more closely tracks how hot people feel. Urban design features of Civano contribute to shade, and thus lower MRT, the researchers found.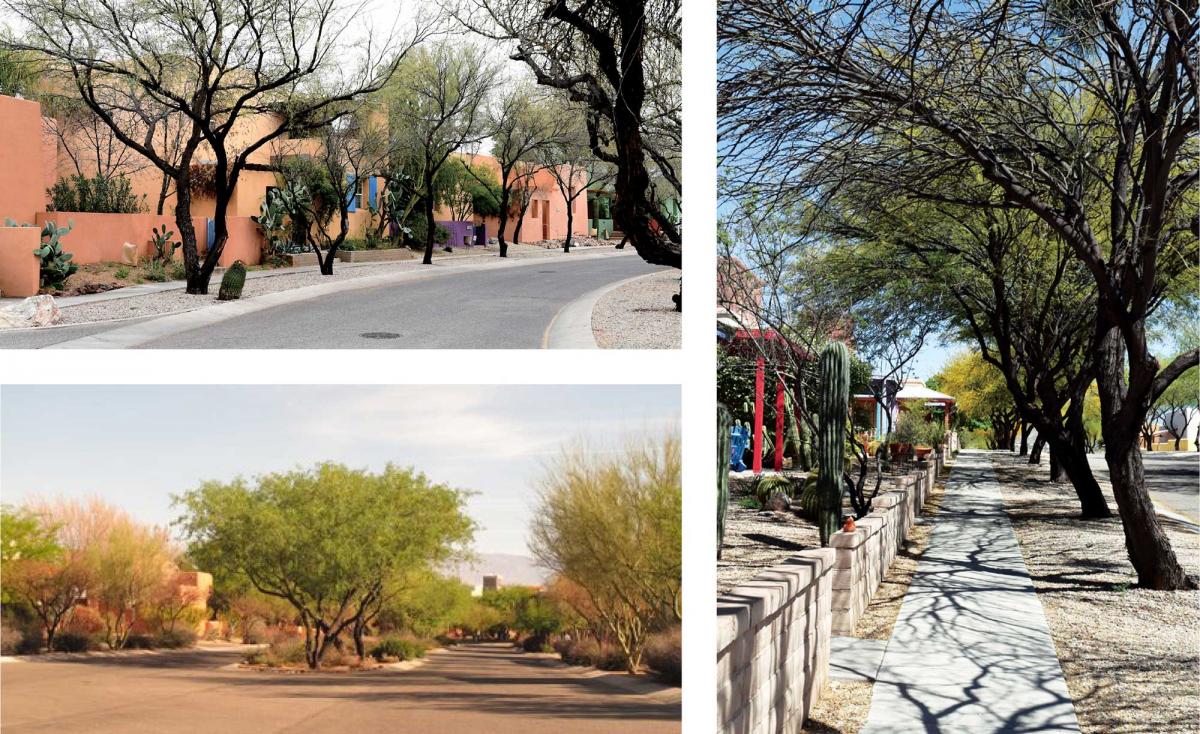 Civano was an early traditional neighborhood development (TND), designed with environmental goals in the mid-1990s. Civano was radical, in that it combined mixed-use, compact placemaking with sustainable development. Mitigating or adapting to climate change were not primary goals at the time. However, the goals of reducing water and energy use had co-benefits with reducing impacts of urban heat islands, the study reports.
The lessons for urban designers include the critical importance of shade in reducing the heat that humans feel on the ground, and that shade trees and properly oriented buildings in compact neighborhoods are key design tools for "passive cooling," a term that needs greater currency. The designers focused on building and street orientation to maximize passive cooling. White roofs can both reduce energy use in buildings and boost the urban albedo, but will not do much to reduce MRT. Shade trees can accomplish both. Researchers emphasize that planners should focus on design that reduces MRT, not just surface temperatures.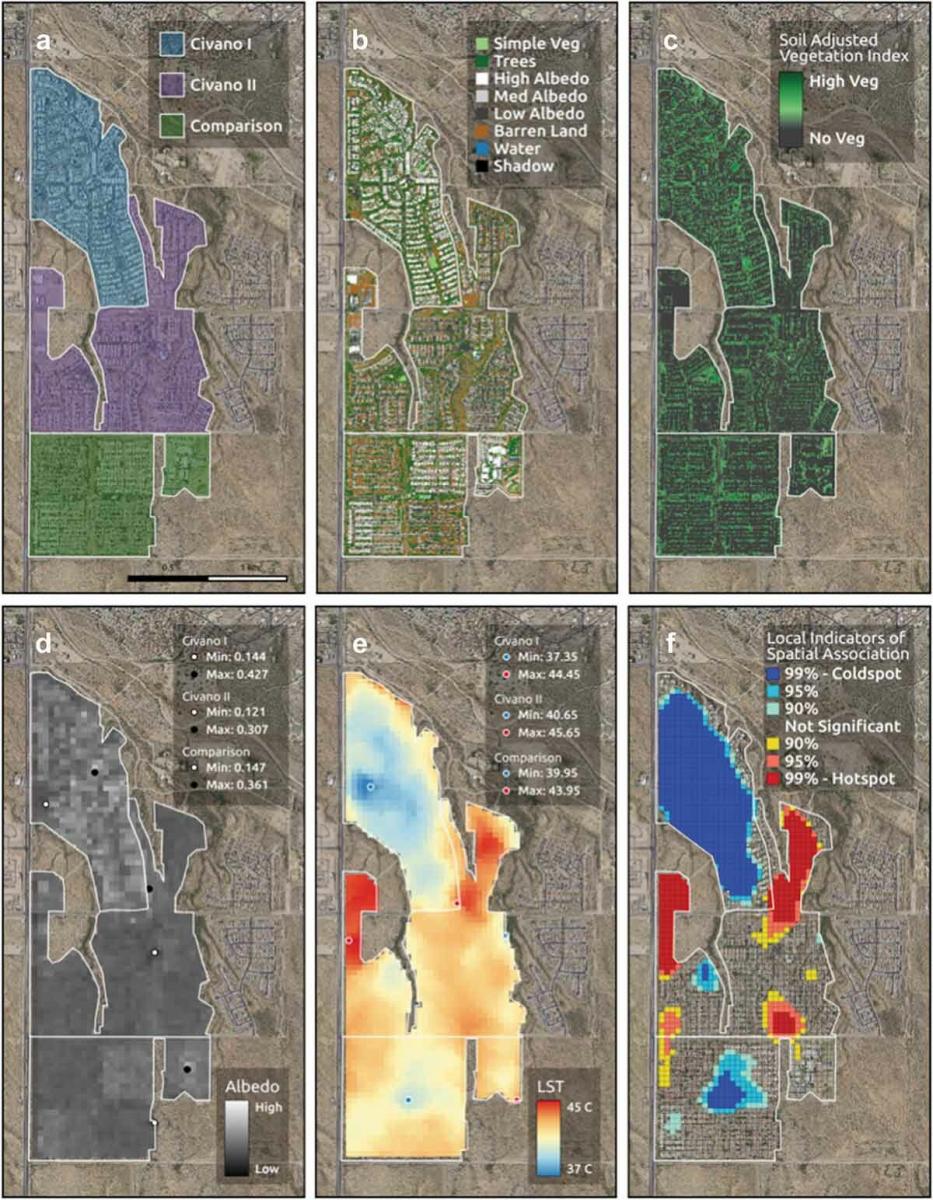 "Features of design that produce shade through orientation of built structures and smart use of vegetation like the alleys, plazas, and washes … have a definite co-benefit of reducing MRT," notes Kelly Turner, UCLA assistant professor of urban planning and geography at the Luskin Center for Innovation.
Also effective is Civano's conservation efforts to reuse non-potable water to irrigate native trees and plants, much of which was conserved from the pre-existing landscape. "The issue of providing cooling and reducing water use is one of the most novel aspects of Civano," Turner says. "While using non-potable water resources for irrigation certainly has a huge impact, capturing runoff in the washes and pairing that with pedestrian corridors is a great solution for irrigating vegetation in an arid context."
New Urbanist design is intentionally heterogeneous and uses a wide variety of building types, set backs, road widths, alleys, and green spaces, the researchers note. This varied urban environment offers more opportunities for passive cooling.
"We find that three dimensional attributes of design are more important for cooling pedestrians because shade blocks sunlight from surfaces—and people—in the first place," Turner says. "So New Urbanist features that are mainstays of design like plazas, alleyways, two story live-work buildings, clustering ... those will likely create more opportunities for shade than spread out, single story, sprawl."