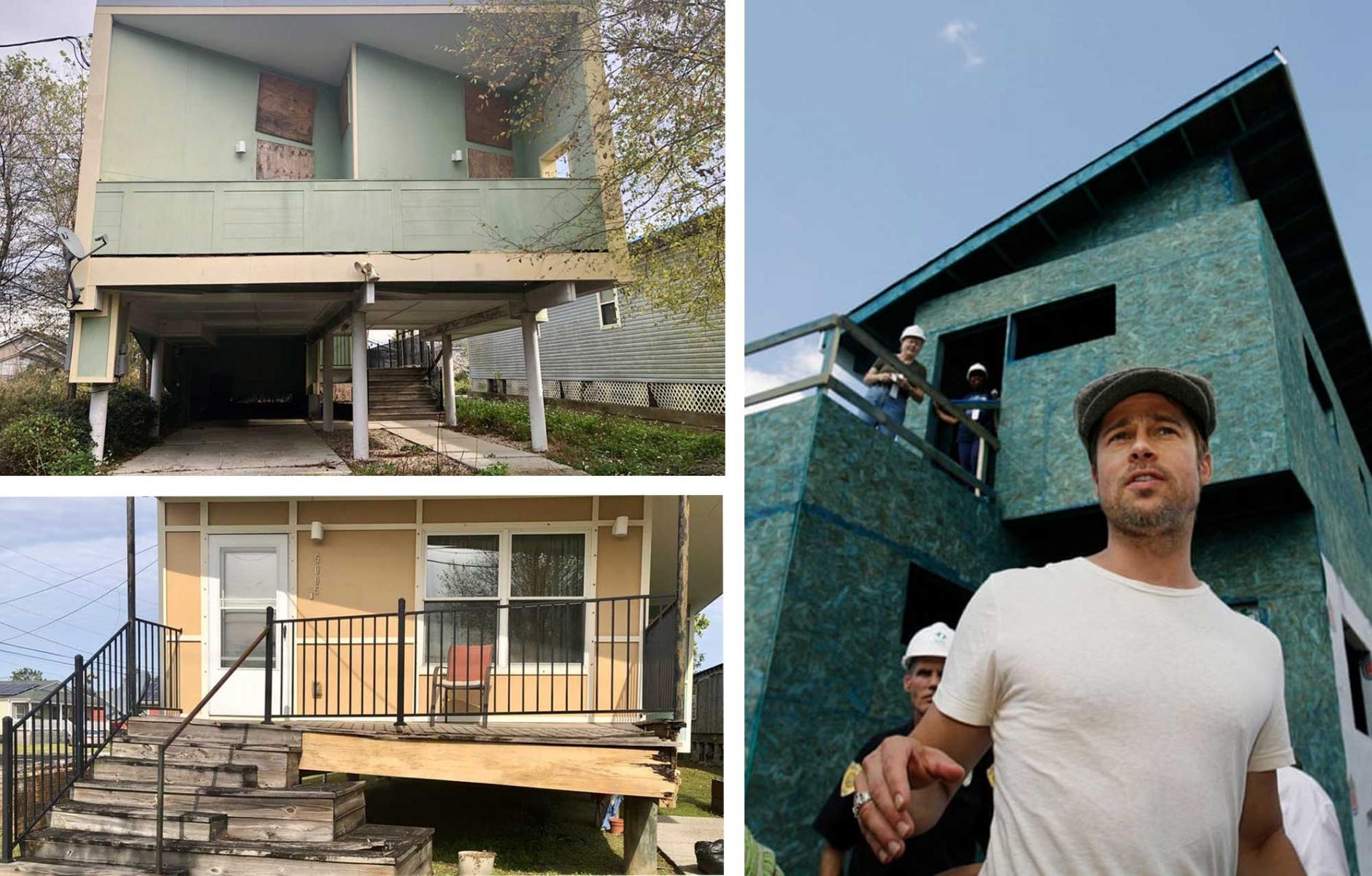 Left top and bottom: Make it Right Houses in 2021, boarded up and falling apart, photos by Judith Keller. At right, Pitt in 2007 in front of a Make it Right house (cropped from AP photo).
Pitt proves cutting-edge design and affordable housing don't mix
Brad Pitt violated the cardinal architectural rule since Pruitt-Igoe: Do not experiment on the poor. Others, such as Habitat for Humanity and new urbanists, were far more successful in New Orleans.
Note: Public Square editor Robert Steuteville is on leave from late September through the last week of October, 2022. In the meantime, we are offering some popular articles from 2022 in addition to new content. ​​
If there was any doubt about the colossal failure of Make it Right in New Orleans, it was erased by The Guardian article this week evocatively titled "Mold, Leaks, Rot: How Brad Pitt's post-Katrina housing project went horribly wrong."
The Guardian pulls no punches in describing the problems that have emerged one decade after construction. "The houses now list a frightening array of defects: water intrusion, black mold, porches rotted through, stair rails collapsing, fires caused by electrical problems, plumbing problems and poor ventilation, according to a class-action lawsuit filed against Pitt and his charity by some of the remaining residents. Other residents have reported termite infestations, and multiple residents have fallen sick," notes author Wilfred Chan. 
Research by urban studies academic Judith Keller shows that only six of the 109 houses built by the Make it Right Foundation remain in good condition. That's astonishing, since these houses are practically new. The only comparable case, with such a high profile, that I can think of is Pruitt-Igoe—the St. Louis public housing that was occupied in 1954 and demolished in 1972.
The Make it Right Foundation, once attracting Pritzker Prize-winning architectural talent like Frank Gehry and Shigeru Ban and endorsed by celebrities like Snoop Dogg, Ellen DeGeneres, and Bill Clinton, has now disappeared—its website replaced by a blank page. A little over 10 years ago, Make it Right was the darling of the media.
Pitt, through his spokespeople, comes off as mealy-mouthed and cowardly. "His attorneys have made it clear that he has no legal liability for the decisions made by others," notes The Guardian. "He remains personally committed to doing whatever he can to helping resolve the ongoing litigation. It was always something that was important to him from the beginning and he very much wants to help facilitate this getting to a much more positive end," the source said.
The Guardian article is the latest of negative reports on Make it Right in recent years. The story is hard-hitting, but fails to get at a core issue: architectural ideas that are as rotten as the molding innards of the Make it Right houses. New urbanists knew, from the beginning, that Pitt was violating a cardinal rule of affordable housing: Do not experiment on the poor. If you must experiment, do it on the wealthy: They can afford it when the experiments fail. 
The poor and working-class neighborhoods of New Orleans needed vernacular styles that had been proven to be resilient and sustainable for centuries. These styles could be adapted with modern technology like solar panels and energy efficient construction, but the fundamentals are proven, easy to build, and complement the city's historic fabric. I remember Reed Kroloff, then dean of Tulane's School of Architecture, dismissing new urbanist attempts to build "grandmother's house" when he was interviewed on All Things Considered in 2006. That contempt for architectural tradition—on many levels including urban design—led to the failures of Make it Right.
Contrast Make it Right with another high-profile post-Katrina project on a similar scale, The Musicians' Village. The jazz saxophonist Branford Marsalis, his father Ellis (patriarch of the musical family who died in 2020), and Harry Connick Jr. teamed up with Habitat for Humanity to create housing for musicians who lost their homes in the flood. The musicians are New Orleans natives. The first homes in The Musicians' Village were occupied in June of 2006 (Much faster off the mark than Make it Right). The village comprises eight acres—two-plus blocks—in the Upper Ninth Ward, with 70 single-family houses and five duplexes.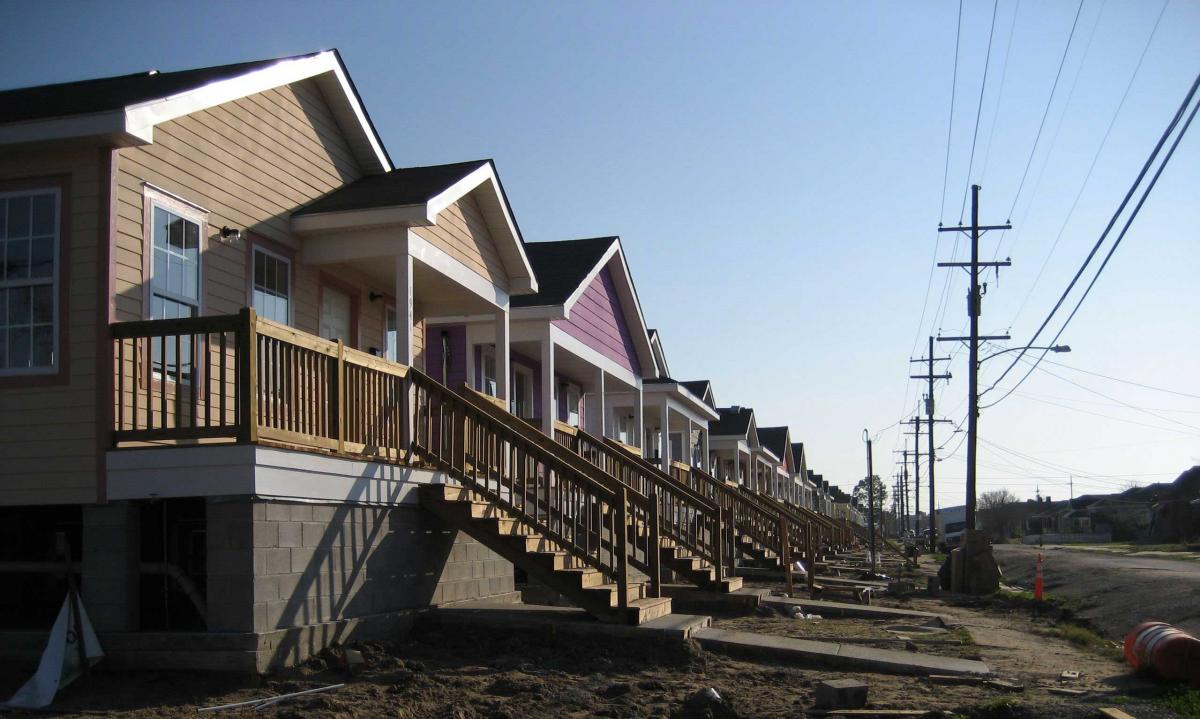 This isn't great architecture. These are just simple, inexpensive houses with traditional design. Porches and front steps are ideal for musicians to play in front. Some of these houses have solar panels. They are elevated a foot above flood level and are designed with seven different facades, which can be flipped left to right to create more variety. They fit in with historic houses across the street. The houses are in good shape and well cared for today—showing none of the problems rampant in Make it Right.
The details of The Musicians' Village houses can be criticized, but they fundamentally get it right. There are other examples of post-Katrina housing that take a similar approach, and all seem to be functioning well. Below right are the Bywater cottages by Duany Plater-Zyberk (DPZ), compared to a Make it Right house on the left. The Bywater houses look far better even shortly after construction, let alone today—after the deterioration of Make it Right.

Below is a traditionally designed house next to a Make it Right house, circa 2008. Today, the traditional house looks great, well-cared-for, while the Make it Right house is overgrown with untended landscaping (here's the Google street view).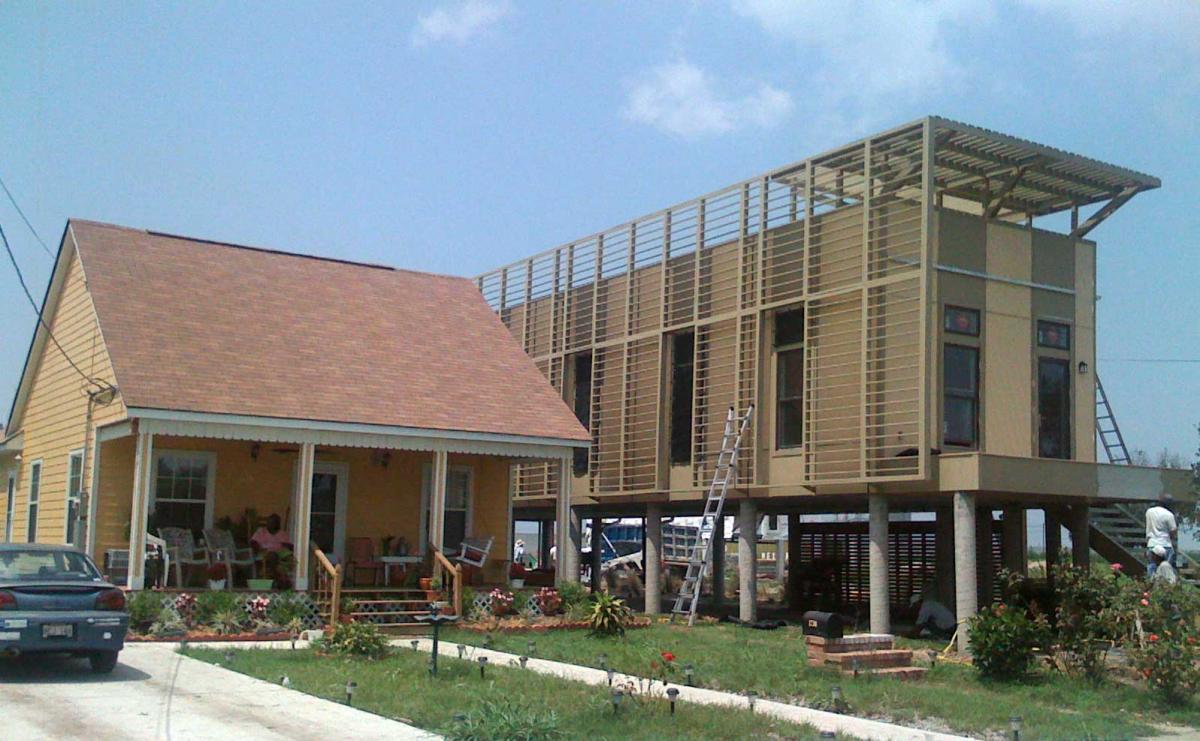 Jackson Barracks, military housing, is not far from Make it Right (most of these examples, including Bywater and the Musicians' Village, are about a mile apart). Jackson Barracks housing was designed by DPZ, also built after Katrina.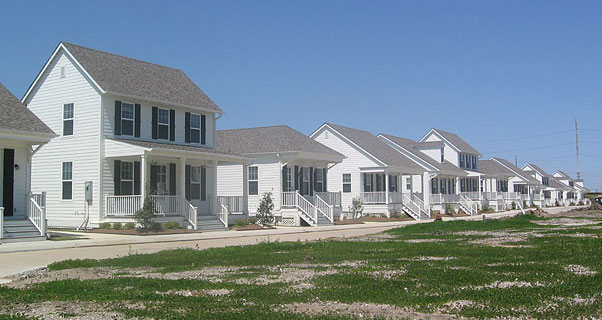 Finally, here's Iberville Offsites housing, a Choice Neighborhoods project in the Iberville section of the city. This housing takes a different approach, one of fixing up and modernizing magnificently detailed historic houses. These houses have survived longer than a century, and may last another century.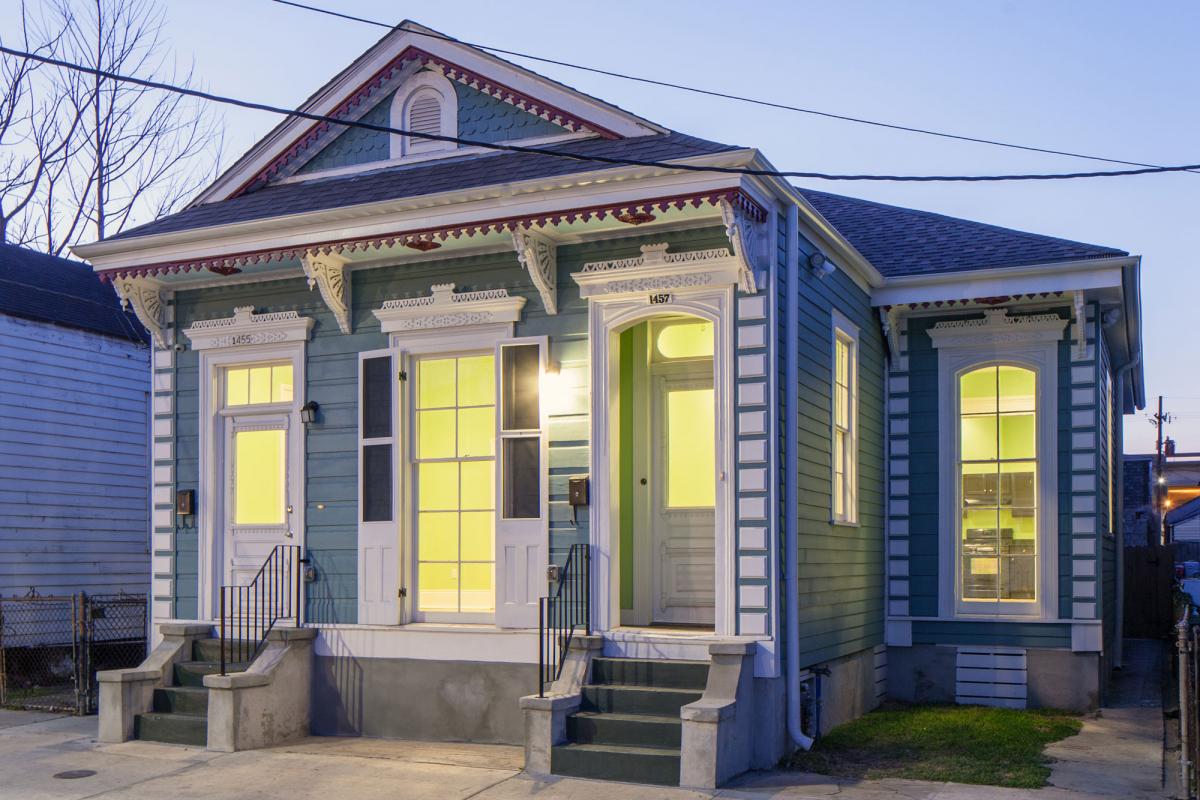 All that Pitt needs to say about Make it Right is: "This was a bad idea. We took the wrong approach." His efforts were well-intended and wrong-headed, but forgivable if owned. We need to reconcile mistakes with reality, so we can avoid the same mistakes next time. But Pitt won't say that. And neither will any of the big-name architects he hired. To admit that would expose Pitt and the architects to legal risk, but it also would shake their worldview. While Pitt is being blamed for this massive failure, those architects are mostly escaping scrutiny of their designs. The design failure is the most important lesson here, and that needs to be acknowledged by the architectural field. I'd like to hear the equivalent of Kroloff, now Dean of architecture at the Illinois Institute of Technology, praising the post-Katrina performance of "grandmother's house" on All Things Considered. I don't expect that to happen. And that's what's most wrong about Make it Right.