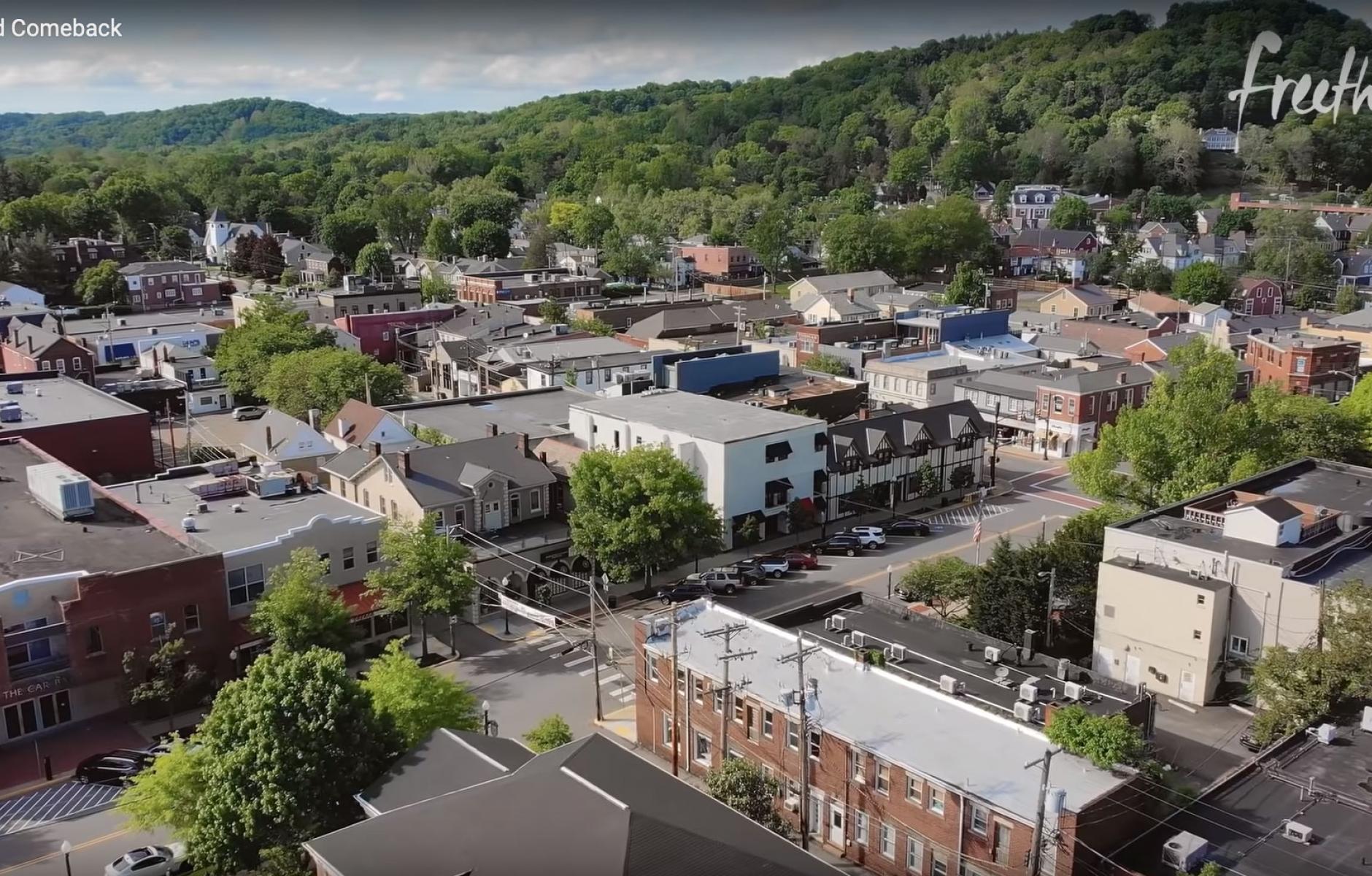 An aerial image of a small town from the The City Grid Comeback.
Ford promotes street grids
A town in Texas is on the leading edge of a trend to bring back the practical, efficient street networks for new development.
What do huge metropolises and small towns have in common? Their downtowns are laid out on a grid of streets, according to a video called The City Grid Comeback, which has garnered more than 450,000 views on You Tube. 
The video focuses on Bastrop, Texas, a town that changed its land-use laws in 2019 to grow in a pattern similar to its historic downtown. Bastrop was one of the first cities to specifically code for gridded development, notes the video, funded by the Ford Motor Company and produced by Freethink, a media company that seeks to "inspire people to build a better world."

Producer Michael O'Shea interviewed me about a year ago, saying that he read some of my articles on the advantages of street grids. I hooked him up with planner Matt Lewis of Simplecity Design and the City of Bastrop, Texas. Bastrop and Lewis won a CNU Charter Award in 2020 for Bastrop's Building Block code, which is innovative and grounded in good sense. 
This video explains why cities should grow in the form of street grids, rather than winding pods of single-family cul-de-sacs. For most of the nation's history, cities and towns were built on grids, which were flexible and practical for real estate development. Grids allow for a walking-scale city that can be connected by transit. Since automobiles were introduced, they have accommodated cars and trucks. 
Nevertheless, a confluence of forces in the middle of the 20th Century radically changed street networks nationwide. The popularity of automobile travel encouraged planners to adopt a radically new system, abandoning centuries of community design wisdom. The video discusses the impact of the automobile industry on this shift, which makes the funding from Ford interesting and ironic. 
Twentieth Century planning ideas were backed up by zoning codes that made walkable neighborhoods illegal to build anew. Just a few years after World War II, cities and towns coast to coast abandoned the grid for single-use subdivisions on dendritic street networks with large blocks— and walkability faded away in postwar development. 
Fast forward to Bastrop, a fast-growing city of 10,000 people in the Austin metro area. "They didn't want to build in subdivisions, they wanted to build neighborhoods," says Lewis. "But because of the decades old code on they had on the books, without an intervention, Bastrop would have ended up with more suburbs."
The new code and plan allow for many creative interpretations of what Lewis calls the Bastrop Block, about 330-feet square that makes up the city's historic center. The code has many advantages, says City Manager Trey Job. Utility lines always connect up—there are no costly dead-ends. If there is traffic congestion, drivers can switch to a parallel street. Bastrop eliminated off-street parking requirements and minimum lot sizes in the code. Property owners can start small, and expand.
It's too soon to judge the results of Bastrop's approach, but it is essentially a more systematic approach to New Urbanism, which has a very good track record over the last three decades. New Urbanism works because it is based on timeless principles that have been observed to work ever since Jane Jacobs wrote The Death and Life of Great American Cities in 1961.
This trend is larger than one town in Texas. University of Southern California research published in 2020 looked at street network patterns since 1940 and determined that grids have made a comeback over the last two decades nationwide. Developers have been choosing to locate buildings on street grids—often in historic areas, but also based on new urban plans. Bastrop is taking this trend to the next level. 
"We are hopeful that the building block approach is used across the country," Lewis says. "To build places worth caring about."