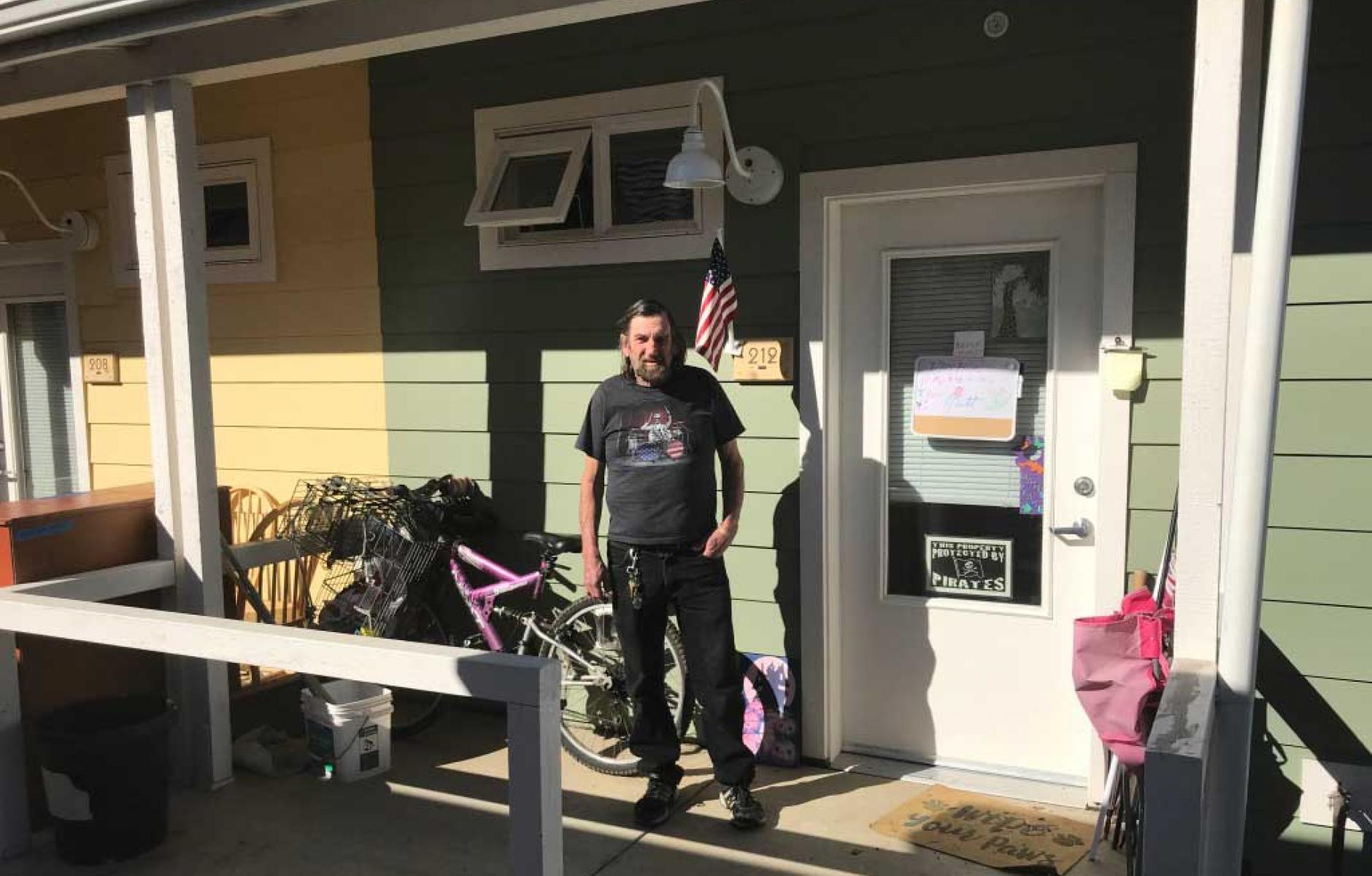 A resident of Valley View on his porch. Source: Charles Durrett.
Community design answer to homelessness
An architect makes the case for little cottages, grouped in a village form, as a way to address homelessness.
Every once in a while, a book comes across my desk that is elegant and simple, addressing a single issue with clarity. That's A Solution to Homelessness in Your Town: Valley View Senior Housing, Napa County, California, by architect Charles Durrett, with Jinglin Yang, an architectural designer. 
Durrett and his partner, Kathryn McCament, are credited with coining the term cohousing, and they have designed more than 50 cohousing communities.

Durrett applies techniques learned in those projects to housing homeless senior citizens, many of them veterans, in Valley View Senior Housing, American Canyon, California. This book describes the design and building of Valley View in clear and compelling terms—a testament to the power of architecture on a (small) village scale. 
It has also made the lives of residents, among the nation's neediest people, dramatically better in a way that contributes to their self-sufficiency. Matt, a resident, said to assembled sponsors and city leaders on move-in day in 2019: "You know that freeway you guys drove in on? I was under that freeway for more than six years. Now I have a home."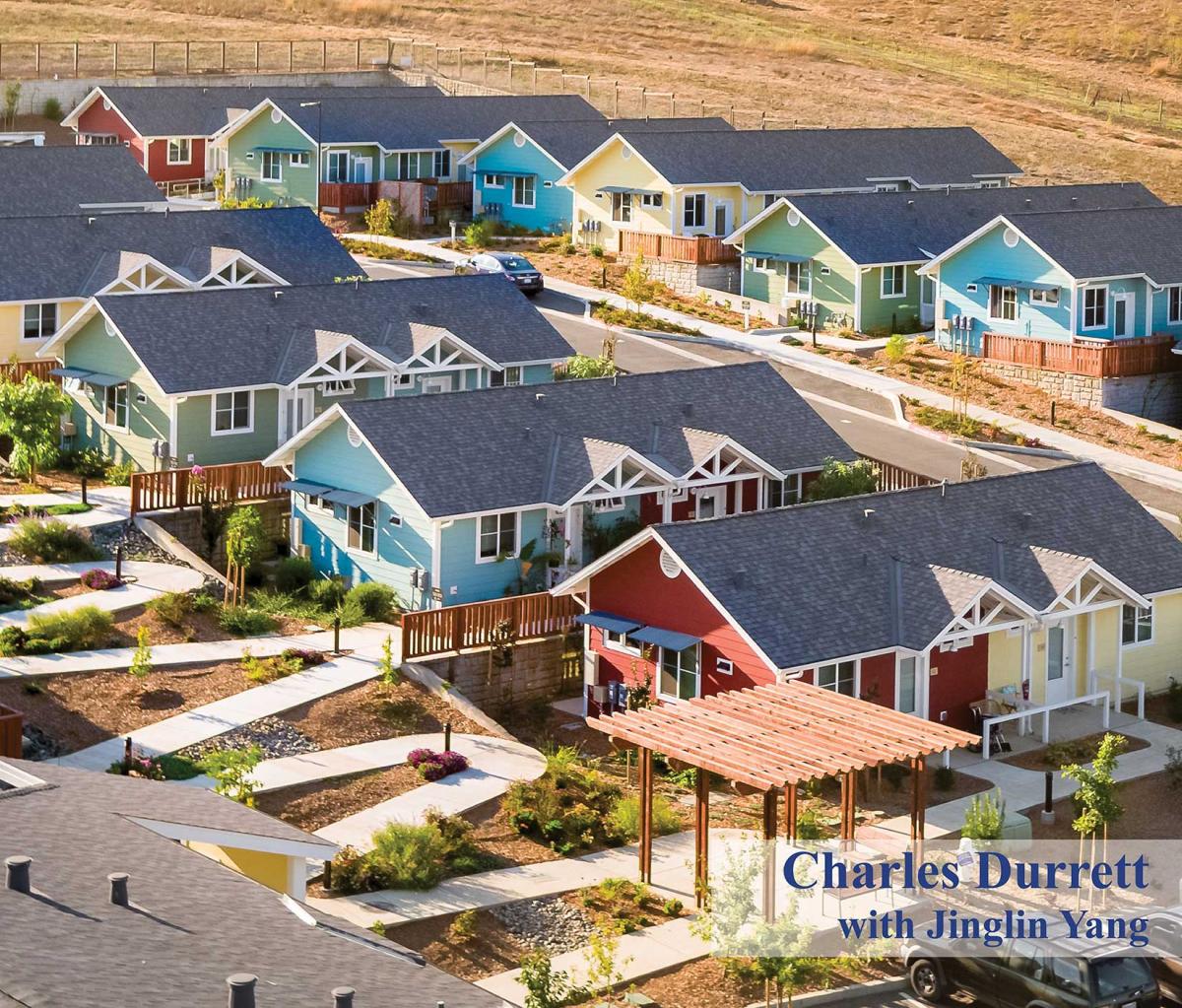 Valley View Senior Housing is located on a 3.5-acre site with a dramatic, 56-foot drop in elevation. The site was formerly planned for a single-family development that failed in 2008, leaving extensive retaining walls that would have been very costly to remove. American Canyon, a city in the form of a conventional suburb, purchased the land for $460,000 and solicited proposals for nonprofit affordable housing. All 28 proposals, but one, envisioned the same type of single building, a corridor affair with parking, like a hotel.
At first Durrett assumed a similar design would be the only practical option, but he spent a few hours sitting at the highest point of the site, trying to imagine something different—and he drew a sketch of a little village, like a "hill town." He was inspired by San Francisco's famous "crooked street" in San Francisco, 35 miles away, and drew something similar into the plan. The city had a choice—pick one of more than two dozen conventional suburban boxes, or a village with a unique design flair. The design was so different from the others, it must have looked risky. Regardless, the city chose the village.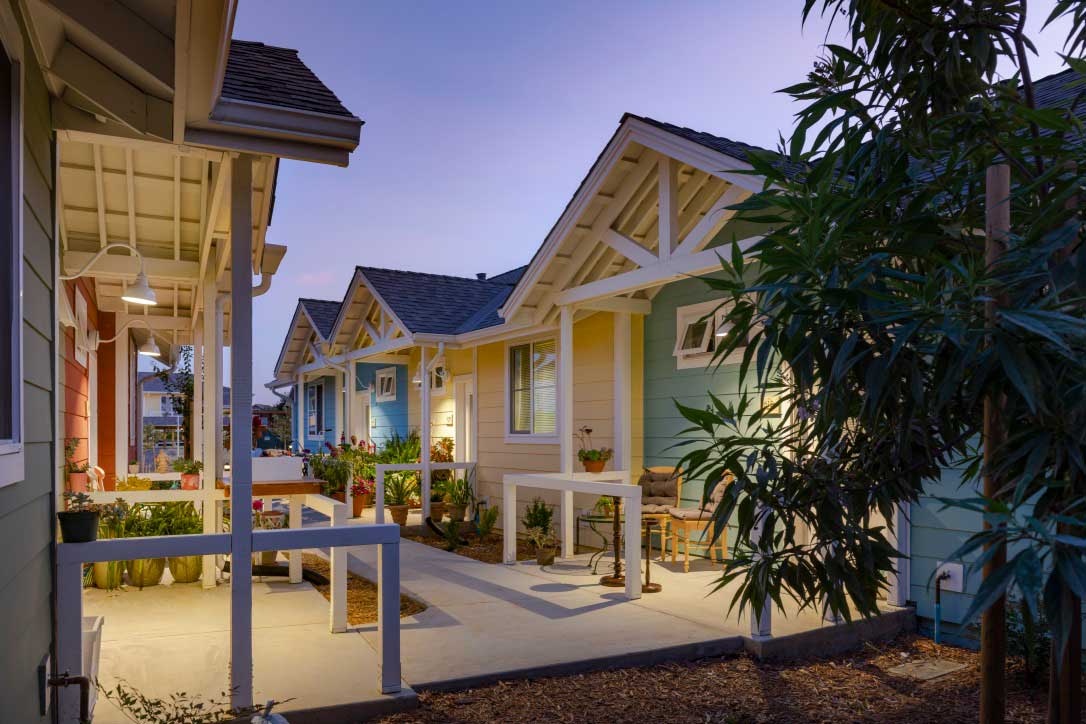 A village allows for the creation of a public realm and walkable streets, not just an inside and an outside. Valley View includes 58 one-bedroom duplex and triplex cottages, all wheelchair accessible. One larger building includes 12 units, some of them with two bedrooms, for a total of 70 units. An attractive Common House includes a kitchen, dining area, and sitting room for shared meals and gathering, in addition to a small computer lab, private rooms for physical and mental health services, and a Veterans Health Administration office. The sitting room is furnished like a decent retirement community.
An outdoor terrace for dining and hanging out, a recreation area with bocce, community garden, and lawn complete the ensemble. Residents must be at least 55 years old, plus meet one of the four criteria:
US military veteran who was homeless
A homeless person
A person who was previously homeless
A person who was at high risk of becoming homeless
Affordability
The clients, the city and Satellite Affordable Housing Associates (SAHA), both are on a very tight budget so each dollar had to add value, according to Durrett. Every one of the 58 cottages had the same floor plan, totaling 450 square feet—that saved a lot of money, he says. The units are distinguished by colorful paint, and the way they are arranged on the site. The single building would have involved scraping the site, including tearing down the retaining walls, which would have added $2 million to the cost, he says. "Even though the conventional choice is often easier and cheaper, in this case it was neither," he writes.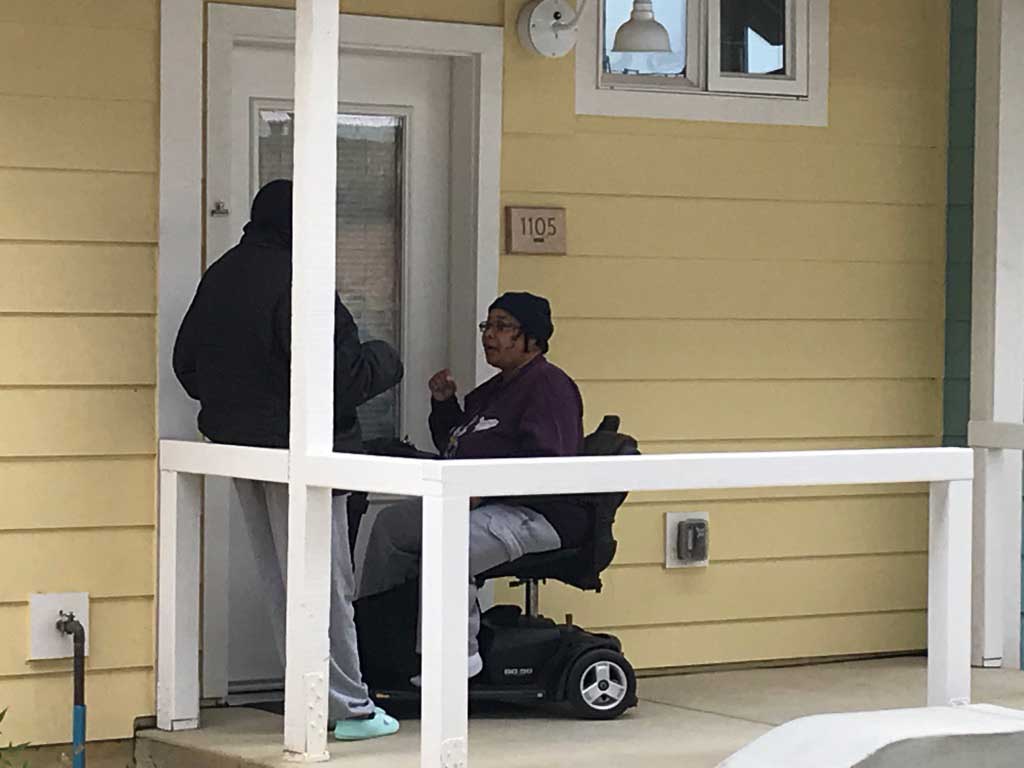 Community building
"Among the goals was to get people exercising, connecting, and interacting with each other in a way that would foster community and mutual support," he says. Neighbors get to know one another and interact on a daily basis, partly due to the porches and other design features. Residents help each other out, offering rides and to pick up needed items, saving the county money and services.
"A functioning community of people who know each other, care about each other, and support each other saves the government on average $20,000 to $40,000 a year compared to those same individuals solely dependent on county services," notes Durrett, citing multiple studies. Residents were given workshops on landscaping and light maintenance, and they help to take care of the place.
The residents live within walking distance to Walmart, although that involves crossing an automobile-dominated road with no crosswalks. It is also about a mile from the commercial heart of town, which consists of a grouping of strip malls and shopping centers. The city has on-demand transit.
A model
Valley View development was designed as a model for other developments, Durrett says. There is a smaller, 18-unit project near Ithaca, New York—my town—that is similar in some respects. Second Wind Cottages in Newfield are privately funded, and far less beautiful. But the idea is similar. Give homeless people a small cottage with a porch, connected to a community building—in this case a trailer—for meals and interaction. Second Wind is less of a village and has no true streets, compared to Valley View.
Second Wind shows how to do something like this on an even tighter budget. But it is also more isolated—located on a bus route about 7 miles from the City of Ithaca. It is hard to imagine building Second Wind right in the city, as they have done with Valley View.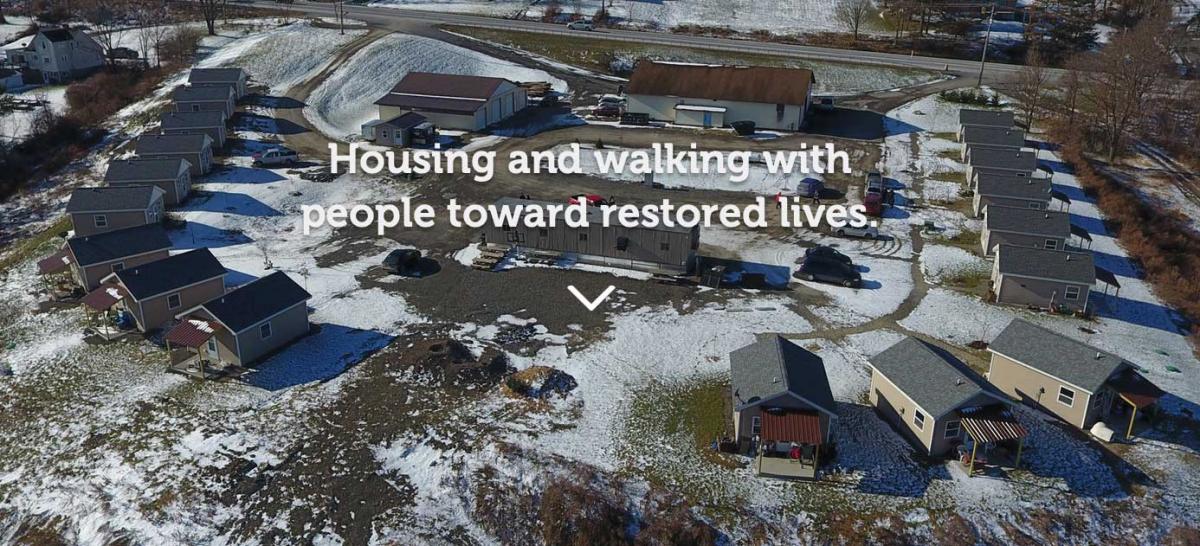 Valley View Senior Housing is one of the more attractive, and certainly unique, housing developments in American Canyon. "There is every reason to make housing feel like an ensemble, a collection, a village, instead of a disparate suburb, a campus, or an institution," says Durrett.
This book says so much in a hundred pages, many of which are images and appendixes. Focusing on just one project, the concept and the design ideas shine though very clearly—without neglecting the human element. I highly recommend A Solution to Homelessness in Your Town.