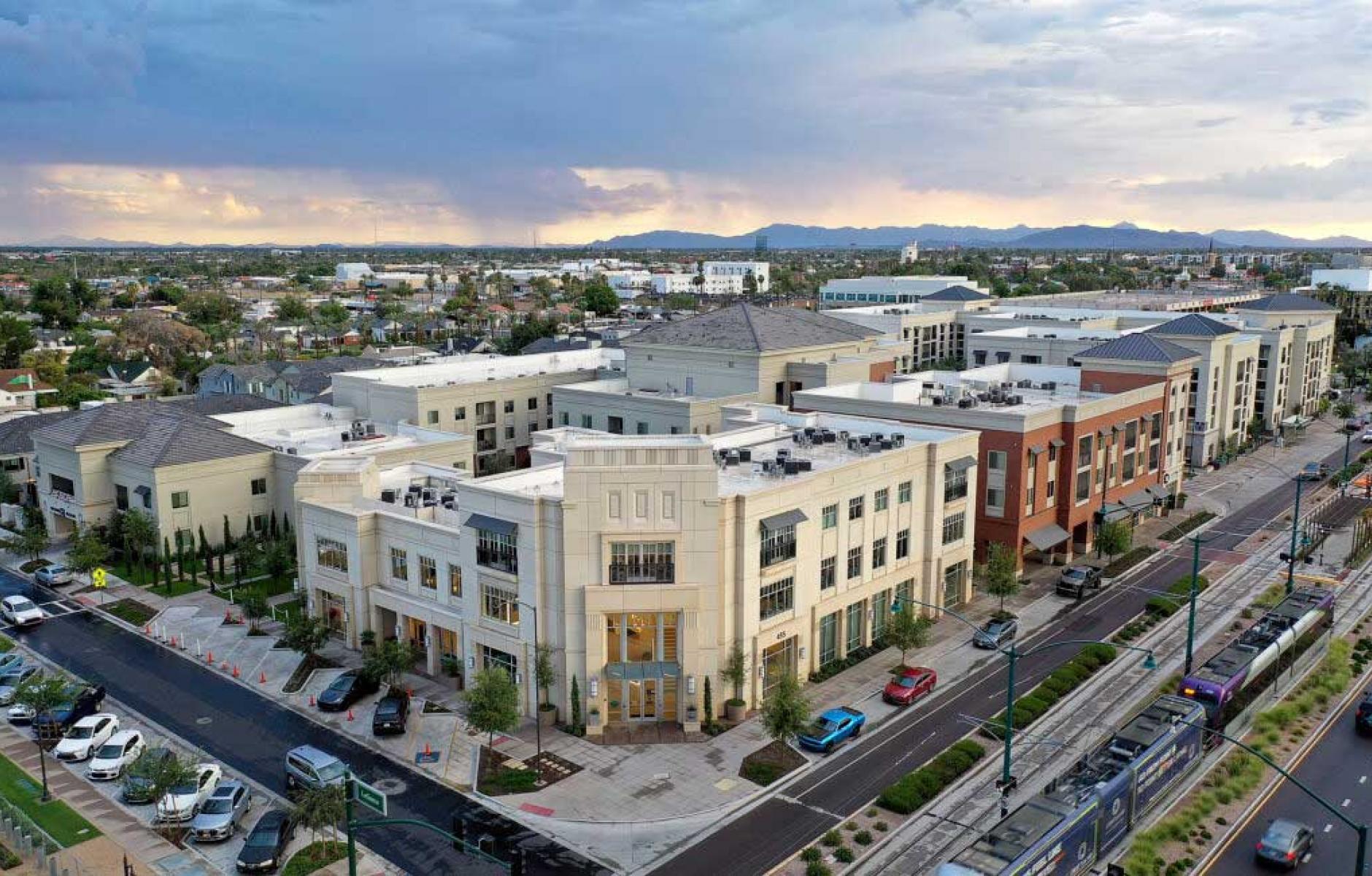 The Grove on Main, with light rail at lower right. Source: LDS Church.
Biggest suburb gets a new downtown as walkable becomes legal
Code reform and light rail, plus a key development, are helping to transform the center of Mesa, Arizona.
A form-based code (FBC) and a recent light rail line are helping to revive downtown Mesa, Arizona. The Grove on Main development, newly completed with 240 apartments, 12 townhomes, ground-floor retail, and 1.5 acres of landscaped open space on 4.5 acres, is a linchpin of downtown revitalization, according to officials.

The developer, LDS Church, owns a historic temple adjacent to the site. A street leading to the temple, 1st Avenue, has been given a facelift, with new landscaping, and some of the existing single-family houses were renovated as part of the larger Grove project. That street, lined with palm trees, has become quite stunning (see photo below). This activity is bringing other developers downtown. "It's a big, big deal for the community and the region," said Mike Hutchinson, executive vice president of Phoenix East Valley Partnership, a nonprofit business advocate group. "I've talked to a number of developers who looked at this project as this great start [toward] revitalization."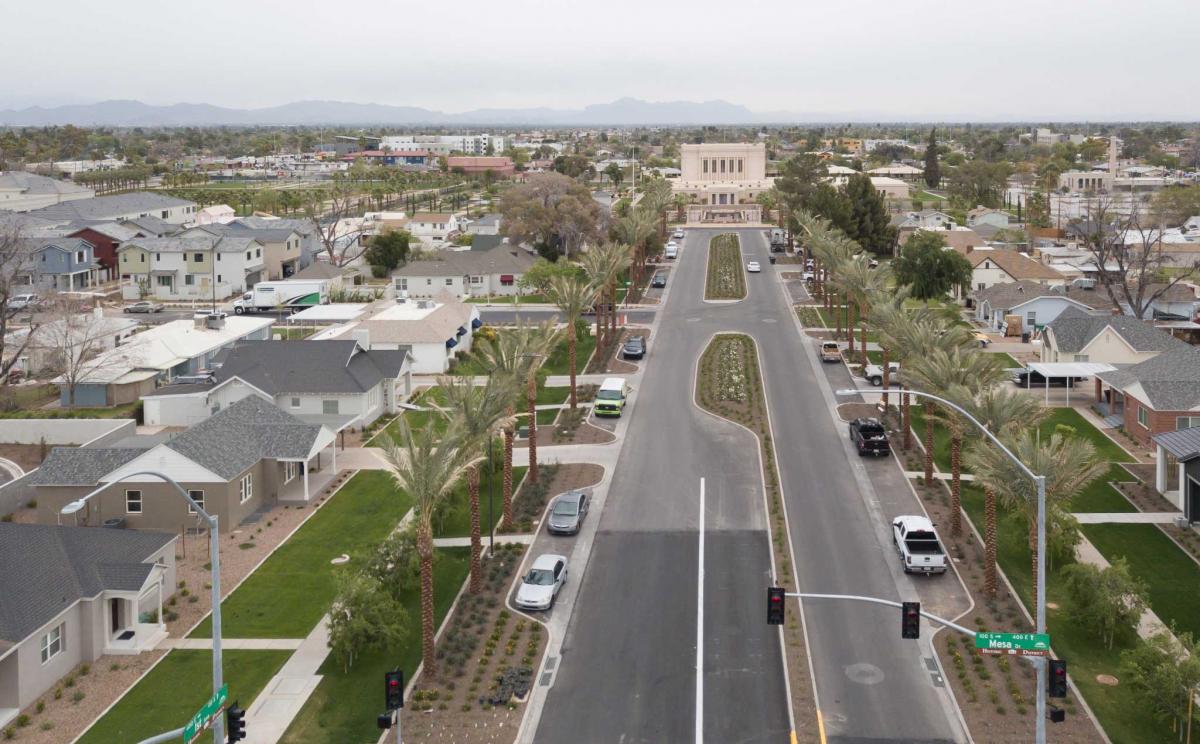 The plan is fulfilling a long-time vision for downtown Mesa, first articulated in the 1990s, to create a mixed-use walkable downtown with transit. But there were legal barriers to that vision, which were fixed by a FBC—written with the help of new urbanists Opticos Design and adopted in 2012. A few higher density developments with better urban design began to appear in subsequent years. But the coming of light rail boosted the momentum. Dale Gardon Design worked with the church on The Grove on Main master plan. Moule & Polyzoides and Design Workshop were both involved in early master planning, according to an architect with the LDS Church.
Mesa, with a population of more than half a million, is the largest suburban city in the US. Located east of Phoenix, the city got light rail line completed along its Main Street in 2019, an extension of the region's Valley Rail system. The system not only brings an alternative to driving, but also it transformed the corridor. The wide, automobile-oriented thoroughfare became like a boulevard with light rail down the middle. This makes for a pedestrian-friendly environment that is suitable for higher-density development.
In the middle of the 20th Century, Mesa only had 16,000 people and a small downtown. The downtown included a 1927 LDS temple, a key historic building. Over time, buildings near the temple became run-down. The site was characterized by parking lots and low-slung buildings. "This was a very challenged area," Mesa Vice Mayor Jenn Duff said.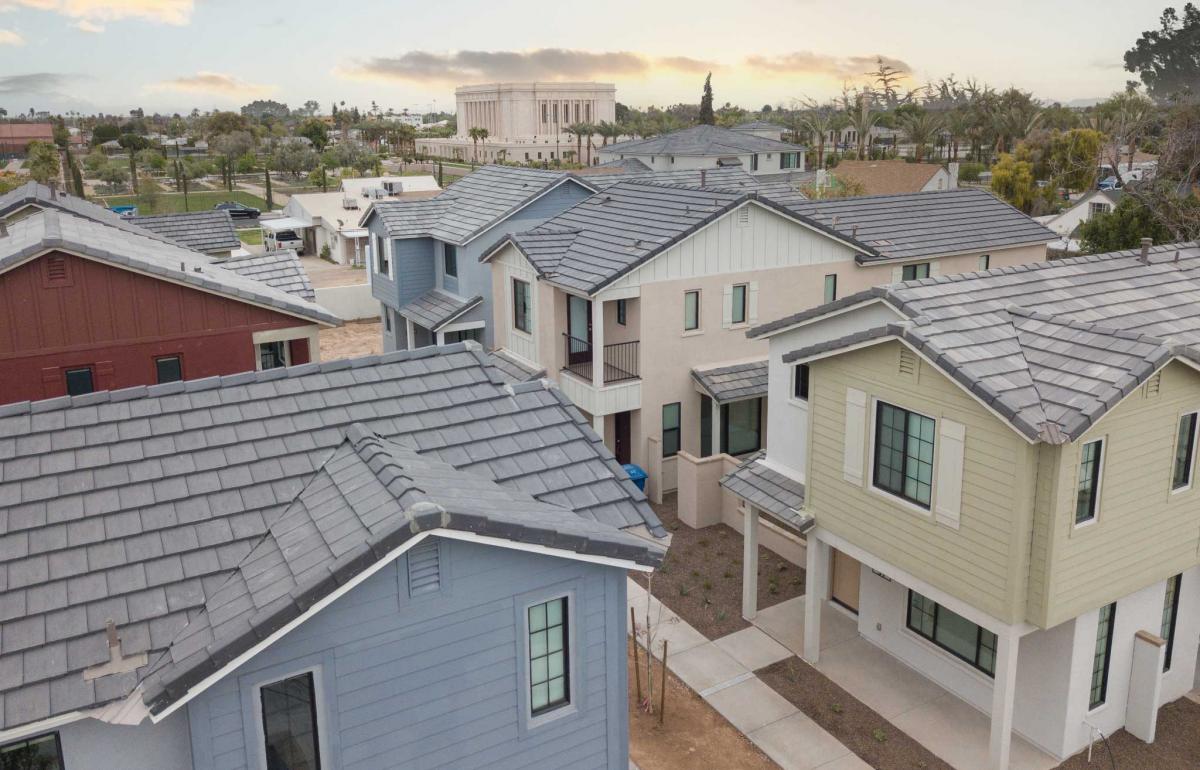 The development of 2-4 story buildings was built during the pandemic, which posed many challenges. Those included keeping workers safe and obtaining construction materials. Upon completion, the project is reportedly 100 percent leased.
Duff noted that many developers are following in the church's footsteps, and 1,500 units are under construction. That will double the downtown population. Arizona State University is building a satellite campus and another mixed-use complex called GRID will feature restaurants, retail space, and several hundred The light rail and form-based code could turn downtown Mesa into a complete neighborhood, perhaps a "15-minute city."