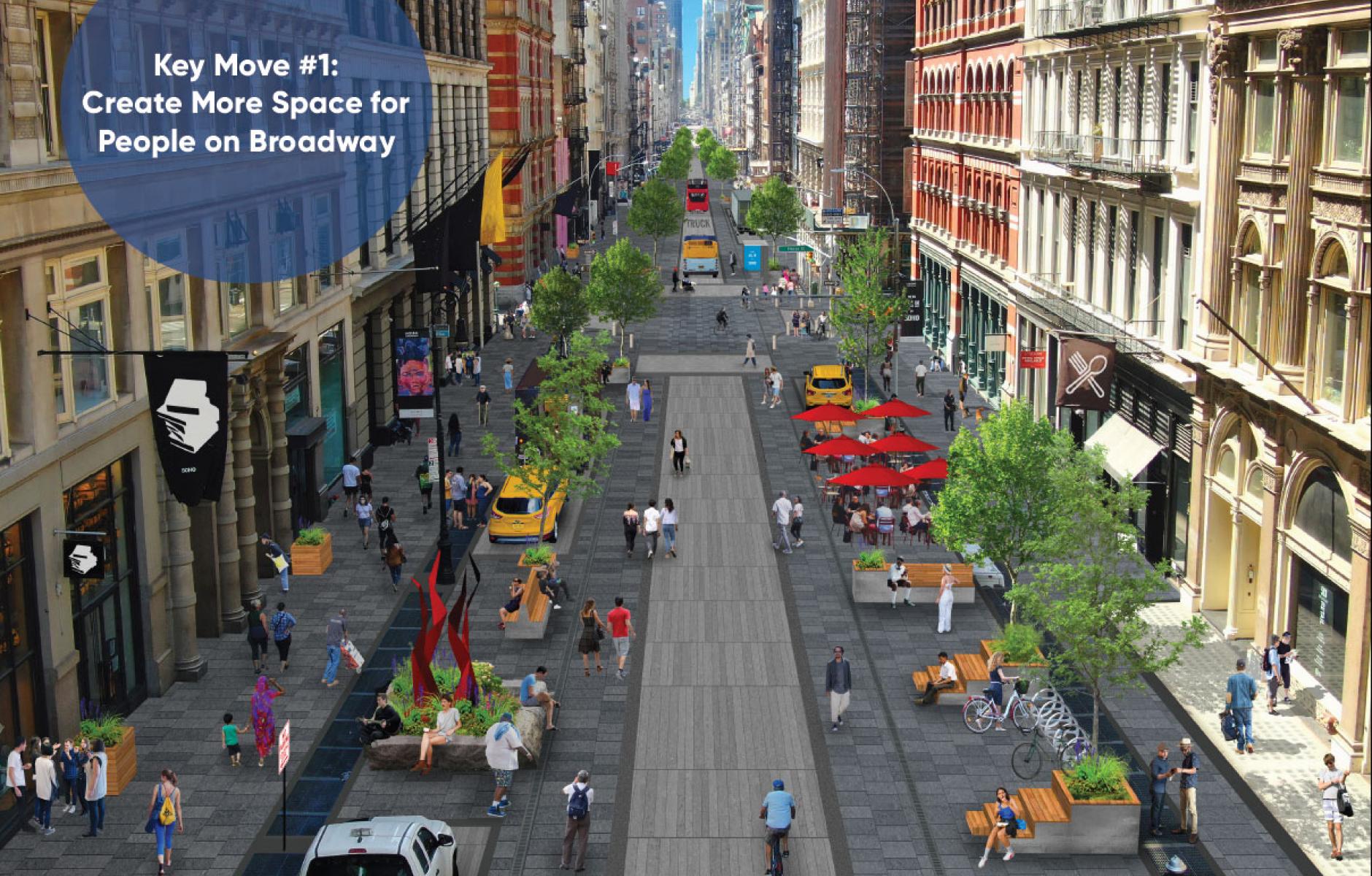 Source: SoHo Broadway plan.
Plan would transform SoHo streetscapes
The SoHo Broadway plan would greatly increase space for pedestrians and cyclists in the iconic Manhattan neighborhood, and be implemented over the next two decades.
A Manhattan business improvement district (BID), the SoHo Broadway Initiative, seeks to revamp the streets in one of the densest, most distinct neighborhoods in America. The SoHo Broadway Public Realm Framework + Vision Plan, designed by Street Plans Collaborative with support from Karp Strategies, reimagines the streetscapes in a 12-block area, including a proposal to ban private cars on a six-block stretch of Broadway. 

Pedestrian space on Broadway, currently a fairly typical New York one-way street, would rise by 71 percent. Curbs would be taken out throughout the study area, creating "shared space" in the BID. Most of the streets in this small section of the City would still allow cars, although Broadway would be restricted to trucks, buses, emergency vehicles, and taxis and other for-hire vehicles, and two cross streets would be entirely pedestrianized. The space for people on foot and bicycles would dramatically increase.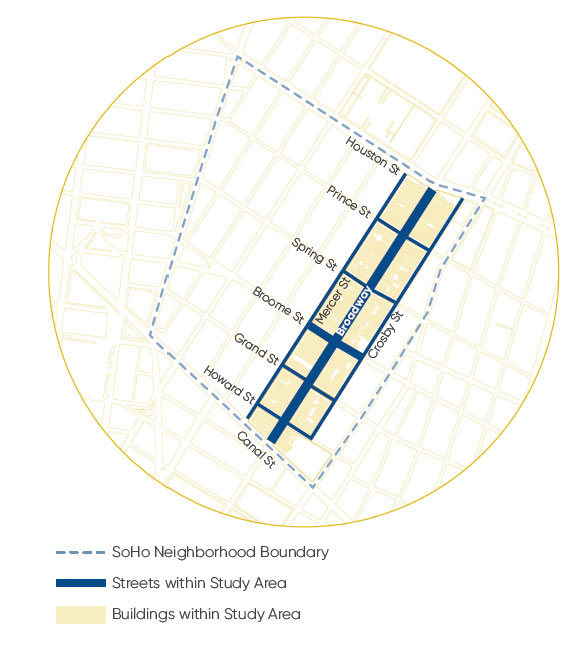 SoHo is a neighborhood of more than 40 blocks that reportedly includes the greatest collection of buildings with cast-iron facades in the world. "The adaptation of the neighborhood's storied cast-iron buildings into thriving art and cultural assets, famed live-work lofts, desirable office spaces, and destination retail spots occurred incrementally and over decades," the authors note. While the buildings and their uses changed, the streets themselves did not, leading to issues that impact health and livability today. 
"These issues include intense traffic congestion, with resulting noise and air pollution; inaccessible sidewalks and subway stations; pedestrian crowding; a lack of usable open space; and logistical challenges associated with servicing historic buildings with ever-evolving tenant needs," the authors report.
This section of Broadway currently includes two travel lanes going south, with on-street parking on both sides. The plan calls for one travel lane going south and limited parking for commercial vehicles. The vehicular right-of-way would be shared space, allowing people to cross at will instead of having to go to intersections. Sidewalks and street furniture would extend ten more feet on both sides of the street. The two parallel streets, Mercer and Crosby, currently do not allow parking during weekday business hours, so service deliveries can be made on these streets (where many of the buildings occupy the depth of the block). This could provide hundreds of new commercial parking spaces to better manage parking and deliveries in the district.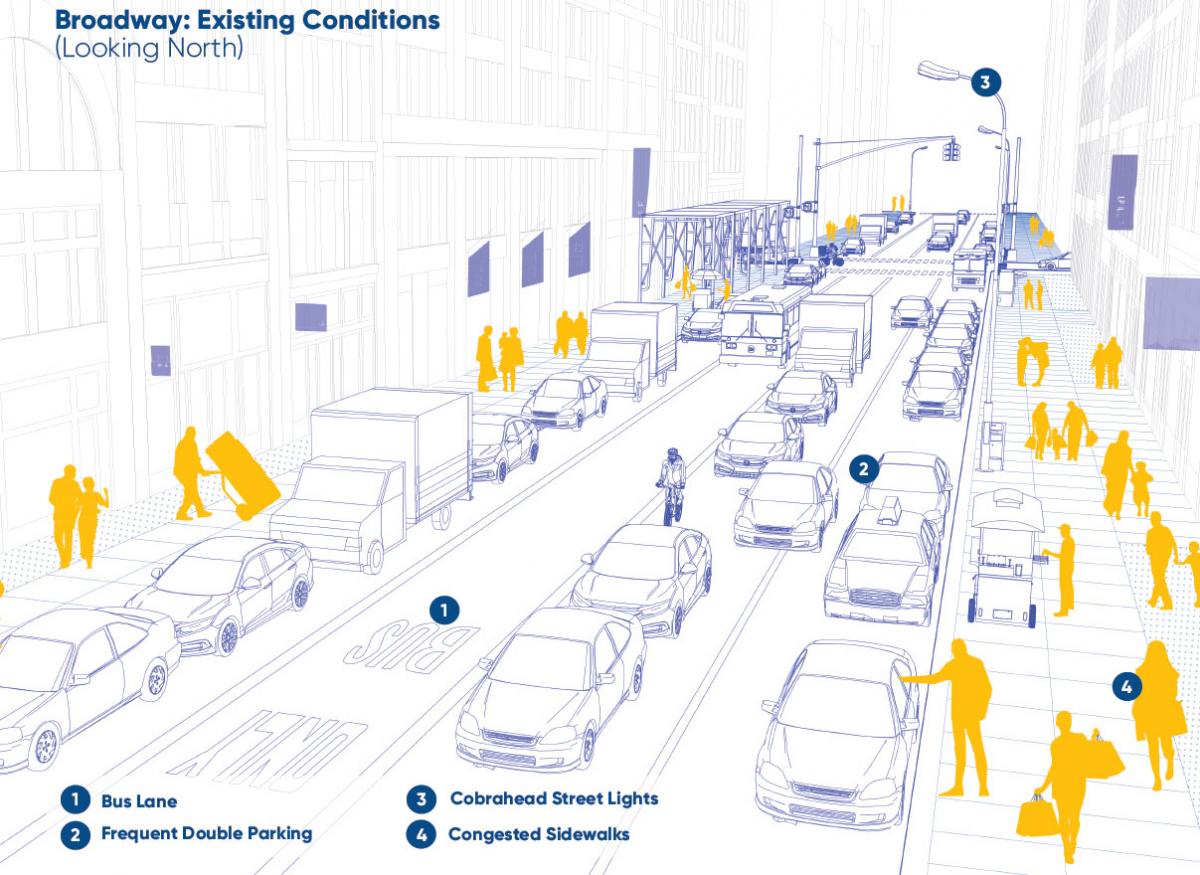 The report paints a picture of how life outside of cars will improve. "Envision meeting a colleague over coffee under a flowering shade tree while a musician performs nearby at Little Prince Plaza. Your colleague's voice (and lungs) aren't overpowered by idling vehicles, and you now find outdoor meetings to be joyful and productive."
The busiest street in SoHo is currently Broome Street, where four lanes of one-way traffic head west towards the Holland Tunnel. The plan calls for travel lanes to be reduced to just one lane westbound, and three-quarters of the street would be devoted to pedestrian and cycling space. Broome Street through traffic would be routed around the neighborhood. 
The plan proposes a multi-step process for implementing new designs. This month, Street Plans Collaborative is implementing weekend tactical projects on a block of Prince Street in SoHo, to give residents direct familiarity with more public space.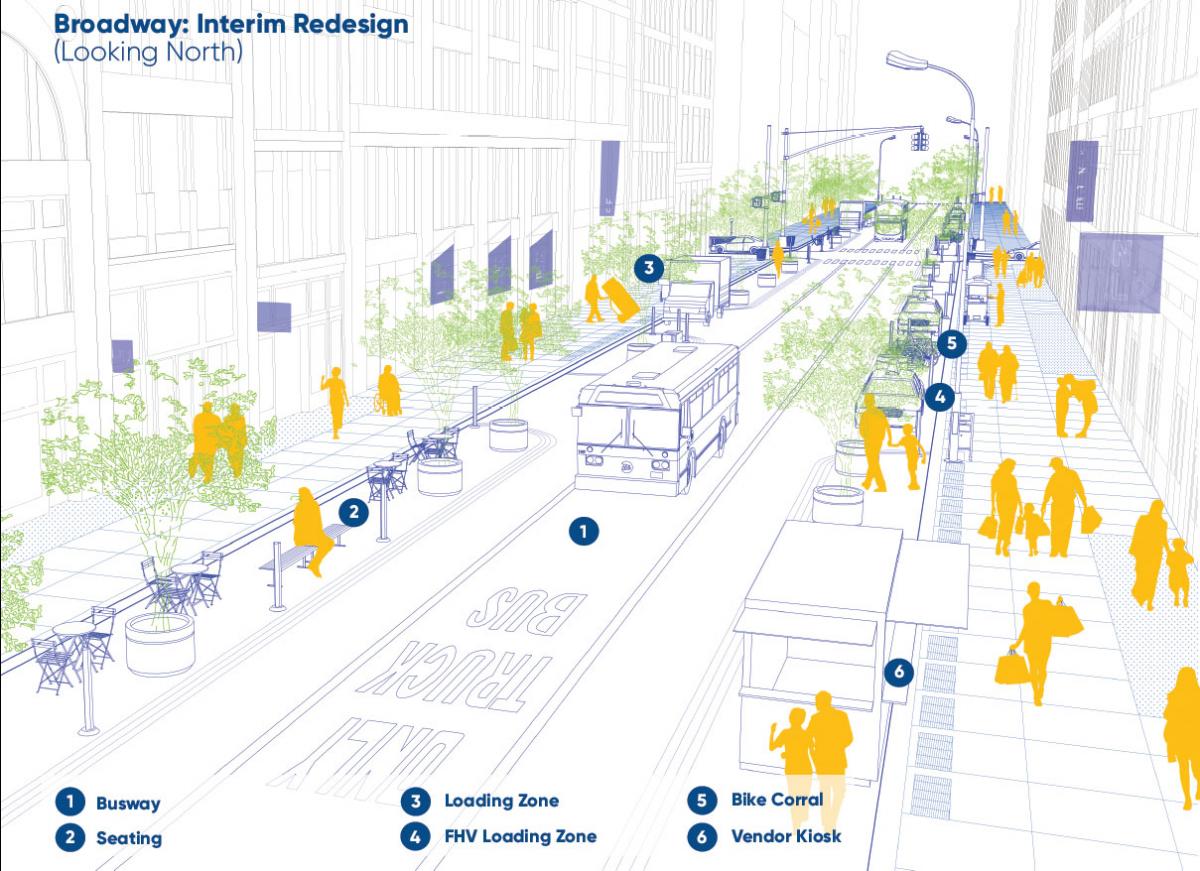 Then, the proposed changes would be tested in mid-term tactical projects in the next 1 to 5 years (see rendering above), using low-to-moderate cost materials to delineate the pedestrian, bicycle, and vehicle space. Landscaping would be added, including small street trees in large planters. Street furniture would contribute seating, café tables, and other features.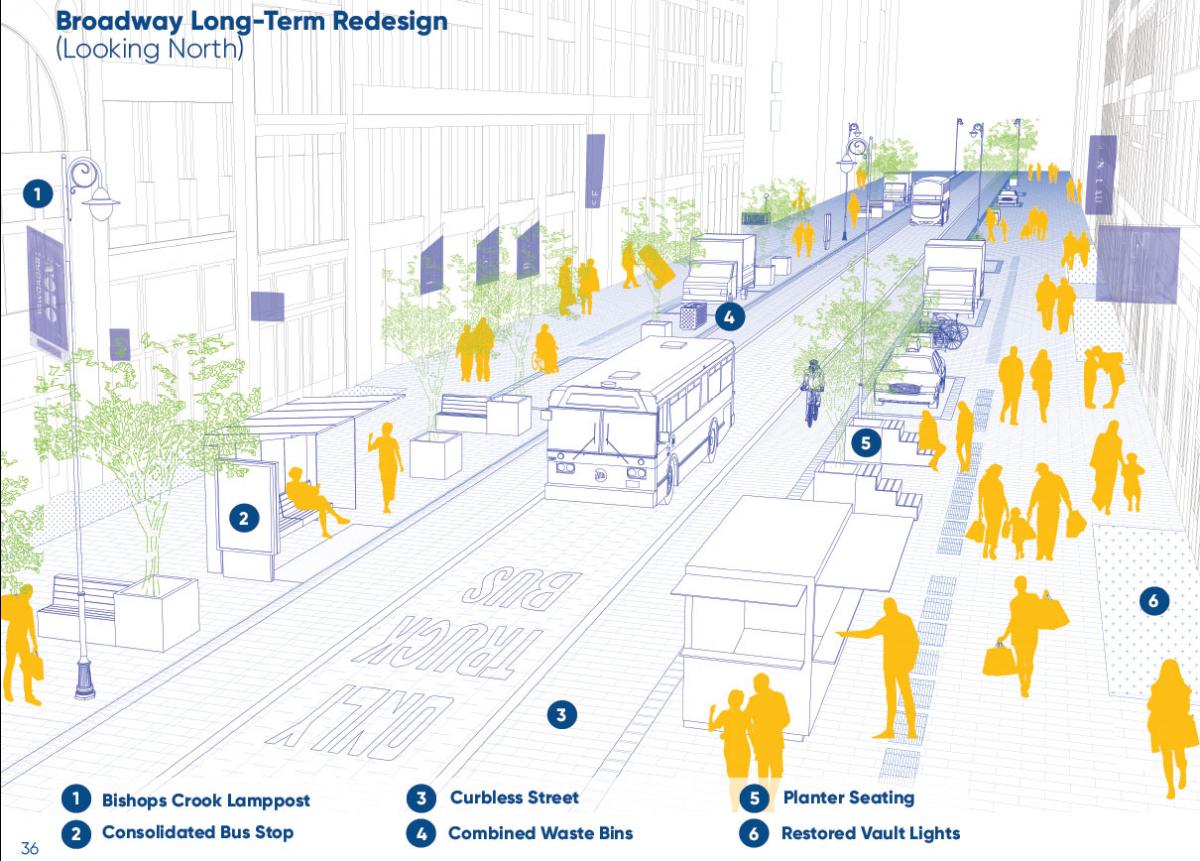 Full implementation with more costly, long-term materials and permanent landscaping would take place in capital projects over the next two decades (see rendering above). All of this would need to be accompanied by regulatory changes and approvals on the part of the City.
The plans refers to a SoHo "superblock," although no blocks would be combined nor streets eliminated. Motor vehicles would be given a lower priority in the urban design, and through traffic would be encouraged to go around the district, thus the reference to a "superblock."
This plan, if implemented, would not be the first section of Broadway to ban cars. A few Broadway blocks around Times Square currently allow no motor vehicles after changes 10 years ago. Those changes are considered to be a success. Pedestrian-priority sections have also been created in the Garment and Flatiron districts.