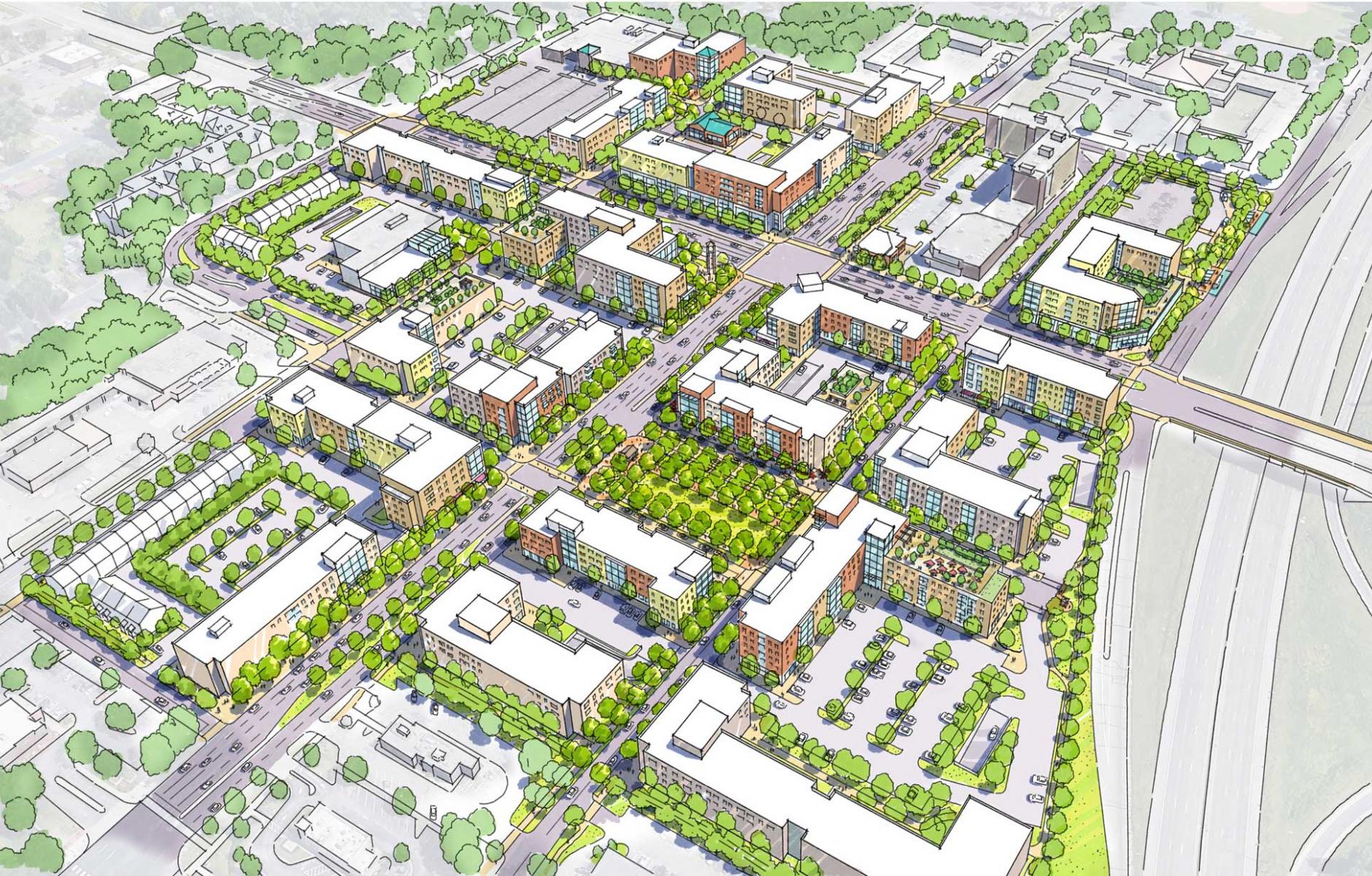 A rendering of a transformed Lyndale Avenue. Source: Stantec
Transforming a suburban commercial strip corridor
There is nothing so ubiquitous in the American landscape as suburban commercial strip corridors, typically built in the 20th Century with a variety of single-use buildings, large surface parking lots, buffers, and thoroughfares focused on driving. 
These corridors have a lot of underutilized land that could be developed as market-rate or affordable housing, or mixed-use. Lyndale Avenue, a two-mile strip in the Minneapolis postwar suburb of Bloomington, includes a wide range of suburban commercial types—including big box stores, shopping centers and other retail, fast food eateries, auto service centers, office and industrial buildings, and warehouses. Parking takes up more land than the buildings themselves.

In the spring of 2020 the City adopted a suburban retrofit strategy led by Stantec to transform this corridor over time into a mixed-use street with more housing, public spaces, a walkable public ream, and transit service. The walkable environment would be legalized through changes to the zoning codes. "This is a great example of attracting investment to the Lyndale Avenue corridor to benefit the community already living and working along Lyndale," notes Gene Winstead, former Bloomington Mayor, who started the process. It was adopted under the current mayor, Tim Busse.
Bloomington, home of the Mall of America, is a quintessential suburb that has been dominated by auto-oriented uses for half of a century, according to Stantec. The retrofit strategy introduced a transformative and transferrable approach to redesigning corridors and public spaces, the design team told CNU.
"The most transformative component of the strategy is the creation of two distinct neighborhood nodes—each creating a 15-minute neighborhood for access to services and amenities for residents and workers," Stantec says. "The primary node includes a new 'town square' that will serve as the heart and central gathering space for the community."
The plan calls for greening of the corridor through the planting of trees, landscaped public spaces, and greener stormwater infrastructure. The parking strategy involves a combination of access to bus rapid transit (BRT) that reduces the dependence on cars, publicly owned shared parking, and limited "basement" parking.