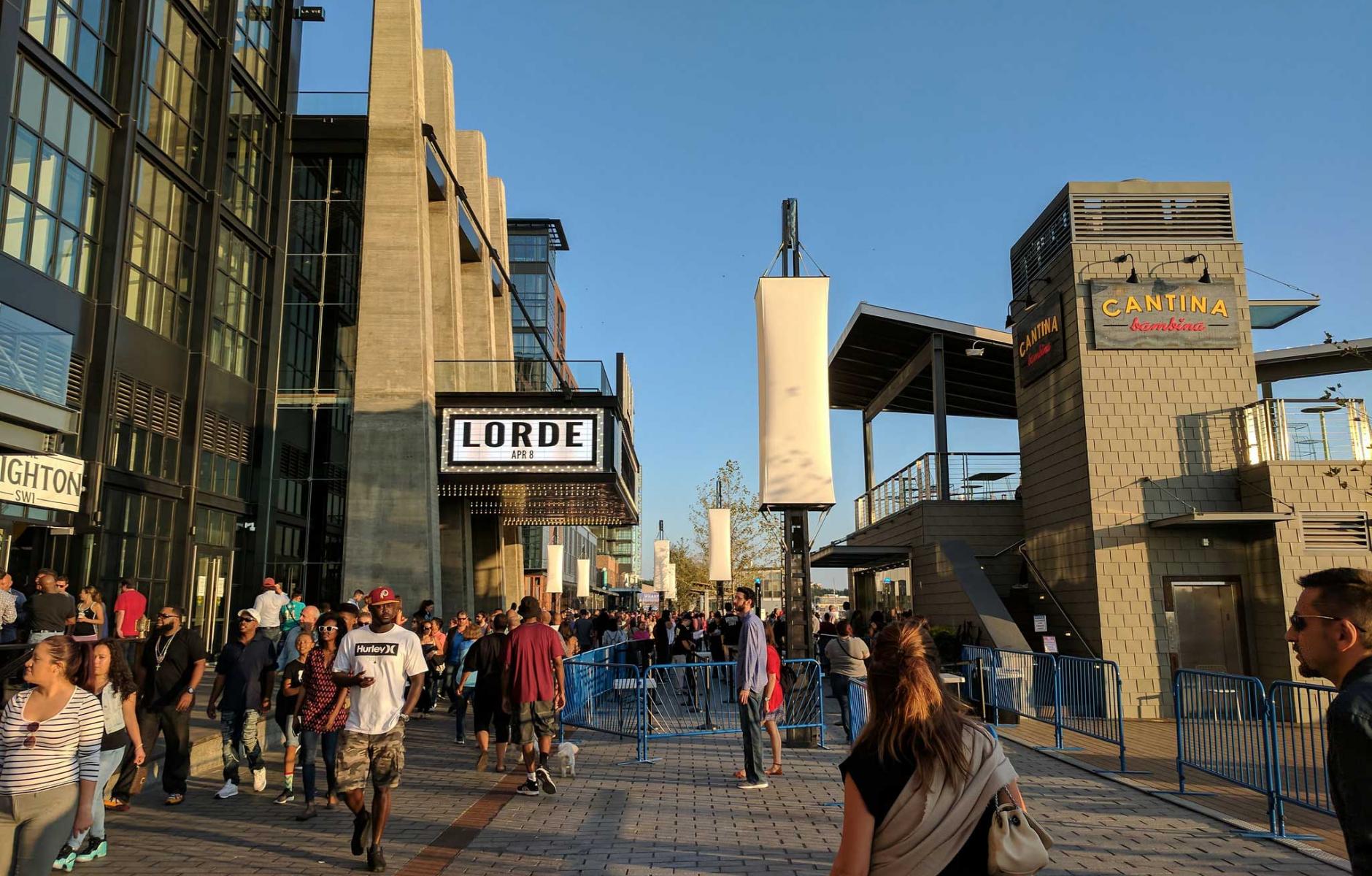 The Wharf in Washington, DC, a transit-oriented project under development. Photo by Payton Chung.
Transit-oriented development and the American Jobs Act
American Jobs Act (AJA) provisions that would tear down unnecessary in-city freeways have received significant media attention, but the infrastructure bill could also boost transit-oriented development (TOD). That angle has been less emphasized.
With the help of CNU, the advocacy group Up for Growth developed a list of 285 TODs planned or under construction, with more than 95,000 residential units and 67 million square feet of commercial space nationwide. 
Three quarters of the TODs on the list are located in just seven metro areas (less than 2 percent of metro areas in the US). These seven are Los Angeles, Richmond (VA), Chicago, Denver, Washington DC, Baltimore, and the San Francisco Bay area. My takeaway is not that the vast majority of TODs are concentrated in these few metro areas, rather that data collection, which occurred over a few short weeks, was concentrated in a few places. The list, therefore, probably barely scratches the surface of TODs that are planned or under construction in the US. 
TOD could have a significant impact on the national economy in coming years, and infrastructure bill could promote it in a variety of ways, including: 
Transit projects connected to housing and mixed-use development could be given fast-track approval and bonus-points in scoring for funding. Federal affordable housing funding sources could be allowed to count as local matching dollars.
A tax credit could be offered for rehabilitating non-historic buildings that are at least 50 years old, located near transit. 
AJA references the Housing Supply and Affordability Act (HSAA), a federal housing policy grant proposal could provide funding for planning and implementation of policies that boost TOD. This would create a $1.5 billion 5-year competitive grant program through HUD to eliminate barriers to producing affordable housing. Grants would be awarded on a competitive basis to states, local governments, regional coalitions of local governments, or Indian tribes that demonstrate rising housing costs and a pattern of imbalance between the availability of jobs and housing.
If the infrastructure bill emphasizes TOD, this would impact new urbanists and the cities where they work. One example is New Rochelle, NY, a suburb just north of the Bronx. Prior to 2015, only one building had been built downtown in a decade, Up for Growth reports. That year a downtown redevelopment plan was adopted with five main elements:
A form-based code.
A streamlined approvals process.
A density bonus that encourages developers to incorporate open space, additional affordable housing, historic restoration, and other benefits.
A pilot 20-year tax abatement program in exchange for additional affordable housing units.
Fees that ensure funding of vital community services and infrastructure.
By early 2020, "32 projects totaling $4 billion in investments have been approved, which includes 6,300 new units, 770 of which are set aside as affordable. Over 245,000 square feet of nonresidential development is in some stage of development."