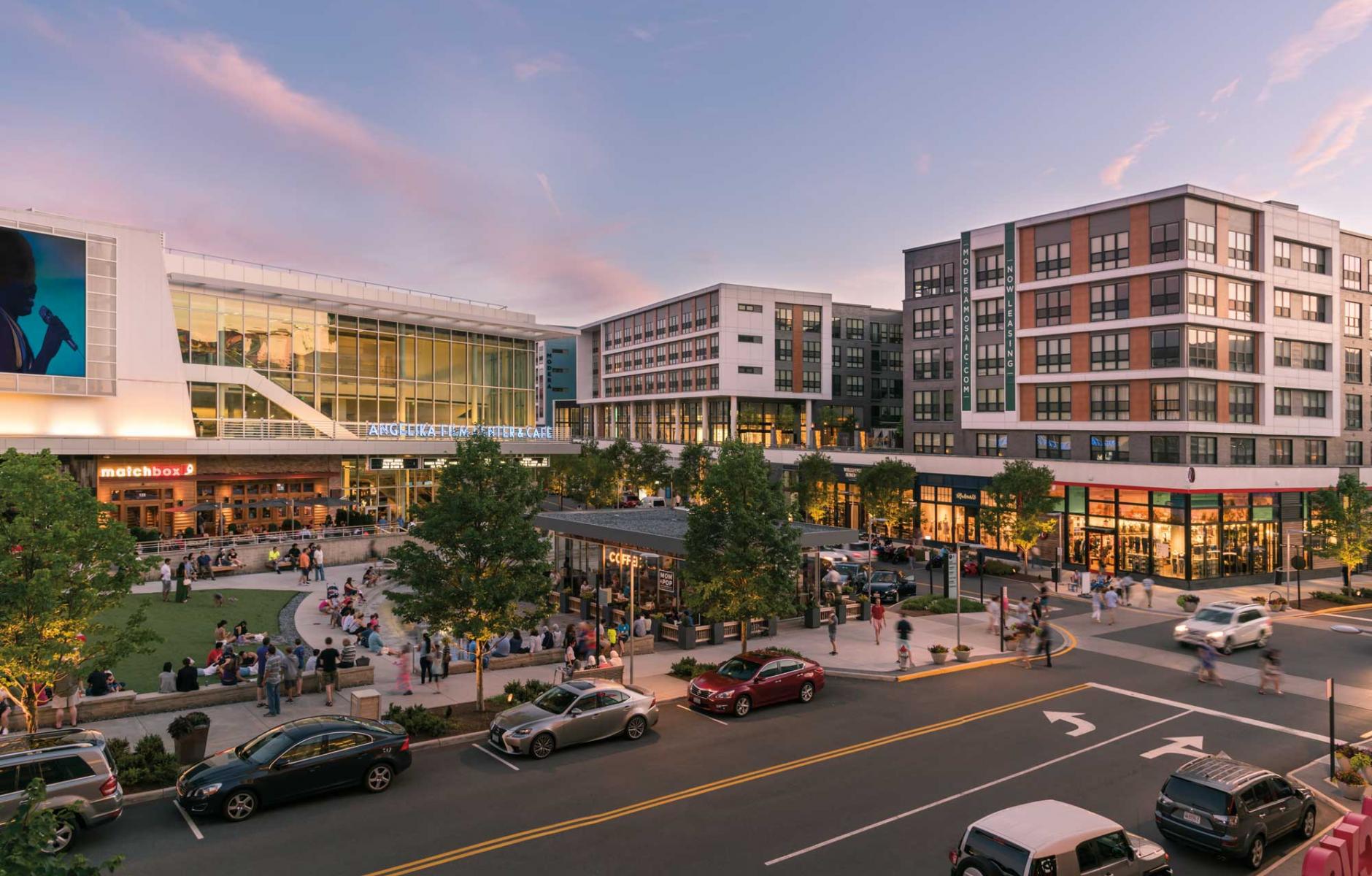 Strawberry Park and surrounding buildings at the Mosaic District. Source: Edens
A mosaic of active streets and public space
A former cinema site becomes a haven for a diverse suburban population in Virginia.
Mosaic District is a 31-acre, two million square-foot mixed-use development in Fairfax County, Virginia, on a former a multiplex cinema site. The project comprises nine city blocks, with urban streets and public spaces, recently profiled in the book Case Studies in Retrofitting Suburbia. 
The area used to be the single-use, commercial heart of conventional suburban Merrifield, an unincorporated area in a county of 1.15 million people just south of DC. The expansion of Metro rail into Fairfax has inspired a suburban retrofit mindset in recent years. 

The developer, Edens, has a long history of building grocery anchored strip malls, a retail type that faces rising vacancies, note authors June Williamson and Ellen Dunham-Jones. Edens purchased the failing cinema with an eye to building something different, and the Mosaic District qualifies. Site planning, architecture, and the mix of uses appeal to a young, diverse demographic in Merrifield, which is about one-third Asian.
Approved just before the Great Recession, the district took ten years to complete, with more than 1,100 living spaces—137 affordable—500,000 square feet of office, and retail. Anchors include an arthouse cinema, a Target, and a Mom's Organic Market.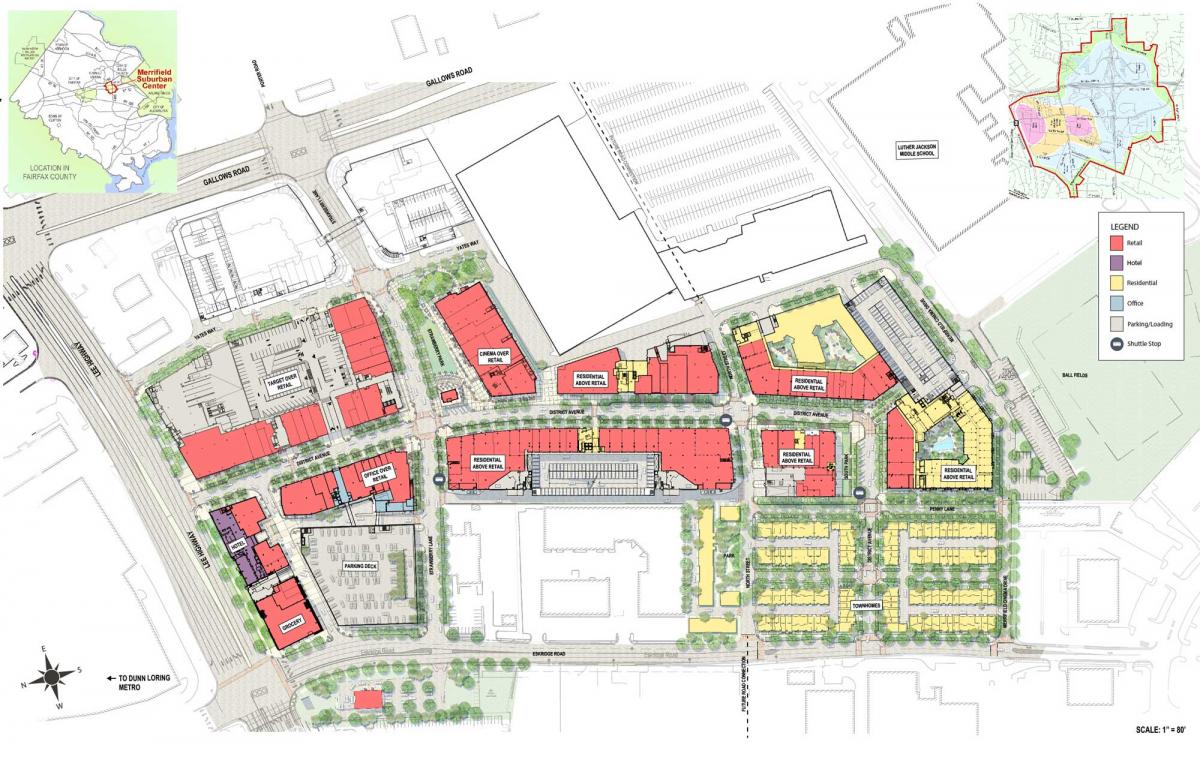 Fairfax views this property as a test case for suburban retrofit that the county is implementing in Tysons Corner, the renowned "Edge City" located three miles away, Williamson and Dunham-Jones report. Although the Mosaic District is an island of urbanism in suburban sprawl, the county has plans to convert adjacent US Highway 29 (Lee Highway) to a tree-lined boulevard, which will help immensely with walkability of the area. Fairfax adopted tax-increment financing, creating a public-private partnership to transform the site.
Edens focused on enhancing the social environment with "Third Places," and was inspired by Ray Oldenburg's 1989 book The Great Good Place. The developer and design team, led by SK+I, toured other suburban mixed-use developments. In the DC area, many have traditional architecture. The team sought a more modern aesthetic for the district.
"Good urbanism is often said to be stylistically independent, but that idea is rarely demonstrated," notes SK+I. "While alluding to the International Style, they are not International Style buildings. They are visually rich and playful, yet elegant, buildings appropriate for an urban stage set for the human drama of everyday life: living, shopping, communing with neighbors, and entertaining."
The main public space, Strawberry Park—named after the Beatles' Strawberry Fields, there's also "Penny Lane"—is surrounded by the project anchors and other retail stores. It is a popular gathering spot for people and events.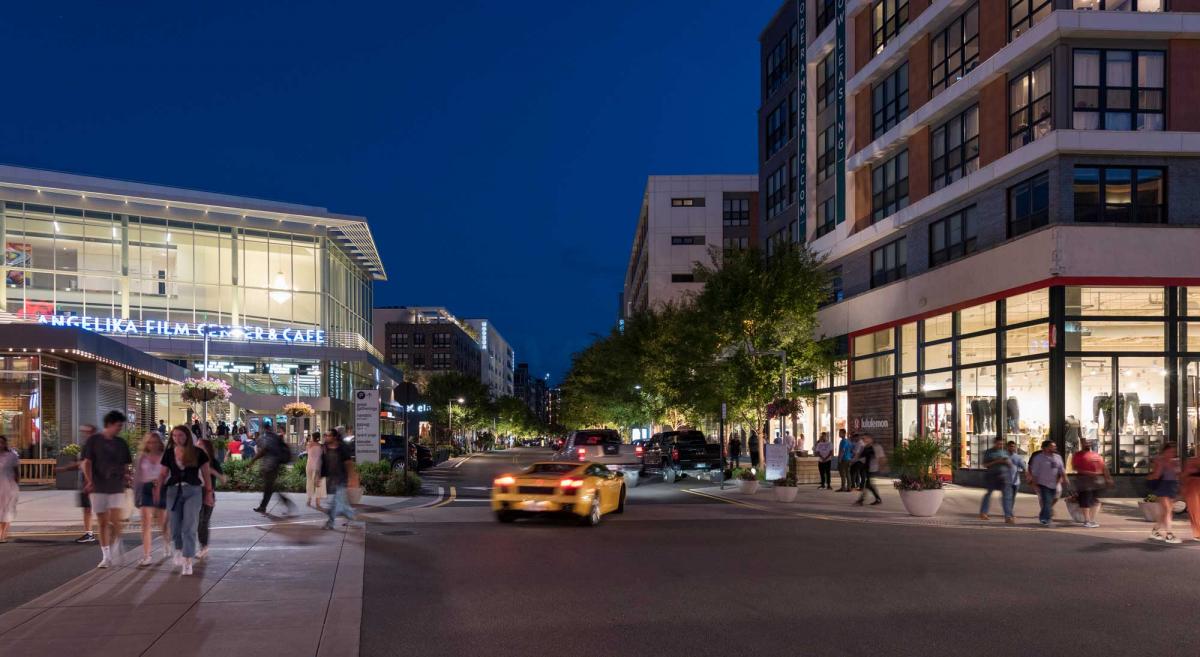 Special attention was focused on storefronts, public spaces, and the bottom 20-feet of buildings, which have a great impact on pedestrians. Making sure some of the larger uses like the cinema, offices, Target, and parking decks did not overwhelm the public realm was a challenge. 
Streets remain privately owned, allowing flexibility for closures during festivals and other events. The district "is both an environmental and a fiscal success by many measures," according to Williamson and Dunham-Jones.
The project goals include:
Create a development that would serve as a catalyst for redevelopment of the area. 
Create a vibrant environment that would serve a multi-ethnic, multi-generational community. 
Create a grid of walkable streets and a smaller block structure to knit together the surrounding community. 
Create inviting, flexible, and programmable open space. 
Connect to mass transit infrastructure at Dunn Loring Metro station, about a mile away. 
Meet sustainability goals consistent with LEED ND certification.
Meet economic development goals for the county.
Repairing and retrofitting suburbia is a major challenge nationwide as many single-use sites are ripe for redevelopment. Shopping centers and malls are increasingly becoming vacant and underutilized. The success of the Mosaic District points to an opportunity for new life as walkable urban places.