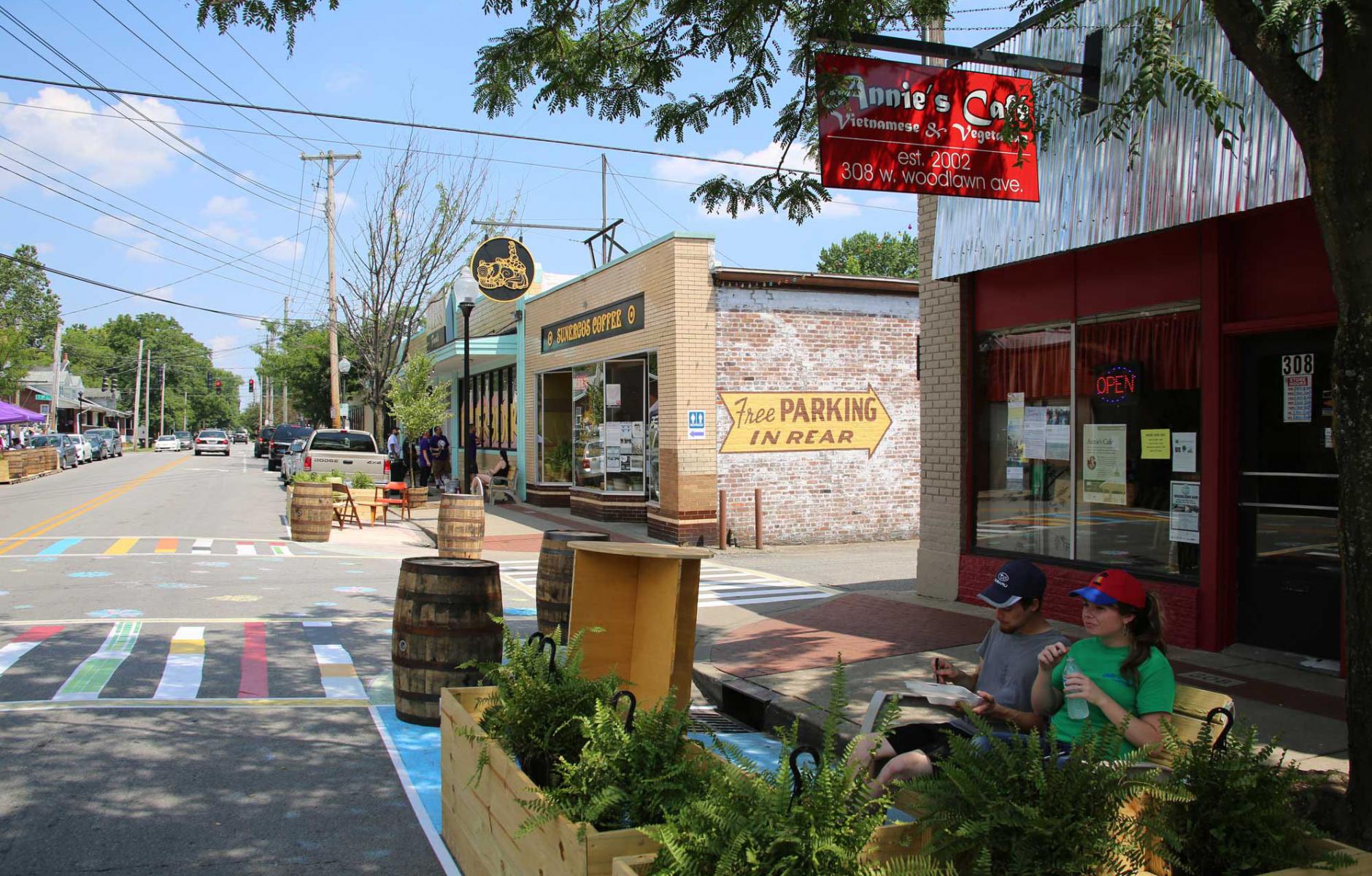 Woodlawn Avenue, a Main Street in Louisville. Source: Enabling Better Places: A Handbook for Improved Neighborhoods
AARP, CNU team up on zoning reform report
Ten changes are recommended to improve Main Street streetscapes.
AARP, a nonprofit representing the interests of the 50-plus age group that claims 38 million members, published a new report on zoning reform to create more walkable communities. Enabling Better Places: A Handbook for Improved Neighborhoods, was cowritten with CNU.
The report promotes incremental changes to zoning and land-use ordinances to build or retrofit neighborhoods and urban centers. The recommendations—unlike form-based codes (FBCs) and other complete zoning overhauls—can be implemented one at a time. 
The audience for this report is citizens and local political leaders rather than land-use professionals—yet the latter may find it useful as a communication tool.
Many current codes were formulated in the middle of the 20th Century, during the suburban housing boom, when land use priorities were very different from what they are today. Codes often disallow the construction of traditional walkable communities—routinely built up to the middle of the 20th Century—and now in strong demand again.
"Why are so few cities, towns and neighborhoods in the United States walkable? The answer, in many locations, is that zoning codes and land use ordinances have made the creation of such places illegal," the report says.
There are 42,000 units of local government with zoning authority in the United States. This guide explains why and how a community may want to change its rules to achieve economically strong, diverse, equitable, and inclusive places. 
Recommendations are organized so that they are useful and place-specific. Rather than try to cover the entire built environment, the report focuses on two kinds of places: Downtowns and Main Streets; and neighborhoods adjacent to downtowns and Main Streets. Policy changes are grouped into three categories: streetscapes; building forms and uses; and facades, frontages and parking. Reforms are divided into two stages—those that can be implemented quickly, and those that require more resources and political will. 
Ten recommendations, for example, are identified for downtown/Main Street streetscapes. Simple code changes can transform streets from places that mostly serve cars to spaces designed for people. 
Stage 1
Save Small Streets and Alleys. Small blocks with service access via alleys are often eliminated from historic communities so the spaces can be used in other ways. Doing so typically reduces walkability and a district's potential for success. If small blocks and alleys no longer exist (or never existed), consider adding some.
Establish on-street parking. On-street parking is public, conveniently located and business friendly. The spaces can provide a variety of benefits, including a layer of safety to pedestrians by separating moving traffic from the sidewalk. But on-street parking spots are often removed in order to add travel lanes or accommodate curb cuts for driveways. Wherever possible, on-street parking should be maintained or added before creating off-street parking lots or garages at an additional cost.
Allow encroachment. The word encroachment isn't often used in a positive context, but here it is. The space in front of a restaurant for outdoor dining and an awning that projects over the public right-of-way are both beneficial encroachments. A caveat: On sidewalks with significant pedestrian traffic, it might be necessary to ensure a width of at least 8 feet (not including any sidewalk seating, bus stop shelters,planters or other features) so passersby of all abilities can safely navigate the space.
Stage 2
Restore two-way streets. The one-way streets in many downtowns were once two-ways that were converted to increase vehicular capacity and speeds. But high-speed roadways in downtown districts are dangerous to pedestrians. One-way streets also reduce the number of customers who'll see a shop or business as they drive by. Many towns and cities that converted their two-way streets to one-way are switching back to benefit the local economy.
'Complete' the streets. The term Complete Streets refers to a transportation policy that considers the needs of all roadway users: drivers,pedestrians, cyclists and transit riders. Increased access and safety for walking and bicycling correlates with an increase in customers for an area's shops, service providers and eateries. While an expressway doesn't need to be suitable for pedestrians and cyclists, a Main Street or downtown does. State governments that want to encourage Complete Streets can incentivize street safety projects by providing funding.
Put roads on a diet. Communities benefit from slower-moving vehicles.From a safety standpoint, slower speeds save lives. From a business perspective, slower speeds increase visibility and make the sidewalk a more pleasant place for customers. Posting a lower speed limit helps, but it's more effective to reduce the number and width of travel lanes. Each should be no more than 10 feet wide in business districts, except where bus routes or bicycle lanes make more width necessary.
Limit the lanes. For reasons similar to those of a road diet, the most vibrant Main Streets consist of two travel lanes moving in opposite directions. Two-lane roadways can be easily crossed by pedestrians. While some downtown districts do fine when a third lane is added for turning, additional travel lanes typically reduce safety.
Set public realm standards. Although careful attention should be paid to creating an attractive public space,design standards need to be limited and reasonable. Sensible policies establish a minimum sidewalk width; provide on-street parking; and call for street trees, outdoor seating and pedestrian-scale lighting.
Provide stormwater options. Stormwater that passes over roofs, parking lots,streets and other impervious surfaces carry pollutants into local waterways. Some communities require treating stormwater on-site, which can be done with street trees, bioretention, swales and permeable pavement. When costly underground treatment is the only option, off-site stormwater management should be employed. When a community's stormwater isn't managed collectively over a large area, a fee-in-lieu approach can fund streetscape retrofits to add storage and protect water quality.
Remove highways that blight or disconnect communities. Replacing urban freeways with surface streets is a cost-effective, sustainable option for cities dealing with aging, grade-separated roads.This has the added benefit of healing local street networks and improving regional traffic dispersion.