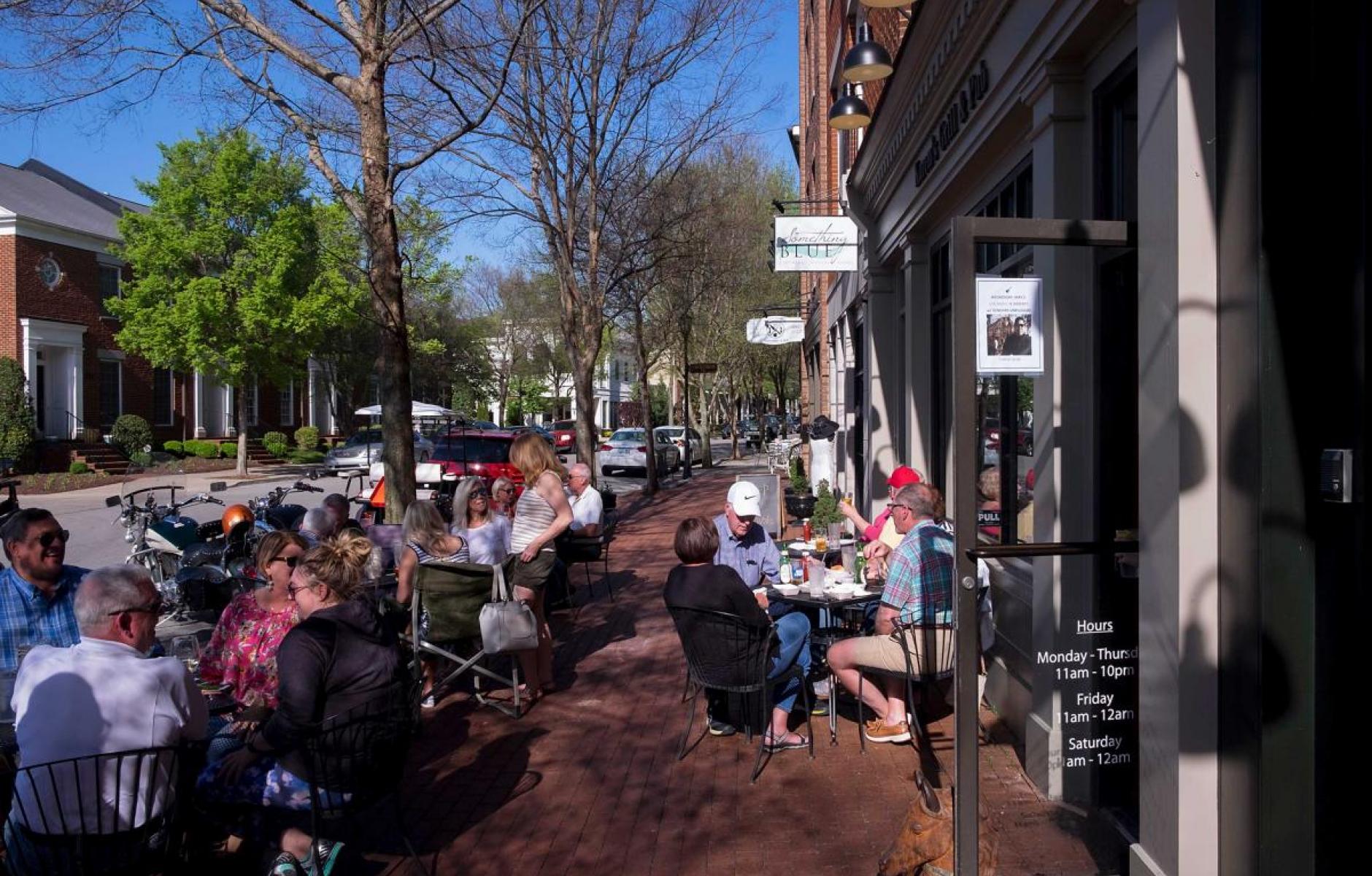 Source: Norton Commons, Louisville
How urban places can adapt after the coronavirus
Walkable communities will continue to be viewed as ideal for live, work, and play—but more responsibility will fall on community planners to accommodate new desires, needs, and expectations.
For many of us, the time of "sheltering in place" or "staying at home" has become a period of reflection, and a time to plan our next move for when we can slowly recover from the health and economic crisis. Most of us have already modified our social distancing expectations, consumer behaviors, and working styles. These behavioral and lifestyle modifications can have profound implications for the ways that we work, live, and play in the cities and urban places. 
With residents across the nation hunkered down to weather the storm of the pandemic, few people are moving or changing address. Even so, many observers assume that more households believe that working and living in urban places is too dangerous, because cities generate population densities that more easily transmit diseases. Some may fear that the recent pandemic will have a profound and negative impact on the New Urbanism movement and mission. 
We may candidly acknowledge the risk that some households could indeed choose to flee the biggest cities and population centers in the pursuit of fresh air and wider open spaces. However, let's not allow this scenario to cast a pall on our cities and urban places. Rather, I recommend that we identify ways that we can provide better urban places to meet the wants, needs, and lifestyle preferences of a rapidly changing demographic.
The following ideas are intended to keep the discussion and dialogue moving in the right direction, positively and proactively. 
Growing rental market
The Great Recession and housing slumps have had a measurable impact on the way that households choose to live, and this economic and health pandemic will bring a double-whammy. During the recession, Millennials and many iGens (sometimes called Gen-Z, now between 8 and 25) observed their parents struggle with upside-down mortgages. When they later moved out of the house, they were exceptionally quick to conclude that leasing a townhouse or loft is a far safer bet than buying a house. 
Today, iGens are mostly at home following the pandemic and hearing that rents and rental evictions have been paused. Meanwhile, they are also learning that their parents are suddenly unemployed; and watching them carefully balance their checkbooks to determine whether they can afford to pay the mortgage and still buy groceries. Just imagine this next wave of households concluding again that a rent-freeze is a safer bet than a mortgage. 
Independence and resiliency
The local and statewide shut-downs are also leaving many workers without a way to be gainfully employed and generate income. For those who are dependent on an employer for wages, it can be terrifying to realize that they have lost their income, lost their jobs, and are unable to leave the house to find a new one. 
Imagine again how the next generation might be processing these current events. Compare that to the prospect of being able to move to another city to find a job, rather than being trapped in a mortgage with fewer choices. This next generation of households will soon be on the move, and chances are quite good that they will want to be self-employed entrepreneurs rather than tethered to an employer. 
These feelings will have a profound impact on how the labor force chooses to work in the future. When we recover, prepare for whole new wave of incubating entrepreneurs, sole proprietors, and home-based businesses. These liberated workers will also be untethered to any single location and will have more flexibility to migrate to places that they love, and where they want to live, work, shop, and play. 
Technological tools
Meanwhile, current trends are quickly motivating the labor force to ramp up the use of technological tools that enable remote and virtual working. These skills will be quickly integrated by the next generation of entrepreneurs and small business owners seeking to become untethered to larger employers and dependent on corporations for a livelihood. Their savvy technological skills will enable them to compete, thrive, and be resilient in a rapidly changing world. 
Omni-channel marketing
Many existing small businesses and merchants are quickly getting creative in finding ways to adapt and survive during this current economic downturn and crisis. If they aren't already, they should be using this time to: build and launch websites; learn to use technology in ways that enable online purchases and deliveries; and build customer loyalties through the "halo effect" of "omni-channel" marketing. Consumers are most loyal to stores with a physical location that also offer online and phone order delivery, promote through social media, and collect online sales. Businesses that offer online services today will stand a much better chance of attracting patrons back into their brick-and-mortar establishments in the future. 
Remote and mobile working
The pandemic is certain to having a profound impact on how the next generation chooses to live and work. They are watching us adapt with lightning speed by setting up home offices, ordering supplies online, activating remote meeting technology, finding creative ways to engage stakeholders, hosting webinars to share information, and basically "getting it done." Working from home is certain to spur new discussions by employers, and they will be studying its effectiveness and ways to improve upon the system. Their end goal will be to keep workers resilient, on the job, productive—and profitable. 
When we resurface, there should also be a notable increase in demand for flexible work environments in our urban places. Urban proprietors will be seeking flexible places and spaces to hold team and client meetings, break away from the home office, and collaborate on creative problem-solving. 
There will be a growing demand and need to integrate creative work spaces into the public realm. Imagine pop-up offices, meeting pods, and technology centers linked to town squares. They will be anchored not by department stores, but rather by traditional institutions like colleges, county seats, city halls, libraries, post offices, and medical centers. Complementary services will cluster nearby and within easy walking distance, including copying and printing centers, office supply stores, shipping services, attorney/title companies, banking centers, fitness centers, and plenty of restaurants, eateries, and cafes.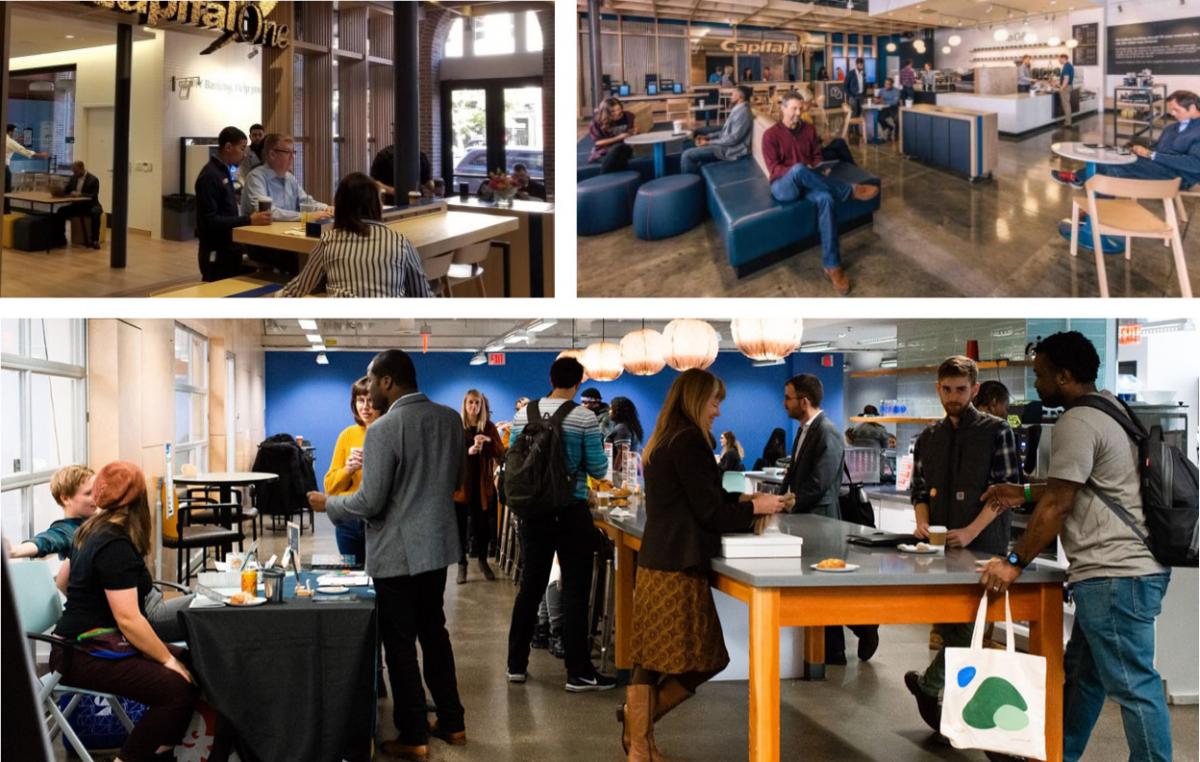 Even before this most recent crisis, banking centers established coffee cafes, shipping centers offered computer time, and libraries made meeting rooms available. These kinds of integrated services will quickly grow and evolve over the coming years in creative and innovative ways.  
Health and wellness
The pandemic has placed an incredible burden on our health care system—leading to the loss of lives of the most vulnerable populations. The health care industry is reporting that for the younger population, the most vulnerable include those with compromised immunities and those struggling with obesity, diabetes, and/or high blood pressure. 
When we recover from this, anticipate a new campaign of warnings from the health care community, emphasizing that Americans must get back into shape. Urban dwellers are no exception. Therefore, we should anticipate the growing importance of recreational amenities including bike paths, outdoor fitness stations, downtown fitness centers, plazas and rooftops for group yoga sessions, ice rinks and ribbons, skate parks, and more. These resources will enable urban dwellers and workers to follow good "health and wellness" practices and lifestyles. 
Feeling socially connected
Rural places can exacerbate periods of social isolation—even when times are good and flu seasons are in the distant past. Downtowns and urban places will continue to be the perfect place for ex-urbanites to shake off the sense of social isolation that comes with living away from others. 
Keep in mind that the majority of head-of-householders are now singles rather than married. They may be single for any number of reasons, but the effect is that they are either living alone or perhaps caring for a child and/or an aging parent. This trend will continue, and it will generate demand for downtown housing and places where singles can gather, meet up, interact, and feel socially connected. 
The implications
When things get back to normal, I believe that urban places will continue to be viewed as ideal places for living and working, as well as shopping and playing. However, more responsibility will fall on community planners to plan, design, and build places that will accommodate these new wants, needs, and expectations. At a minimum, it will become more essential than ever to provide ample and appealing outdoor public places that enable everyone to feel that they can breathe easily. And, these amenities are essential for urban places to demonstrate to the nation and the world that they are the best places for new small businesses to get it done.