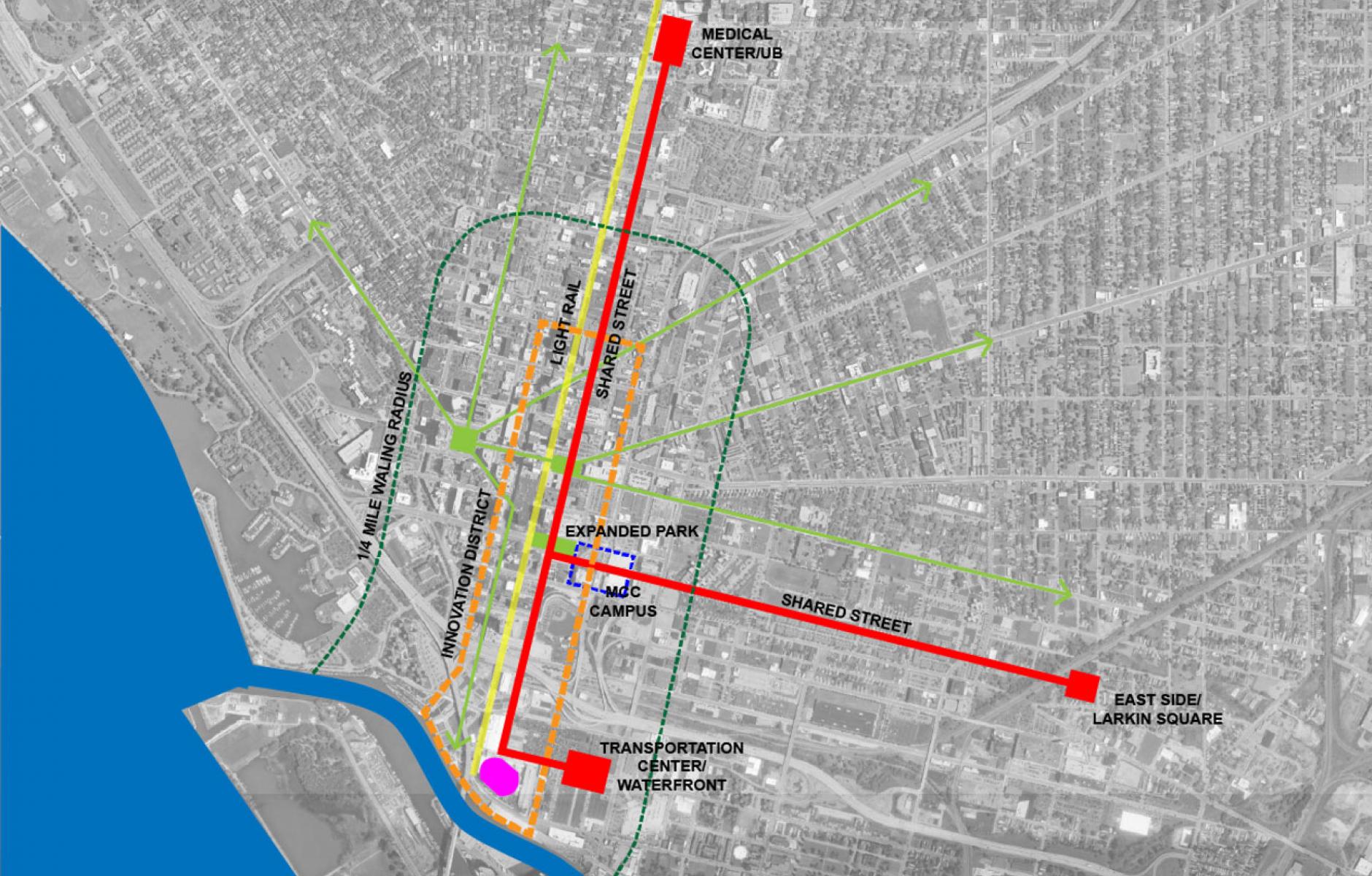 Transportation 'innovation zone' proposed for Buffalo
The city is testing new mobility technologies to promote economic development and placemaking for the 21st Century.
CNU and Stantec's Urban Places are working with the City of Buffalo to leverage transportation technology to boost economic development in the lower Main Street district. A plan was outlined at a four-day design workshop called "The Future of Mobility: Remaking Buffalo for the 21st Century," held in late February. 
This workshop was the first of its kind in a major city to combine a futuristic look at automated vehicles (AVs) and micro-mobility such as scooters and e-bikes with a realistic assessment of market trends supported by urban design. "Over the next two decades demographic trends suggest that Buffalo's urban core will benefit from substantial demand for new housing," says David Dixon, who led the Stantec Urban Places team. "Increasing the housing supply in the core would support significant new retail and similar amenities, adding life to Downtown streets and attracting talent, jobs, and investment to Buffalo and the region."
The workshop placed a high priority on equity, inclusion, and maintaining affordable housing as property values rise. A vision of establishing a downtown "innovation zone" will be presented in more detail in a report from Stantec Urban Places and CNU in the spring.
Mobility Innovation Zone (MIZ)
The Lower Main district could be a testing area for new transportation technologies. The MIZ would focus on shared AVs and e-bikes, scooters, cargo bikes and other form of micro-mobility. Shared AVs and "little vehicles" are viewed as additional options, not a replacement for transit. They would be part of a transportation "eco-system" that also includes privately owned vehicles, walking, and ordinary bicycles. 
As part of the MIZ, the team proposed north-south and east-west corridors, on Washington Street and Division Street, for AVs and micro-mobility to share the right-of-way with automobiles and buses.
AVs are a potential solution for the "first/last mile" transportation problem. Buffalo has a regional system of mobility centered on a 6.4-mile-long Metro Rail line. Currently, many people drive downtown if they don't live near the light rail. The zone would be designed to create models for success, including the opportunity to leverage existing investments in public transportation through "mobility hubs." When systems are proven, technology can be transferred to other neighborhoods, cities, towns, and villages in Buffalo and Western New York. One of the important goals of the MIZ is to serve as an incubator to foster test cases for the convergence between land use and mobility.
As an innovation zone, MIZ could allow for more flexibility in policies and coordination with the State. For example, "platooning," or tailgating, of AV shuttles would likely require an exemption from state law against tailgating, according to Greg Rodriguez, an attorney and mobility policy lead for Stantec Urban Places. 
Most importantly, making the city a better place for humans at street level would be a higher priority than changes in transportation technology. "We can create a place for people, not for cars, for the first time since 1925," says Dixon. The team championed the idea as "MIZion Possible."
Economic development fund
The team recommended the creation of an economic development fund, supported by the State of New York. This fund would allow market rate residential and commercial development to proceed until increased property values and the market can support development without subsidies. Currently, affordable development is most feasible for developers, because it is supported by tax credits. "A fund like this is particularly relevant for cities like Buffalo that have exhausted their supply of buildings eligible for historic tax credits and need to move to a new model for downtown redevelopment that relies on new construction, but which requires public investment to make new construction feasible," Dixon explains. The fund could leverage investments that the state has already allocated to boost the Buffalo region's economy.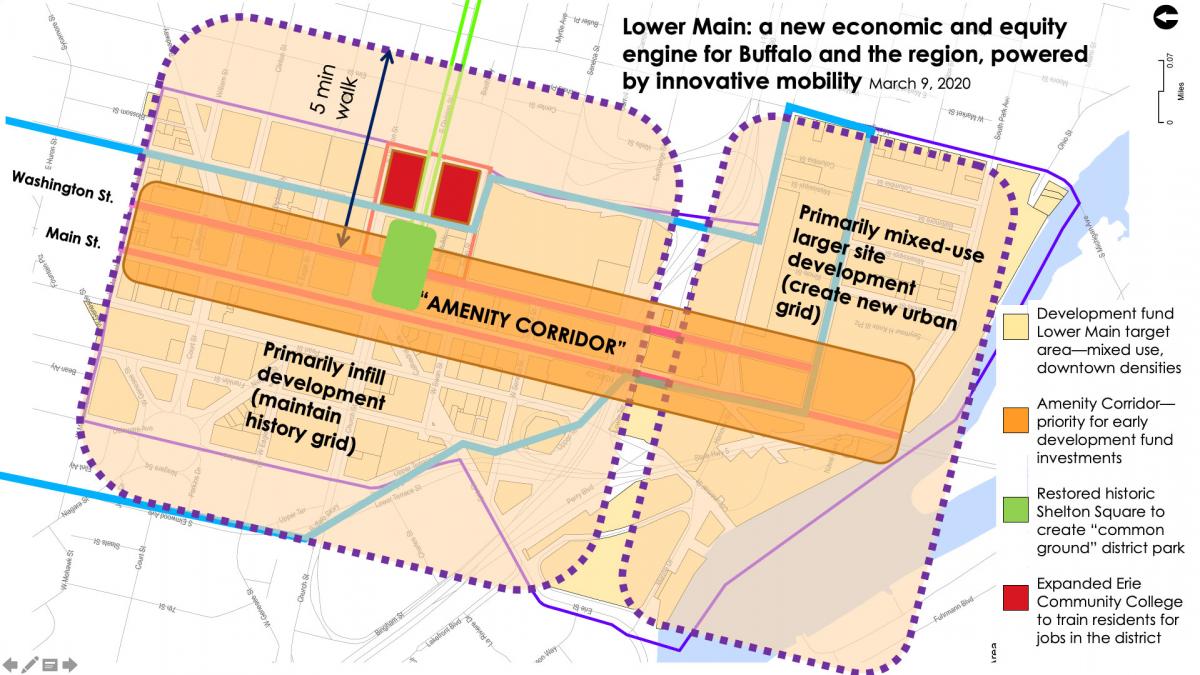 Ideally, the fund would be flexible enough to close financing gaps, pay for public realm improvements, and expand affordable housing in mixed-use developments. It could support public-private partnerships and investments that could be recaptured through increased property taxes. The City would designate an agency with strong internal redevelopment capacity—such as the Buffalo Urban Development Corporation—to manage the fund, establish investment criteria, evaluate applications, and negotiate compliance, Dixon says. 
With support, the team estimates that despite slow population growth, 6,000 to 8,000 new market rate housing units could be built in the study area over the next couple of decades—plus substantial affordable housing—because a much larger share of people entering the housing market will prefer urban living.
Equity and inclusion
 "A robust equity and inclusion program is essential to ensure that Lower Main does not become an island of privilege," Dixon says. That becomes more important "as sustained demographics-driven demand for urban housing forces housing costs up in the core and threatens to displace existing lower income residents."
First, the team recommends that developments of at least 50 housing units provide a minimum of 30 percent affordable housing. Beyond that, three more elements are important: 
Workforce readiness (curing jail records, finding support for single parents, dealing with health issues, etc.) and job training programs that unlock the ability of many more Buffalo residents to enter and benefit from a growing knowledge economy—including manufacturing jobs which increasingly require higher skills and more education.
Minority business development programs that enable disadvantaged businesses to participate in redevelopment in addition to job training and seed capital for business start-ups.
An inclusive public realm that doesn't just welcome everyone, but invites the full spectrum of the Buffalonians to think of Lower Main as "a place for me," Dixon says, by using digital and interactive public art to tell everyone's story, promote informal interaction (e.g. complete strangers getting to know each other because they are collectively orchestrating a light or music show via their cell phones), and public places programed with a full complement of activities that invite everyone in the community (one example is Railroad Park in Buffalo, a proposed greenway connecting Canalside and downtown across the Old First Ward neighborhood to the Buffalo River).
Placemaking
The planners noted that Buffalo needs to be a vibrant, walkable place to attract jobs. One of the ideas is to restore Shelton Square, a public space at the intersection of Main Street, Divisions streets (north and south), and Washington Street, that has been harmed by automobile-oriented traffic engineering in the 20th Century. The two proposed AV and micro-mobility corridors intersect at this square. Much of the design work at the workshop focused on how this square could be made more livable through reducing lanes on Division Street and restoring the geometries of the original street plan.
Parking
The Lower Main Street area, Canalside, and downtown Buffalo have enormous quantities of surface and structured parking, some of which is underutilized. Transportation experts envision a future that will require less parking—and this trend is already evident with ride-hailing services like Uber and Lyft. If autonomous vehicles are shared, parking demand drops dramatically, which will open up development potential on parking sites. "By 2040, the parking in downtown Buffalo will support three times the amount of square footage it supports today, because of shared vehicles and increased mobility options," Dixon says.
The city already has the most important policy in place—the 2017 Green Code includes no off-street parking requirements. A major development downtown, 201 Ellicott, is constructing 200 affordable units and a grocery store with little parking. Beyond the Green Code, the city could secure agreements with parking facility owners to manage the entire downtown parking supply as a comprehensive shared system that would reduce the additional supply required by lenders and to demonstrate parking availability to residential, office, and retail tenants.
In addition, large parking lots east of the KeyBank Center, underutilized during the day, have potential as surface lots for downtown employers with transportation provided by AV shuttles. 
The workshop proposed implementable, financially feasible ideas for Buffalo—such as establishing the innovation zone and corridors, and adopting policies that will allow for equitable economic development. Implementation could move forward in a short time frame—several months, a year, and the next few years for various proposals. This plan is not just to build a pilot project, but to create a framework that will move from demonstration to full implementation.