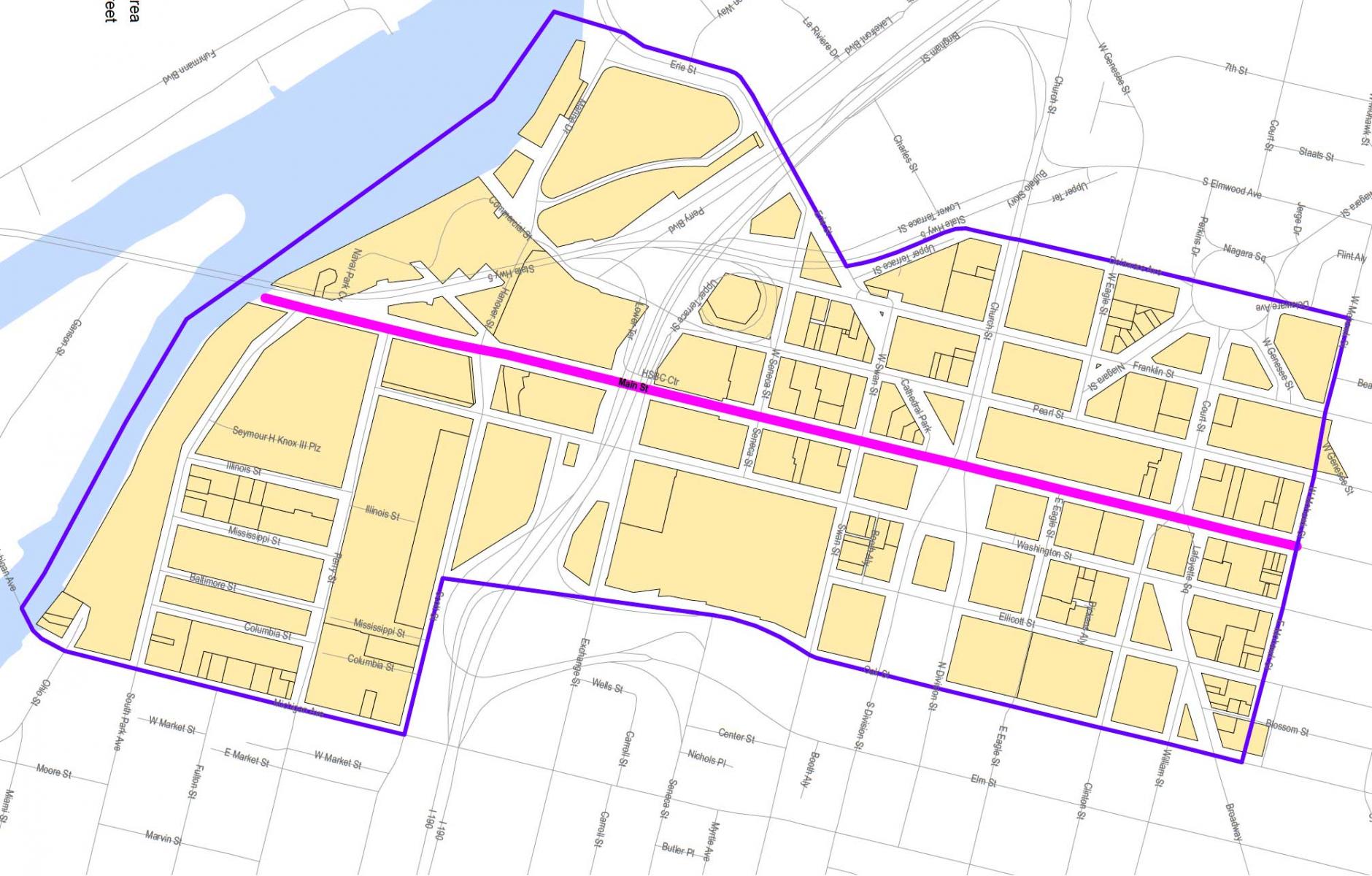 The Lower Main Street/Canalside area in Buffalo that will be the workshop study area.
Buffalo explores transportation technology impact on land use and streets
In partnership with CNU and Stantec Urban Places, the city will host an intensive, four-and-a-half-day workshop on micromobility (e.g. scooters and e-bikes), automated vehicles, and new parking technologies, and how these trends will affect city living.
Technological changes in transportation are beginning to transform our cities, and they have important implications for urban design and development. Buffalo, New York, is one of the first cities to explore these issues in depth, in the context of a specific neighborhood, in an upcoming intensive public workshop led in partnership with CNU and Stantec.
The four-and-a-half-day workshop, called "The Future of Mobility: Remaking Buffalo for the 21st Century" on February 25-29, will focus on the city's Lower Main Street neighborhood, including the Canalside area. Advances in micro-mobility such as e-scooters and electric bicycles, automated vehicles, and dynamic parking pricing, are among the many technologies that will be examined.
The team will look at how current and future land uses, including street design, can accommodate emerging mobility solutions—while at the same time providing a vibrant public realm for all city residents. The event will contribute to a design manual and toolkit for the city. The workshop will generate ideas that may apply to other cities—and how planners can respond to a revolution in mobility.
"We're not just talking about the future. We're talking about the now of transportation, and how we incorporate that into neighborhoods throughout the City of Buffalo, including downtown," Brendan Mehaffy, executive director of the city's Office of Strategic Planning, told the board of a downtown management group recently.
"This is the perfect time for cities to get ahead of this," notes Lynn Richards, President and CEO of CNU. "You don't want to do this kind of creative thinking and problem-solving when [the technology] is right at your door – because then you're just reacting to those changes."

The event takes place in the context of a renaissance in downtown Buffalo—one that is aided by a recent code, the Green Code, and a market demand for urban living. The Lower Main Street area, especially, is seeing substantial redevelopment. The city wants to ensure that investment in support of development can accommodate mobility solutions in coming decades, while at the same time providing an inclusive and lively public realm.
Considering different scenarios for the rollout of transportation technology, the workshop will address the following areas:
Policy: What policies can the city undertake to ensure transportation technology addresses the mobility needs of all its residents? How will technology like autonomous vehicles or e-scooters interact with pre-existing transportation networks such as Main Street's light rail and policies like Buffalo's elimination of parking minimums for new developments? How can technologies like dynamic parking pricing encourage new, walkable development consistent with the city's Green Code and Infrastructure and Public Realm Master Plan?
Street Design: Based on recommended policies, what physical changes to Lower Main Street and its surrounding streets and adjacent areas can be made to preserve its downtown character, encourage lively, walkable development, and ensure that they are able to accommodate future transportation trends?
Land Use: Based on recommended street design and policies, how existing vacant or underutilized land, including areas no longer needed for parking or street right-of-way be used to address resident needs? How can Buffalo tap the potential of shared autonomous mobility to attract people, jobs, and investment to the urban core?
As Buffalo looks to the future, it has a unique opportunity to leverage its existing compact street network to capture the increasing demand for walkable urban places. The redevelopment of downtown effectively offers Buffalo a chance to remake itself as a 21st century city. This workshop offers designs and plans that ensures the investments the city makes will support a thriving urban community decades from now.