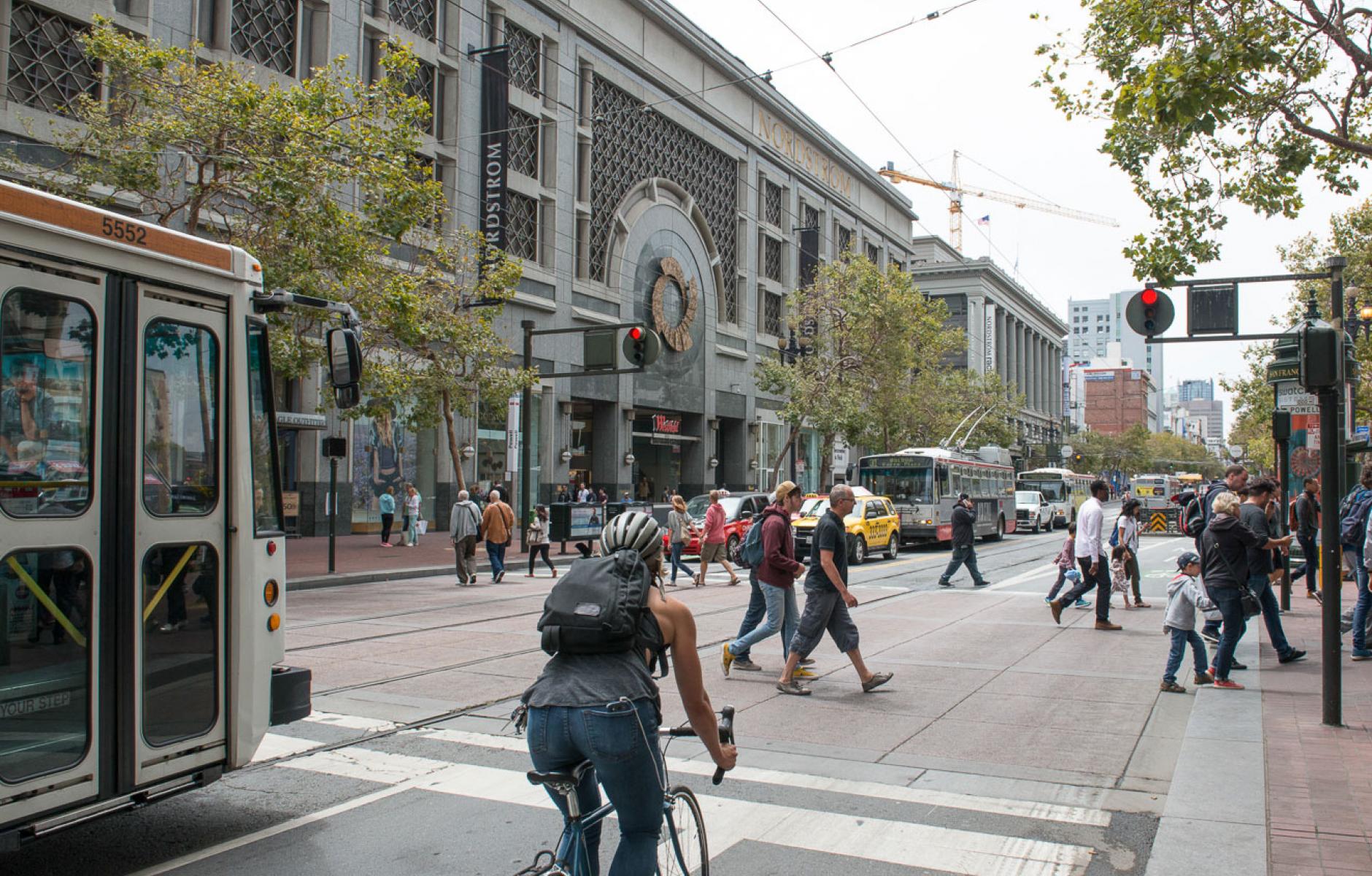 Market Street, San Francisco. Source: SFMTA
San Francisco makes downtown artery car-free
Banning of cars is the first step in a streetscape reconstruction of the city's major thoroughfare.
The busiest section of the busiest street in San Francisco became car-free in the past week. Market Street is a major shopping street and an employment center through the central business district. Private cars, including Uber and Lyft, were permanently banned on a 2-mile-long section of the thoroughfare, from 10th Street to the Embarcadero, as a first step of a $600 million streetscape reconstruction project. 
This long-proposed change offers significant transportation choices for all modes of travel. The Market Street subway runs under the street. There are also streetcars and buses. The street carries significant pedestrian, bicycle, and small electric vehicle (e.g. scooter) traffic. For drivers, there are parallel streets, since the city is built on a grid (actually two grids converge on Market Street). Private cars can cross the car-free street at every intersection—they just can no longer drive along the street on this stretch. Taxicabs, however, are allowed to use Market Street, as are commercial vehicles. 
The city will soon begin construction of a $600 million in street improvements designed to transform Market Street. That sounds like a shockingly high figure, but it becomes more understandable when you consider that this will involve replacing major infrastructure like water and sewer lines and streetcar tracks and electrical systems. All of this is complicated by the complexity of what is under the street, including the subway line. There new streetscape will be designed along the lines shown in the graphic below, from the Better Market Street project of the San Francisco Municipal Transportation Agency (SFMTA). 

According to SFGate.com: "Wednesday marks what city officials are calling the 'Quick-Build' phase of a multi-year project that will create a safer and greener space for the half-million pedestrians and hundreds of cyclists who use the city's main downtown thoroughfare. This first step mostly involves rerouting traffic, installing signs, striping streets, extending Muni lanes, and creating new safety and loading zones and bike lanes."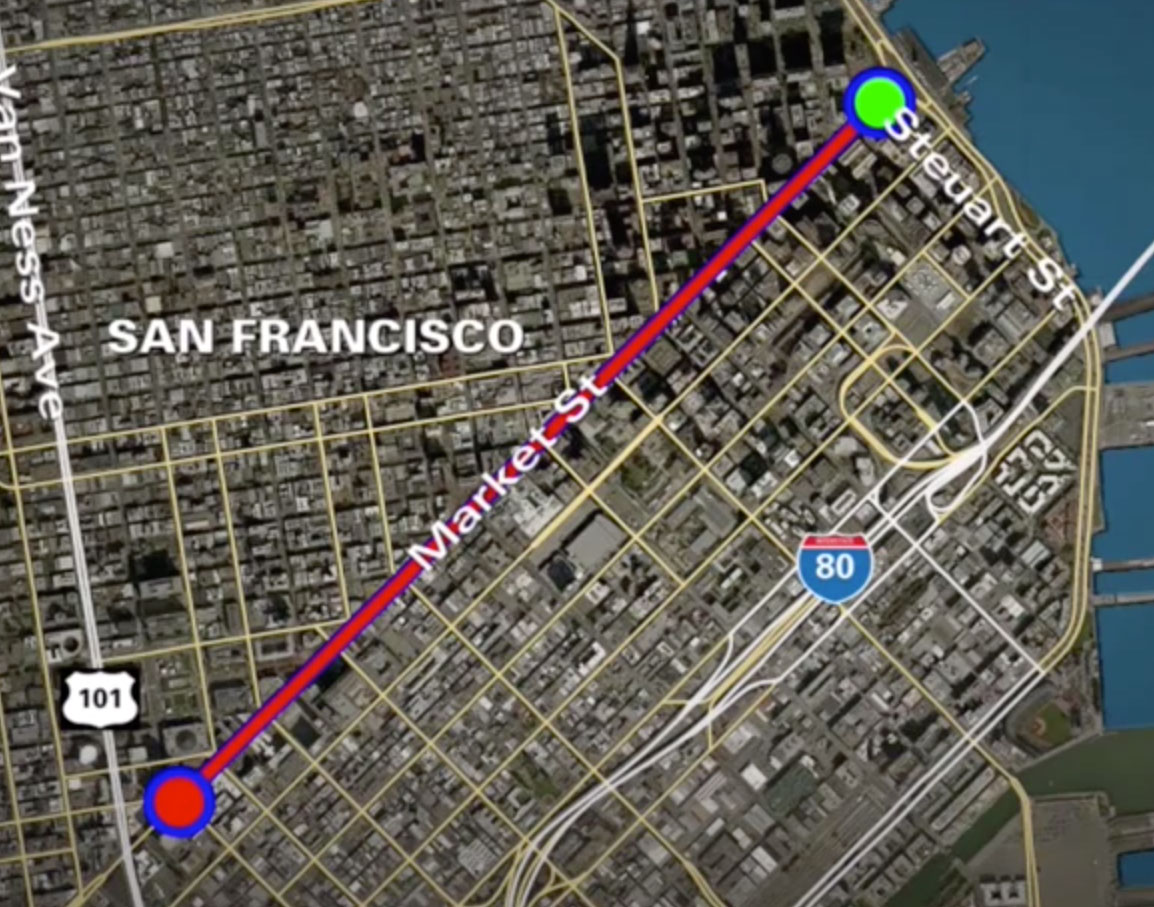 "More people move on Market Street than any other street in the City," said Mayor London Breed. "It is past time to return this civic boulevard back to pedestrians, bicyclists, and transit riders to prioritize people first.
"People have talked about making Market Street car-free for decades. ... Now, we get to see that vision become reality. Making Market Street car-free will make it safer for everyone who uses it while reflecting our transit-first policy as a city and advancing our carbon emissions goals."
Long-time CNU member and speaker at many Congresses,  Jeffrey Tumlin, is in charge of this implementation: "We need to do better than use Market as a queuing place for the Bay Bridge," said Tumlin, who began work as the new executive director of the San Francisco Municipal Transportation Agency (SFMTA) in December. "Today represents the way the world is finally changing how it thinks about the role of transportation in cities."
Tumlin, a former principal at Nelson Nygaard, oversees 6,000 employees and a $1.2 billion budget. He is a long-time resident of San Francisco.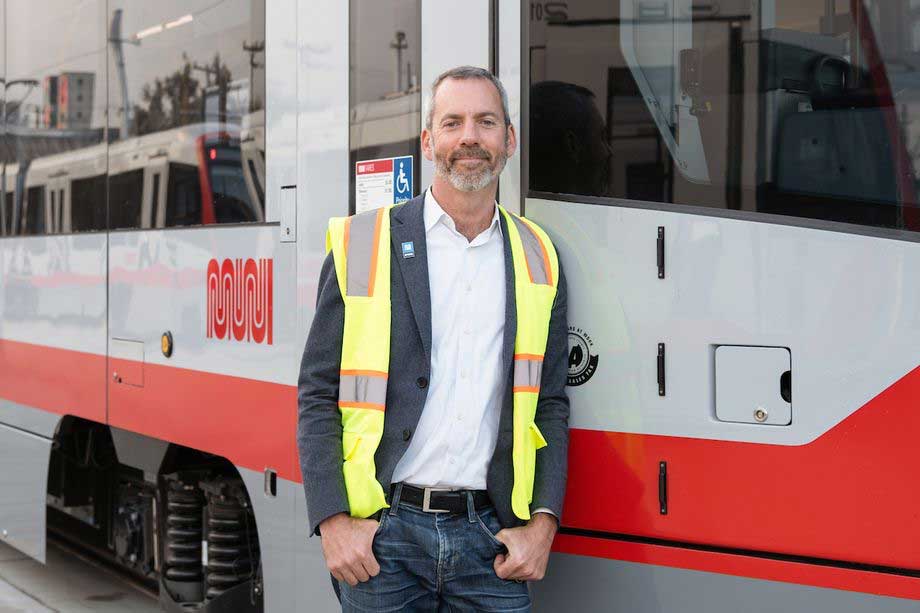 "For most of the 20th century, there was a belief that the primary function of our transportation infrastructure was reducing congestion. Most people would agree that those efforts failed," Tumlin told CityLab. "If we want cities to exist, we have to use our abilities to cut emissions through transportation."
The SFMTA bus drivers are thrilled. "It's so wonderful, I love it," says one, in a local news report. Buses are trolleys are moving 15 to 25 percent faster than when cars were allowed, reported SFMTA. Bicyclists also were having a much easier time. There was some increased congestion last week on Mission Street, the closest parallel street, according to the report.