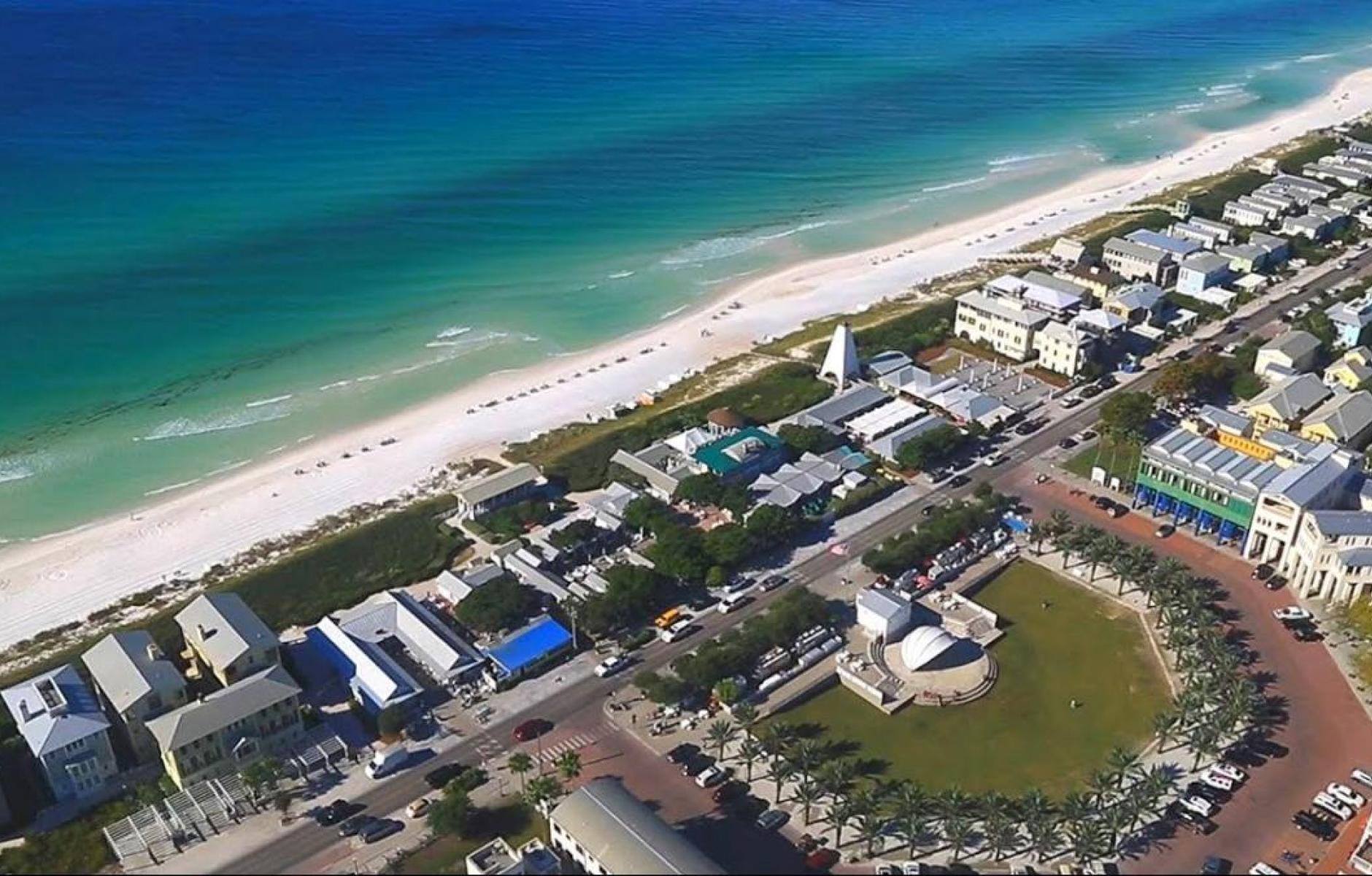 This aerial photo shows Route 30A through Seaside's town center.
CNU explores AVs on the Florida Panhandle
A national team of experts will work with local and other participants to examine automated vehicle implementation on the 30A beach highway, which goes through Seaside and many other towns.
CNU is working with the Seaside Institute to put on a workshop on the future of autonomous vehicles (AVs) on Route 30A in South Walton County, Florida. The event is scheduled for February 6-8 
CNU is bringing in a national design team of experts in transportation and urban planning to examine key aspects to implementing AVs on the highway, which connects many towns along an approximately 17-mile stretch of beach. In the middle of that stretch is Seaside, the iconic new urban town that has influenced city and town planning for decades. Other towns include Seagrove, Rosemary Beach, Alys Beach, Grayton Beach, Watercolor, and Seacrest—all of which are walkable nodes of this white-sand resort area.
The workshop will help participants, and Walton County, answer the following questions:
How can communities maximize the benefits of and minimize the potential harms from autonomous vehicles? How can this be done on the 30A corridor? In particular, the event will examine street and parking design and management; transit design and operation; the evolution of land uses; and other key issues such as traffic congestion, environmental sustainability, and placemaking. 
Several organizations have published documents which offer recommendations for harnessing autonomous vehicles. These include the National Association of City Transportation Officials' (NACTO) Blueprint for Autonomous Urbanismand the American Planning Association's Policy Principles for Autonomous Vehicles. What are the strengths and weaknesses of these documents? Should all or some of their recommendations be applied to the 30A corridor? 
What are the design challenges along 30A that should be addressed before AVs are introduced? What design challenges need to be addressed as they become widespread? For example: What could or should happen to all the surface parking lots? 
The workshop will augment the Walton County Mobility Plan Study by engaging public opinion on autonomous vehicles, and on land use and transportation issues and recommended solutions for Walton County.
This workshop is open to all, on a first-come, first-served basis. See this link for more information.