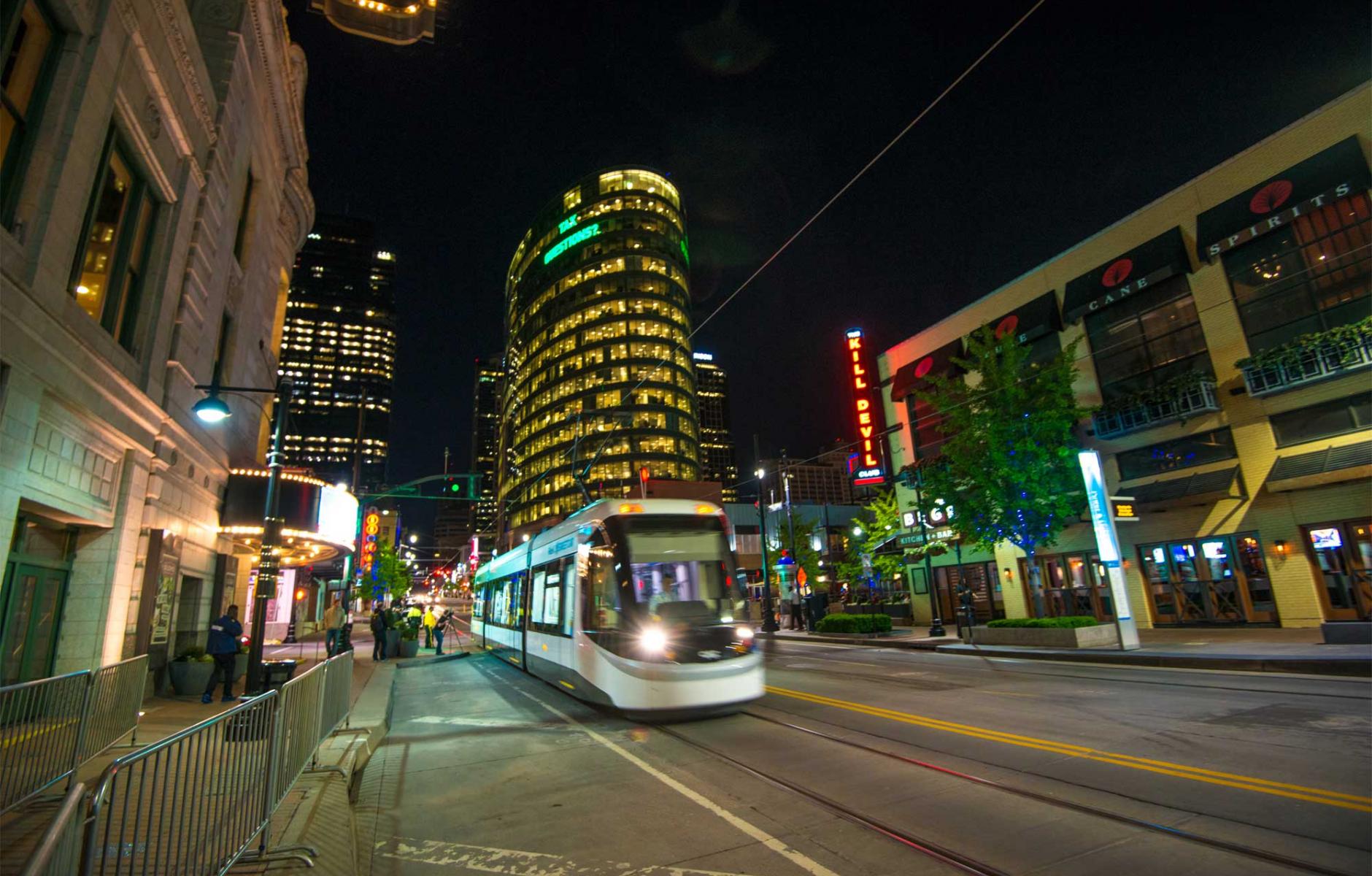 Kansas City streetcar. Source: KCstreetcar.org
Midwest cities invest in transit
Three heartland cities are investing to strengthen the downtown core and build a framework for regional multimodal transportation.
Three Midwest cities—Indianapolis, Kansas City, and Columbus, Ohio—are expanding their transit systems to become more competitive with bigger cities that have legacy transit systems, according to City Journal. 
Given the limited resources and automobile-oriented infrastructure, technology, and culture, these investments are fairly modest—relative to historic investments in transit. But these cities are grappling, in their own ways, with the need to strengthen the downtown core and organize the city and region around multimodal transportation systems.
The cities boast substantial downtowns surrounded by extensive walkable neighborhoods built before 1950. Yet none ever had subways or commuter rail and they lost their streetcar systems in the second half of the 20th Century. They have all annexed large suburban areas that have been developed in low-density, separated-use patterns. Urbanism, and the demand for living in walking places, are on the rise in these cities, as they are across America.
Of the three, the most ambitious investments are in Indianapolis, where an 0.25 percent income tax surcharge is slated to build three Bus Rapid Transit lines covering 62 miles and 97 stations. The IndyGo lines are designed to tie together vast parts of the sprawling city. The Red Line, currently under construction, will travel traverse 13 miles from the University of Indianapolis on the south end, through downtown, past Butler University, and terminating in the Meridian Hills neighborhood. Buses will arrive every 10 minutes weekdays, and 15 minutes at night and weekends. 
All three lines will go through downtown and tie together important regional destinations. The spokes will strengthen downtown as the commercial, cultural, and social heart of the city. But the system should accomplish other purposes, as well. Lines will go through walkable, neighborhoods that have lost population and need investment. The BRT stations will provide nodes around which new development can take place.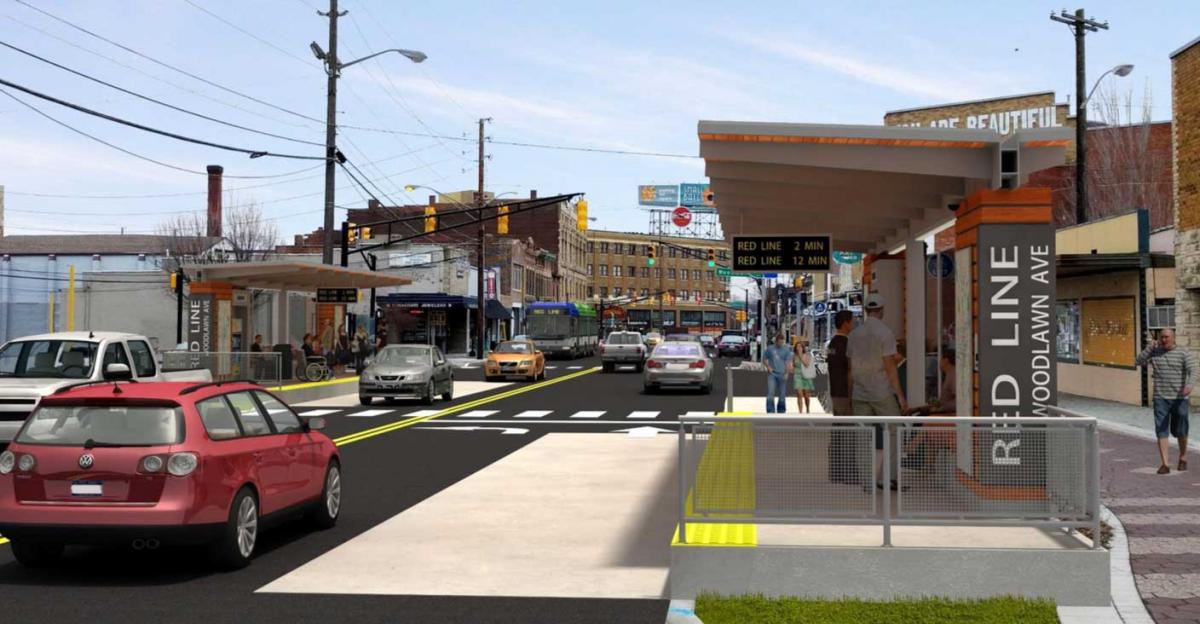 Beyond those neighborhoods, the lines will service low-density suburban areas. These areas are mostly inside the city—but they are suburban in character and development. The transit stations will provide a framework for higher-density, suburban retrofit. One big question: Will the city have the vision and will to transform some of the automobile-oriented streets? Like many sprawling cities, Indianapolis is rife with unwalkable streets. Some of them need transformation to spread the advantages of urbanism throughout the city and make transit a success. If the city really wants to complete with places like Denver, Chicago, Atlanta, and DC, it will have to do more than BRT. But transit is a good start.
Kansas City has built a two-mile streetcar system that has vastly exceeded expectations so far. KC Streetcar was forecast to run 2,700 daily trips, but now carries 5,700, Renn reports. The streetcar opened in 2016, connecting Union Station at the south, going through an arts district, the Power & Light District, the central business district, and terminating at the RiverMarket neighborhood, with its regional farmers market. The refurbished Union Station is the city's Amtrak connection, but also has regional museums and cultural attractions. The Power & Light District is a regional office, entertainment (with major venues), shopping, and residential area. City Journal author Aaron Renn attributes the success of the streetcar to its free rides (no fares), but the ridership would not be so high if the system did not connect important regional destinations.
The Columbus investments are centered on policy and technology. The city is getting more transit riders due to C-Pass, which offers free bus passes to downtown workers, Renn reports. The pass is funded by property owners through a special improvement district. "In the year since C-Pass's inception, Columbus's downtown ridership, previously 5 percent, has jumped to between 10 percent and 14 percent," Renn reports.
That's an impressive achievement. More difficult to judge at this point is Columbus's Smart City Challenge, funded by a $40 million US Department of Transportation grant, supplemented by $10 million from the Paul Allen Family Foundation. These grants are funding the testing of electric and automated vehicle technology, and high-tech transit hubs designed to tie together various kinds of mobility. 
Regardless of technology, transit provides a framework around which cities and regions can grow. But transit investment must be accompanied by changes in land-use planning and infrastructure so that cities can maximize economic, cultural, and social connections.
"Mass transit is the lifeblood of coastal cities like New York, Washington, and Philadelphia, but Midwest cities also rely on mass transportation, and in recent years, several have achieved major transit improvements," Renn says. "Other U.S. cities trying to expand transit usage can learn something from these efforts."

transit
&nbsp&nbsp&nbsp
transit-oriented development