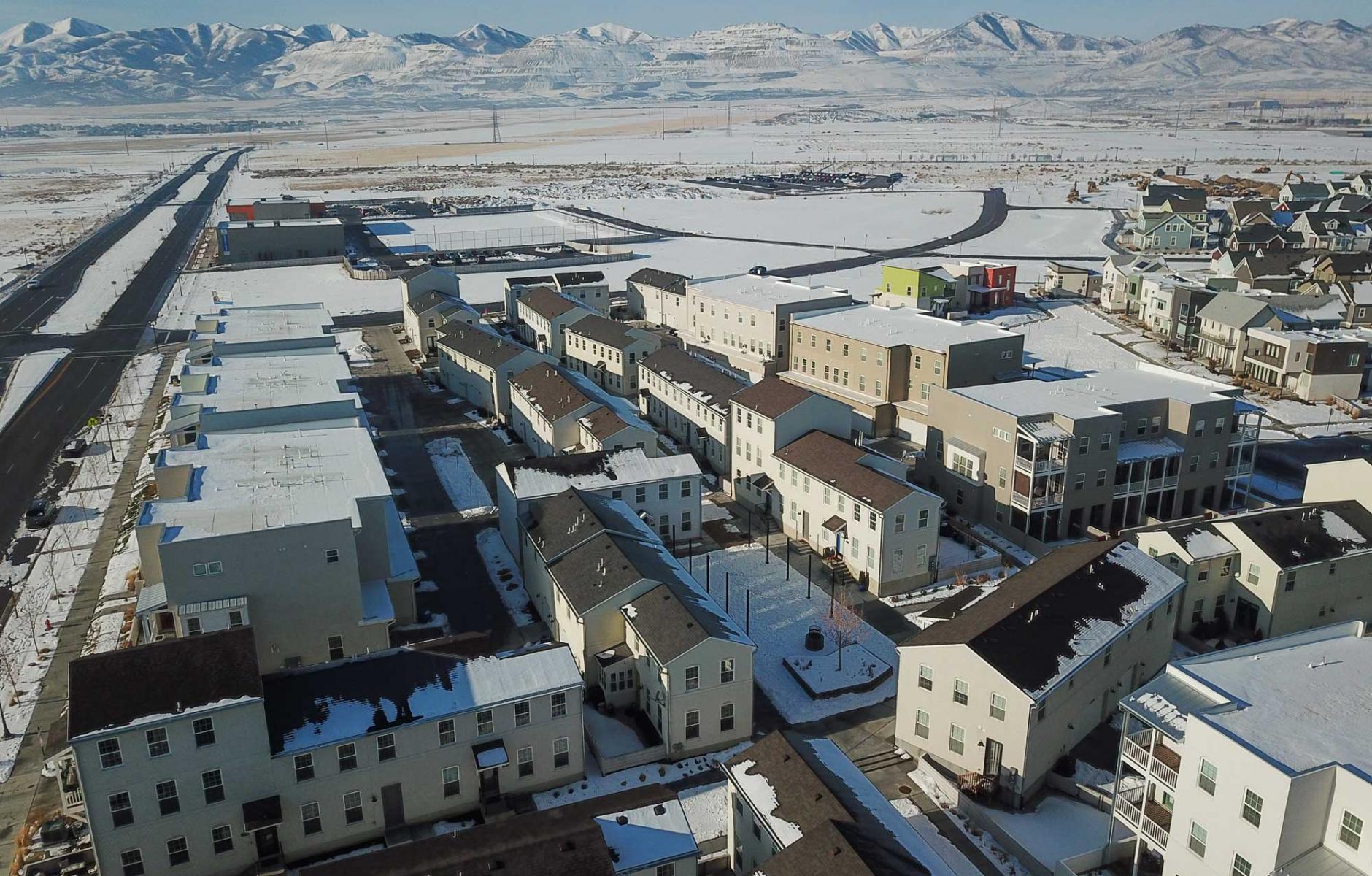 Aerial of Daybreak Mews, South Jordan, Utah. Courtesy of Opticos Design.
Innovative townhouse layout promotes community
Daybreak Mews is a prime example of how "missing middle" housing types can expand choices while adding to the urban fabric of a larger neighborhood.
The design of Daybreak Mews in South Jordan, Utah, was driven by a need to provide attainable housing—achieved by efficiently using 3.2 acres on the interior of two blocks within walking distance of a light rail station. The 147 houses, ranging from 900 to 1,400 square feet at a density of just above 20 units per acre, are oriented onto a European-style pedestrian mews on two blocks within a large, mixed-use, master planned community connected by transit to the Salt Lake City region.
The plan maximizes two deep blocks by facing an inner row of buildings onto a pedestrian-only walkway. The mews splits the block into quadrants. Nearly half of the land is shared space, including central block plazas where the east-west and north-south mews meet. The orientation of the townhouses is flipped 90 degrees to face each unit's long façade to the mews—maximizing natural light, increasing privacy, and reducing potential sound impacts from neighbors because the short wall is shared.
Holmes Homes and the architect Opticos Design created this housing option delivered at a "price point near $200,000," notes the developer. 
Daybreak Mews won a 2019 Charter Award from the Congress for the New Urbanism (CNU) for Opticos Design. Holmes Homes is the developer. The winners will be formally recognized on June 14 at CNU 27 in Louisville.