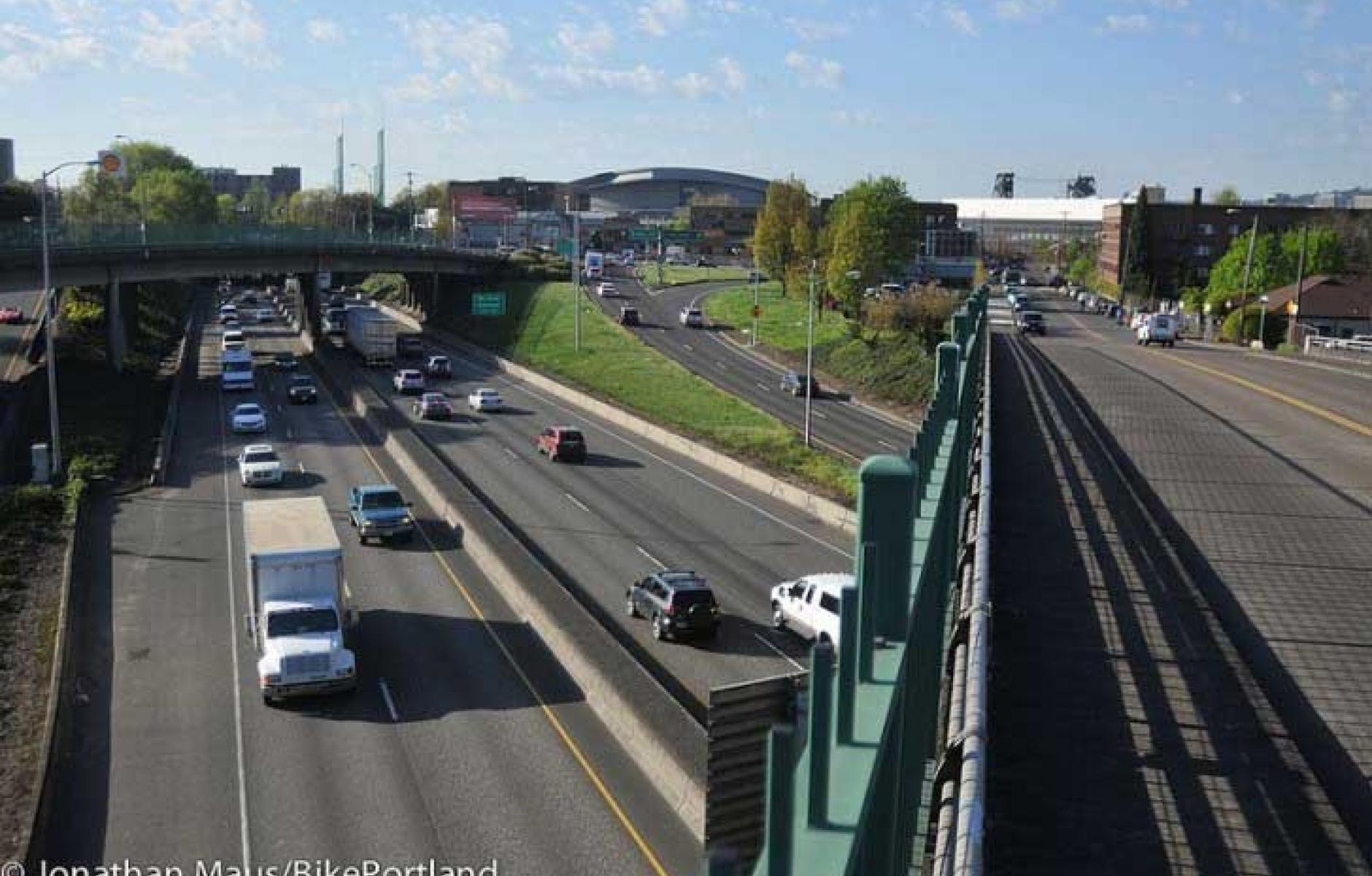 I-5 in the Rose Quarter, Portland. Source: Bike Portland
Highway expansion will induce demand, opponents say
A $500 million widening project for Interstate 5 in Portland, Oregon, would lead to 10 to 17 million additional vehicle miles per year, according to a report in City Observatory.
The website posted a series of articles opposed to the I-5 expansion in Portland's Rose Quarter—an area of the city that currently is dominated by sports arenas and parking. The city has plans to cap portions of the highway, build new local street, cycling, and walking connections, and develop a mixed-use district. 
But City Observatory says that the part of the plan that includes highway expansion will only create "induced demand," adding more vehicles and congestion to the city. The City Observatory reports are timely, in that they come in advance of CNU's release of its sixth biennial Freeways Without Futures report, which makes the case that cities like Portland are better off reducing—not expanding—their freeway infrastructure. As the ten Freeways Without Futures projects that will be unveiled in early April demonstrate, cities can save money while boosting their economies and improving the lives of citizens by not repeating the mistakes of the 20th Century.
The Portland highway expansion proposal has generated significant opposition this week, according to an NPR report. 
City Observatory explains why widening the freeway won't solve daily traffic congestion. "More highway capacity generates more traffic–the phenomenon of induced demand is so well documented that it's now called "The fundamental law of traffic congestion." Added capacity encourages more people to drive, and in dense urban environments, there's plenty of "latent demand" that almost immediately fills added lanes as soon as they're built. Houston widened its Katy Freeway to 23 lanes, and it's now even more congested and slower moving than before. Even PBOT and ODOT officials acknowledge that widening I-5 won't reduce daily traffic congestion."