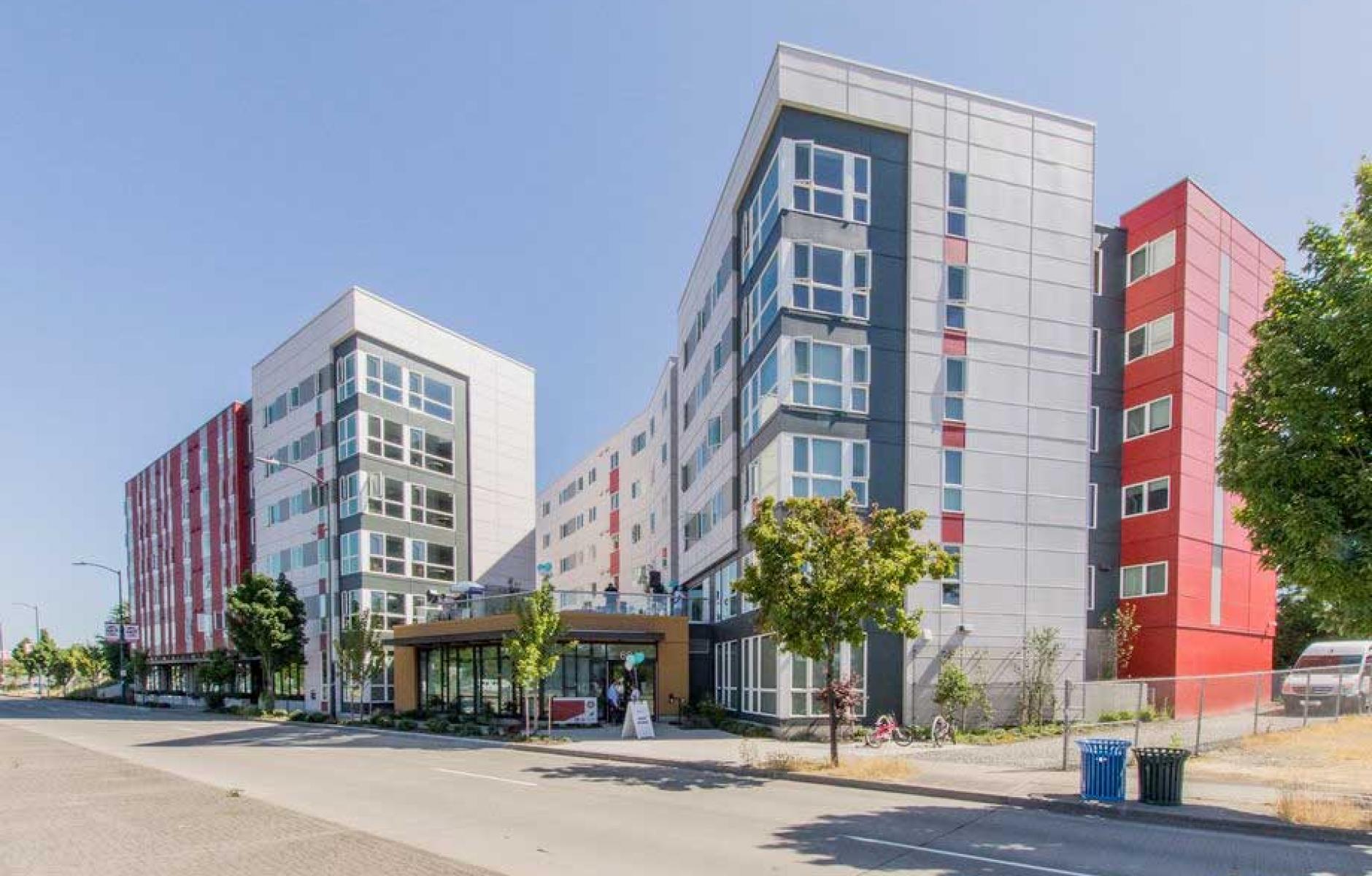 Affordable housing at Othello Station. Courtesy of Mercy Housing Northwest
Seattle transit policy targets affordable housing
As Sound Transit expands light rail far into the suburbs around Seattle, a policy allows the disposition of excess land for affordable transit-oriented development—consistent with the goals of a CNU report.
As suburban poverty levels rise in most US metro areas, Seattle's Sound Transit has adopted a policy that enable affordable housing to be developed on surplus properties near transit stations.
In the report Combating the Suburbanization of Poverty, CNU urged bold measures to link the Puget Sound's investments in rail to development of affordable housing near transit stations.
"This policy establishes one of the most forward-leaning TOD programs in the country," said Sound Transit CEO Peter Rogoff. "Work is already underway planning 600 affordable units in Seattle's First Hill, Capitol Hill and Roosevelt neighborhoods. More projects will follow as our system simultaneously expands north, south, east and west."
In 2016, the Seattle region approved one of the most ambitious transit expansion plans anywhere in the US. Sound Transit 3 would include 62 miles (100 km) of additional light rail serving 37 new stations; the entire, 116-mile (187 km) light rail system would carry an estimated 600,000 daily passengers. This expansion will extend the region's transit far into the suburbs of King, Snohomish, and Pierce counties.
The new policy will guide the use of property that remains as surplus after transit investments are complete for projects that provide housing for families of various sizes and income levels, focusing urban growth at transit centers.
Consistent with regional growth plans, the updated policy focuses urban growth at transit centers and commits Sound Transit to work with local communities and stakeholders to develop projects on surplus property, while also encouraging TOD in nearby areas.
Early transit oriented development projects stemming from the disposition of Sound Transit surplus properties are:
Senior City – a $16.9 million, 62-unit affordable housing development built in 2010 by the Korean Women's Association at the Federal Way Transit Center.
Mount Baker Station – an $18 million, 57-unit affordable housing development for artists built in 2014 by developer Artspace USA.
Othello Station – a $29.8 million, 108-unit affordable housing and mixed-use development built in 2017 by Mercy Housing Northwest that provides housing for households earning from $18,000 to $55,000 per year.
The Federal Way project is far outside the city, while the Mount Baker and Othello projects are in Seattle—but a distance from downtown.
The goals identified in the policy include:
Increase the value and effectiveness of transit by increasing transit ridership.
Support implementation of state, regional and local growth plans, policies and strategies.
Make equitable TOD an integral component of and supportive of transit project planning and delivery. Engage a broad cross-section of the public, reflecting diverse communities.
Encourage creation of housing options near transit with priority given to affordability.
Encourage convenient, safe multi-modal access to the transit system, with an emphasis on nonmotorized access.