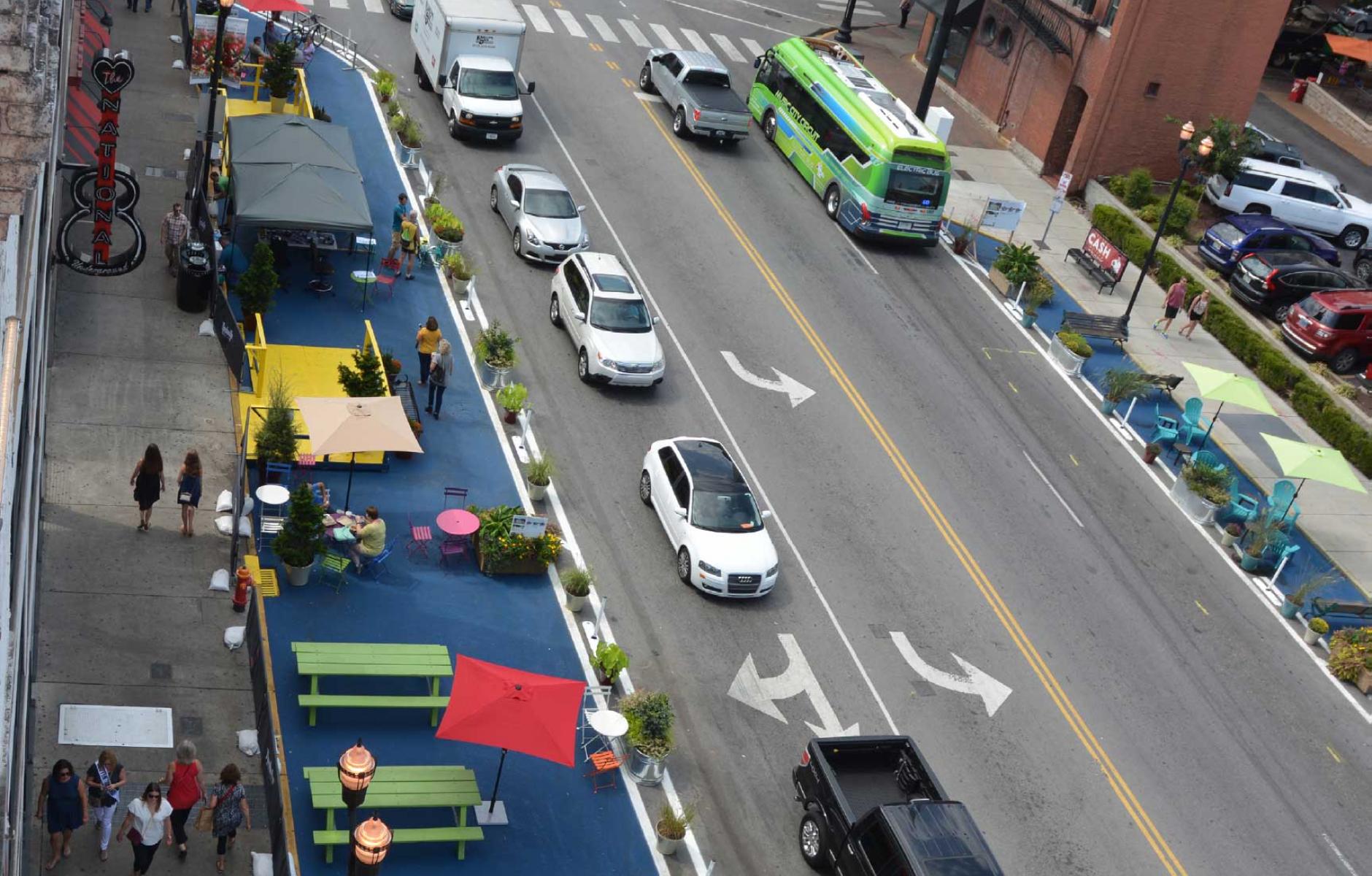 Nashville's Envision Broadway project
Better 'honky tonk' urbanism
Nashville uses Tactical Urbanism to test out ideas on public space and street improvements downtown.
Lower Broadway in Nashville is a major arterial in the heart of the famous "honky tonk" district, with restaurants and bars offering live music. Many modes of traffic, including cars, delivery trucks, buses, taxis, Ubers, and Lyfts, mix and compete with pedestrians, who have inadequate sidewalk space.
The Envision Broadway Demonstration Project tests playful and colorful streetscape features that take space away from vehicles and share it with people outside of cars—all while gauging public interest in permanent improvements to the public realm.
The first six-week demonstration, between First and Second Avenues, expanded the "people space" on both sides of the street, including a 17-foot-deep plaza on the south side of the block with colorful café tables, picnic benches, Adirondack chairs, benches, bike racks, and umbrellas. The dingy gray asphalt was painted bright blue.
The transformed block still featured four lanes of traffic, so adequate vehicle space was maintained—but the allocation of the public realm was more balanced, reflecting the abundance of pedestrians on Lower Broadway. A two-foot strip of landscaping with heavy planters and tubular markers protected the diners, loungers, and pedestrians, all while maintaining a sense of openness to the street.
Envision Broadway is one step in a long-term plan to permanently transform the thoroughfare. The low-cost, phased approach presents low risk while potentially offering a high reward. With a short-term commitment and realistic expectations, planners, elected officials, and citizens can experience a simplified version of a larger vision.
"The redesign has the added benefit of improved placemaking," said one local resident. "The softening of the space though the redesign will make it far more attractive than it's current state and Lower Broadway becomes a better experience and destination in and of itself."
The city is now evaluating a permanent shared space design. "Lower Broadway is at the heart of our city both physically and culturally," says Mayor Megan Barry. "It's where the music plays and where people want to be. It's one of the busiest streets for pedestrians that you'll find anywhere, and it needs to be fun, safe and easy to navigate for everyone."
Envision Broadway won a 2017 CNU Charter Award of Merit for the Metro Nashville Planning Department.