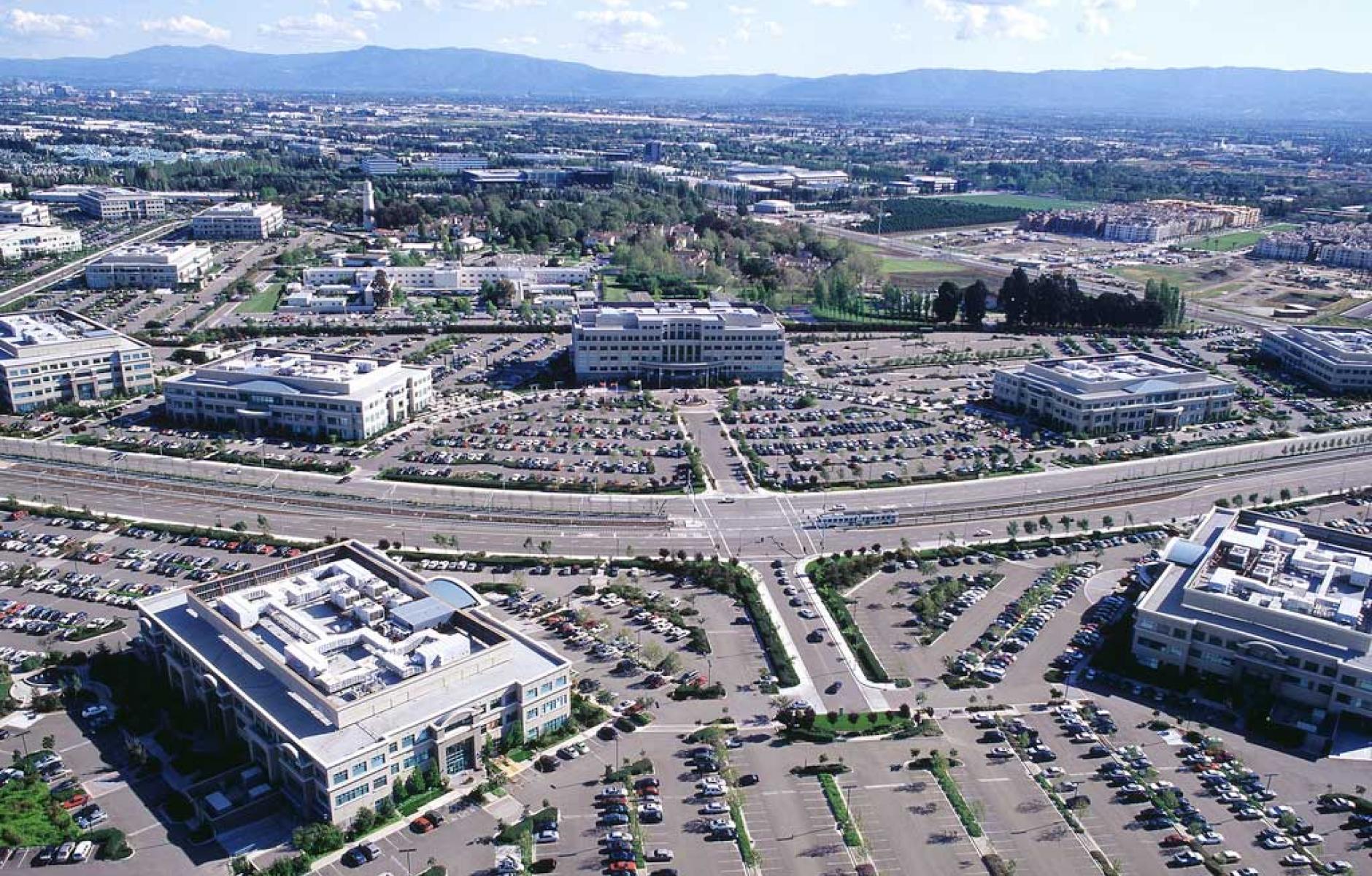 Cisco Systems campus in North San Jose.
Do you know the way, San Jose?
A sprawling land that's crossed by freeways—put a few thousand down and rent a room. Be a part of the next technology boom.
In the late 1960s, when Burt Bacharach wrote the most famous song about San Jose, the small city was a sleepy source of nostalgia for someone living in fast-paced LA. Now San Jose is the nation's tenth largest city and home, in its northern part, to more Fortune 500 companies than any other place in the world. Yet the 7.5-square-miles of north San Jose largely consists of office buildings and parking lots—the area has little unique identity.
"We want to transform this large, vast, office project area to a great place that is vibrant, more urban, and a mix of uses," says Rosalynn Hughey, assistant director of planning, building, and code enforcement for San Jose.
That's a tall order. Like much of the biggest Silicon Valley city, north San Jose has been built largely since the 1970s, with a public realm consisting of wide, drive-only arterials and even larger blocks. The area benefits from light rail, which runs down the middle of North 1st Street, which fronts the likes of PayPal and Samsung, among other nearby tech firms like Cisco Systems, Philips, and Broadcom.
These companies think of themselves as international—not engaged locally, says Marilee Utter, of Citiventure Associates, a consultant that was helping San Jose. "But things got so difficult in North San Jose that the local managers, not the owners, came together and said 'Want more housing, more bike trails, more activities and sense of place,' and they were willing to engage. That's the next big opportunity to city."
The employees, especially young adults, want urbanism, which starts with a mix of uses and design on the human scale. The competition for talent is fierce, and highly educated tech workers notably prefer walkable urban places.
Compared to many other Silicon Valley cities, San Jose has a lot of housing. But very little of it is located in north San Jose, which historically has been zoned industrial. And the San Francisco Bay area has a dire need for housing. A two-bedroom apartment in San Jose costs $3,000 per month, which underscores a severe affordability problem in the region, says Nanci Klein, assistant director for economic development. Despite all of this commercial development, San Jose faces a shortfall in tax revenue to fund parks and basic services, like police and fire protection. The city is in a bind due to property tax restrictions and faces a $35 million deficit next year, Klein says.
These issues were explored in The Rose Center for Public Leadership's Land Use Fellowship, a technical assistance program of the National League of Cities and Urban Land Institute. Four cities participate in the program annually, and San Jose just completed its fellowship. CNU was invited to help tell the story.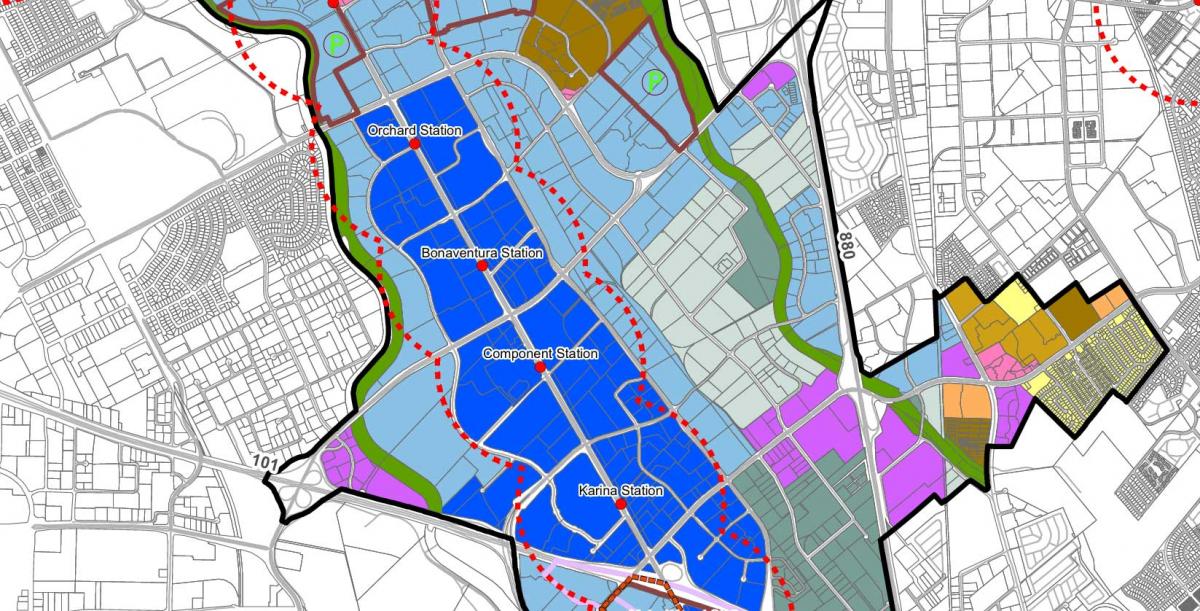 "Everything starts with land use," says Klein. "It's the context, it's the background from where social interaction takes place." Until recently, North San Jose was slated for commercial development and little housing. With some nudging from the Rose Fellowship, the city has dramatically altered its strategy. Mayor Sam Liccardo announced a citywide goal of 25,000 housing units—5,000 a year—in the next five years. Four thousands of those units are planned for north San Jose, with 60 percent of those planned to meet affordability standards.
The policy transformation took place between early May and August of 2017, says Nolan Lienhart of ZGF Architects, who assisted San Jose through the fellowship. "We were talking about the retail strategy, and it wasn't clear there would be that political breakthrough. The big realization is that these mixed land uses complement one another, and that creates place."
Conceptually, it is clear that the diversification of north San Jose land-use should begin around the transit stops. "How can people-oriented development be used to attract jobs in north San Jose?" asks Hughey. "The strategic locations for housing are around the light rail stops." The housing built so far in north San Jose has mostly been in less desirable locations for commercial space, rather than near transit where it could be combined with retail to create places.
The state's change in development mitigation methodology from using traditional level of service (which encouraged the wide thoroughfares) to a new approach based on vehicle miles traveled, builds an incentive for infill and mixed-use.
Humanizing the streets
A big challenge in creating a diverse place is to establish a human-scale street network where people are inclined to walk. "The City proposes to break up the superblocks as redevelopment opportunities are realized through the submittal of permits from the private sector," says Kimberly Vacca, citywide planner for San Jose and project manager for the Rose Fellowship. "As the area is redeveloped, staff would look to the North San Jose Design Guidelines to assist in the review of projects. Through this process, we would strongly encourage and emphasize the breaking down of the blocks. Outside of this process, the City does not have the jurisdiction to take private property for public streets."
In addition, efforts are underway to humanize the wide thoroughfares, like adding bicycle lanes. Much work needs be to done because "the widths of the major roads are still massive," she says.
Other challenges remain, including updating city's phasing policy for new development. "Right now, all of the housing has been built in Phase I with industrial development lagging far behind," Vacca says. "Thus, we cannot build residential/commercial mixed-use development right now in North San José because the Plan is at capacity for residential in Phase I." The phasing issue is connected to the California Environmental Quality Act, similar to Environmental Impact Statement requirements in other parts of the US. Updating the zoning, which is largely industrial in the area and allows for limited retail, also "would be helpful," she says.
Another priority is to better use the green network for bicycle and pedestrian paths. Two riparian corridors, the Coyote Creek and the Guadalupe River could be linked through east-west pathways.
Despite or because San Jose is so strong in tech, the city is looking for yet more growth in this sector. The path to that growth runs through housing, urbanism, and amenities that attract talent.
"We have got to get it right about where we put housing and where we create amenities to further draw," says Klein. "We want to reinvigorate and create that excitement, because we want to keep on being the center of innovation."