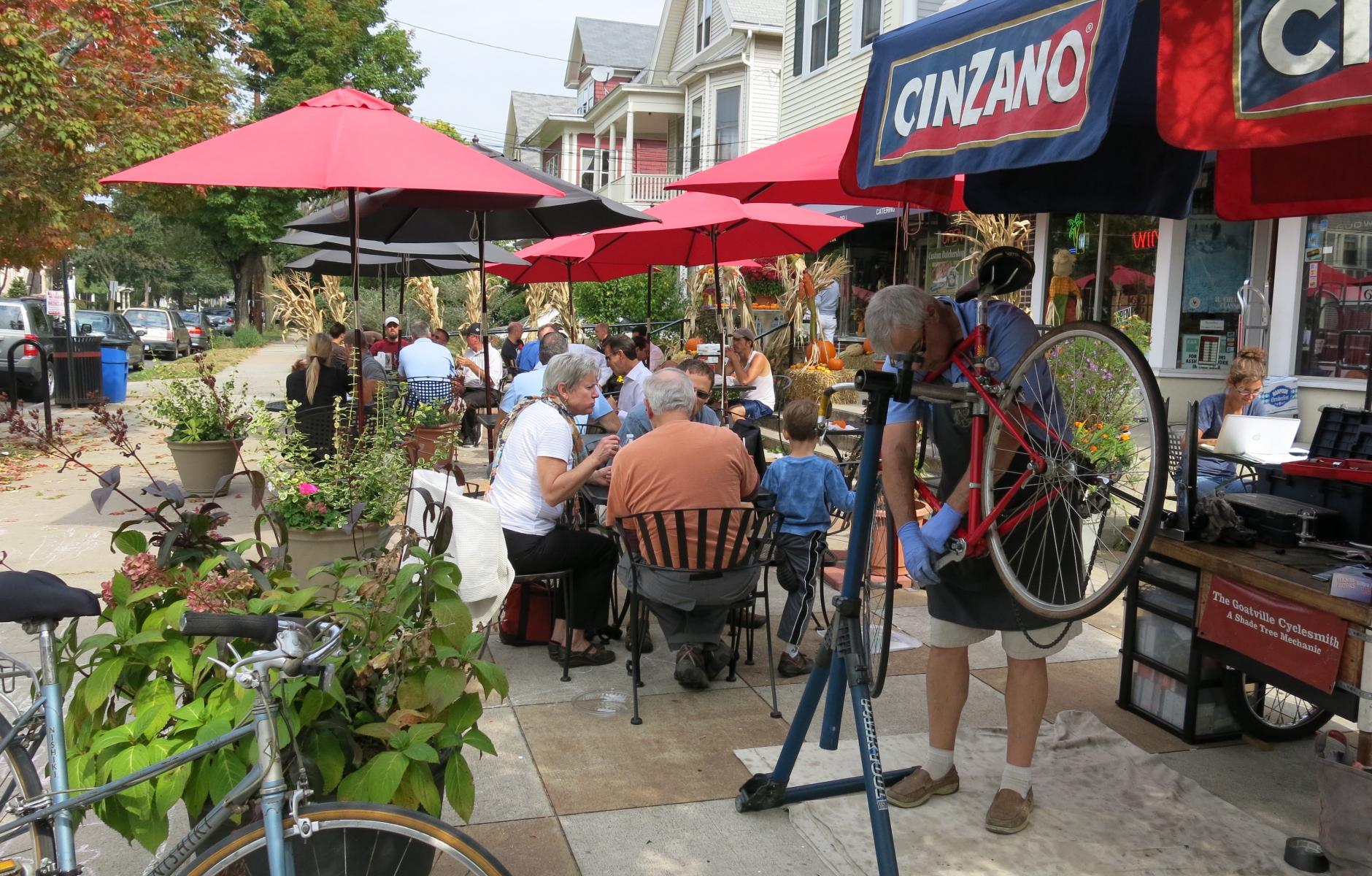 East Rock neighborhood in New Haven, CT. Photo by Philip Langdon.
More transportation choices, better health
A recently released nationwide study strongly correlates greater transportation "modal diversity" with better health for the population as a whole.
An academic study shows that sustainable community design and transportation choice have a highly beneficial effect on public health. The study of 148 US metro areas on Commute Mode Diversity and Public Health is robust and broad, measuring 12 public health and quality of life indicators against commuting mode share (the portion of commuters who do not drive an automobile alone to work, which ranges from 11 percent to 36 percent in the metro areas studied).
After adjusting for various demographic factors, the results indicate a positive relationship between higher mode share and public health outcomes including healthier behaviors, more leisure quality, more access to exercise, less sedentary living and obesity, more years of potential life lost (an indicator of longevity), and higher birth rates, reports Todd Litman, a research analyst with the Victoria Transport Policy Institute.
The metro areas with higher non-motor-vehicle mode share also tend to be more walkable and compact, note the authors Chad Frederick of Arizona State University, William Riggs of Cal Poly San Luis Obispo, and John Hans Gilderbloom of University of Louisville. "Urban sprawl has a negative relationship with regional health outcomes, such as high obesity and chronic diseases related to physical inactivity. At the same time, literature has shown that walkable built environments are connected to lower obesity rates and increased physical activity."
But metro areas with higher mode share may also be associated with other factors, such as bicycle-friendly infrastructure, a culture that promotes active transportation, and close proximity between jobs and workers.
The relationship between mode share and health is stronger than other factors like density, latitude, race, education, and income according to these findings, Litman says. The research was based on the methodology of urban sociologists Harvey Molotch and Richard Applebaum.
"Using bivariate and multivariate analyses, we found better health outcomes in counties and metropolitan areas that have fewer workers commuting by SOV" the authors write. "These findings underscore the positive impact of sustainable transportation policies on community health and open up a new direction for public health research and the built environment."

health