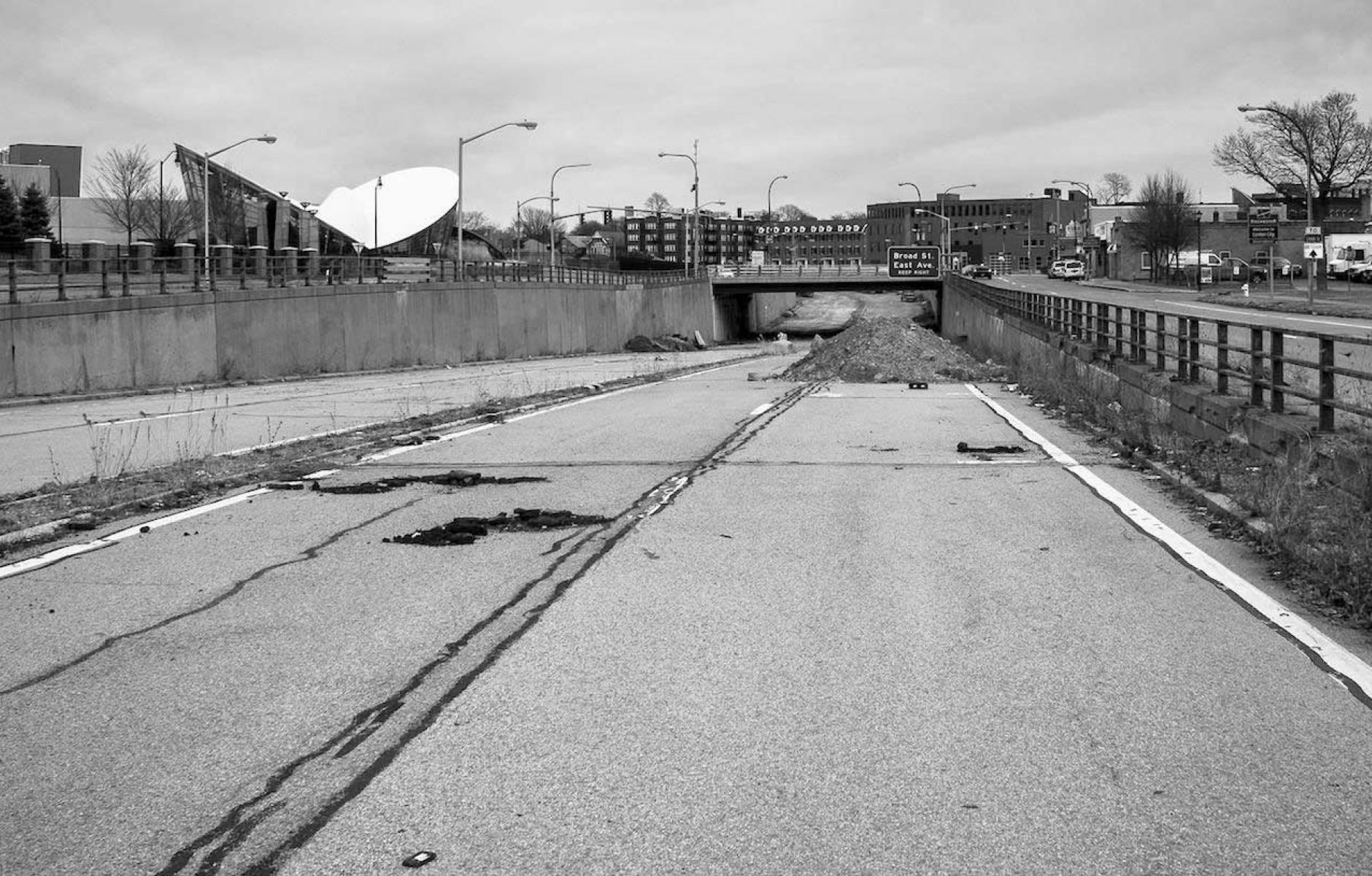 Ten freeways in need of transformation
From Pasadena, California, to Buffalo, New York, cities in this report have the chance to remove a blight and improve prosperity, health, and sustainability.
CNU's fifth biennial report, Freeways Without Futures 2017, identifies the ten worst urban highways in America, each of which could be removed to fight pollution, ease traffic, and improve walkability and health.
Today, much of this burdensome infrastructure is reaching the end of its initial design life—and American communities are facing a watershed moment. From Pasadena, California, to Buffalo, New York, cities in this report have the chance to remove a blight and improve prosperity, health, and sustainability. For these crumbling, obsolete, unwanted highways, this is the end of the road. Here they are:
Interstate 980, Oakland, California
Oakland is considering replacing an underutilized below-grade section of Interstate 980 with a surface boulevard that would reconnect West Oakland to Downtown. The project, which has gained widespread support in recent months, would reuse the freeway space for major regional rail service running under a surface boulevard.
While the idea of removing I-980 has been discussed since its completion in the mid-80s, the current leading design concept from a citizen-led campaign called ConnectOAKLAND advocate for the removal of the freeway and the reconnection of the street grid. ConnectOAKLAND's vision would create or re-open 21 new city blocks—totaling approximately 17 new acres of high-value, publicly controlled land.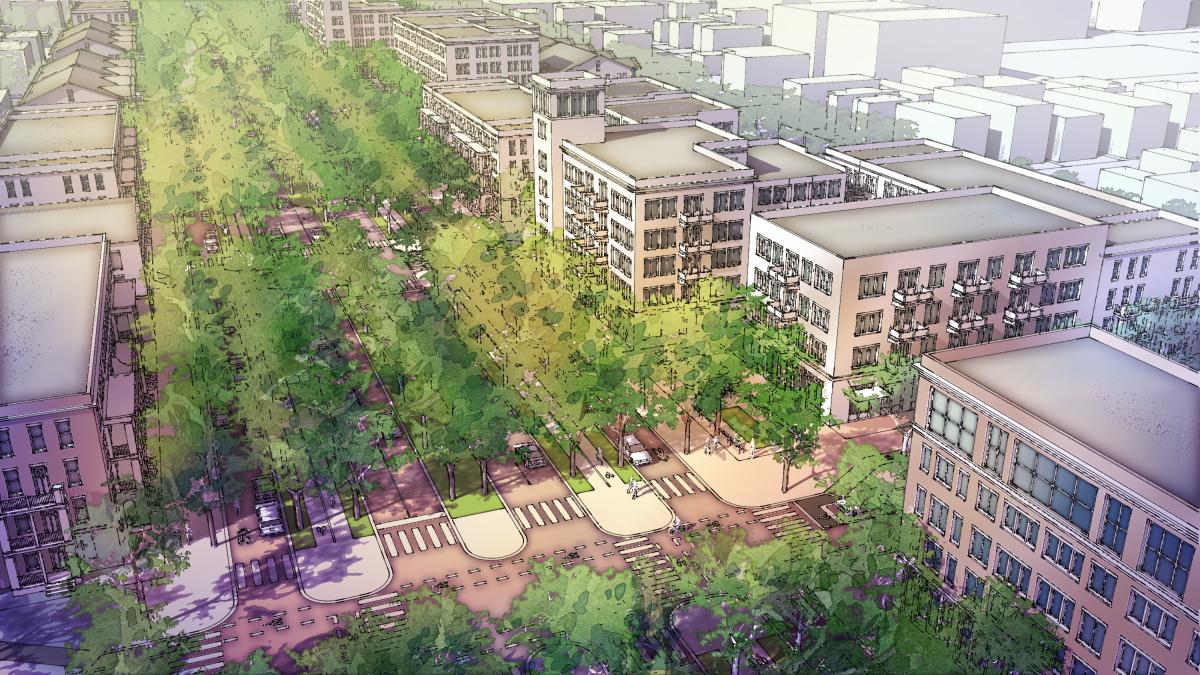 Interstate 81, Syracuse, New York
For over 50 years, the elevated 1.4-mile stretch of Interstate 81 known as The Viaduct has cut like a knife through the heart of Syracuse, New York. For the urban neighborhoods in its path, I-81 has had the same effect as most urban interstates: it destroyed a historic African-American community, disrupted the flow of city streets, and paved over countless historic homes and sites.
Now, Syracuse faces a unique opportunity to replace the elevated viaduct with a boulevard designed to reconnect the city and reverse its urban decline. Recent studies have shown that current thru-traffic could be rerouted to I-481, avoiding a crush of congestion while reopening the city grid to local residents. The common-sense proposal would save money over rebuilding the viaduct, prevent the demolition of more historic buildings,  and boost the economy. It has the support of the mayor, governor, and city council.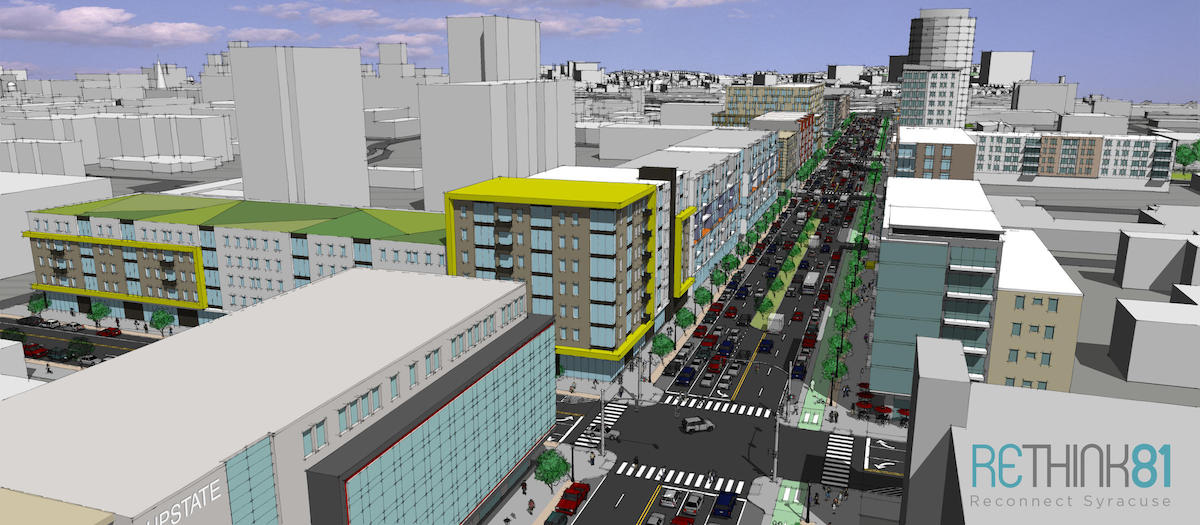 Route 29, Trenton, New Jersey
For Trenton, New Jersey, only one thing stands in the way of connecting the downtown core to the scenic Delaware River waterfront: Route 29, an underutilized four-lane highway carrying through-traffic at high speeds. Calls for the removal of Route 29, which has severed connectivity and destroyed residential communities, date back to the 1988 Capitol City Renaissance plan, a proposal by new urbanist planners Duany Plater-Zyberk.
By the mid-2000s, the City and the New Jersey Department of Transportation had studied a boulevard replacement idea extensively, and momentum was growing, but was interrupted by the 2008 recession. Now the project is moving forward again.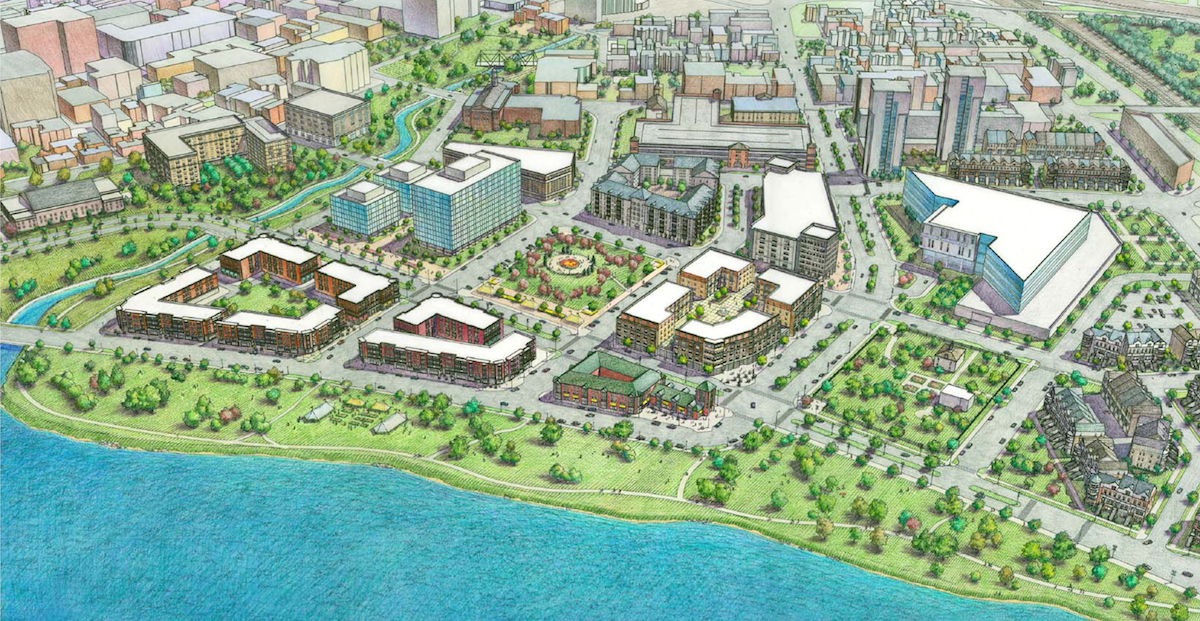 Route 710, Pasadena, California
Five mayors in the region have common sense: Why spend $6 billion for a tunnel and freeway across Pasadena, South Pasadena, Alhambra, and Los Angeles that citizens have been fighting for more than a half century? Why not use a grid of streets—the tool of a traditional city—to distribute the traffic, contributing to quality of life and land values?
The north State Route 710 tunnel, one of three alternatives proposed by California Department of Transportation (Caltrans) and LA County Metropolitan Transportation Authority (Metro) and supported by lobbyists, would likely induce more traffic—yet it seems to have grown a life of its own.
A five-city coalition—Glendale, Pasadena, Sierra Madre, South Pasadena, and La Cañada Flintridge—has been fighting a variety of freeway schemes, including the tunnel option, for decades. The Connecting Pasadena Project's proactive 710 Reclaim plan illustrates the manifold benefits of abandoning the tunnel and building diverse uses and housing.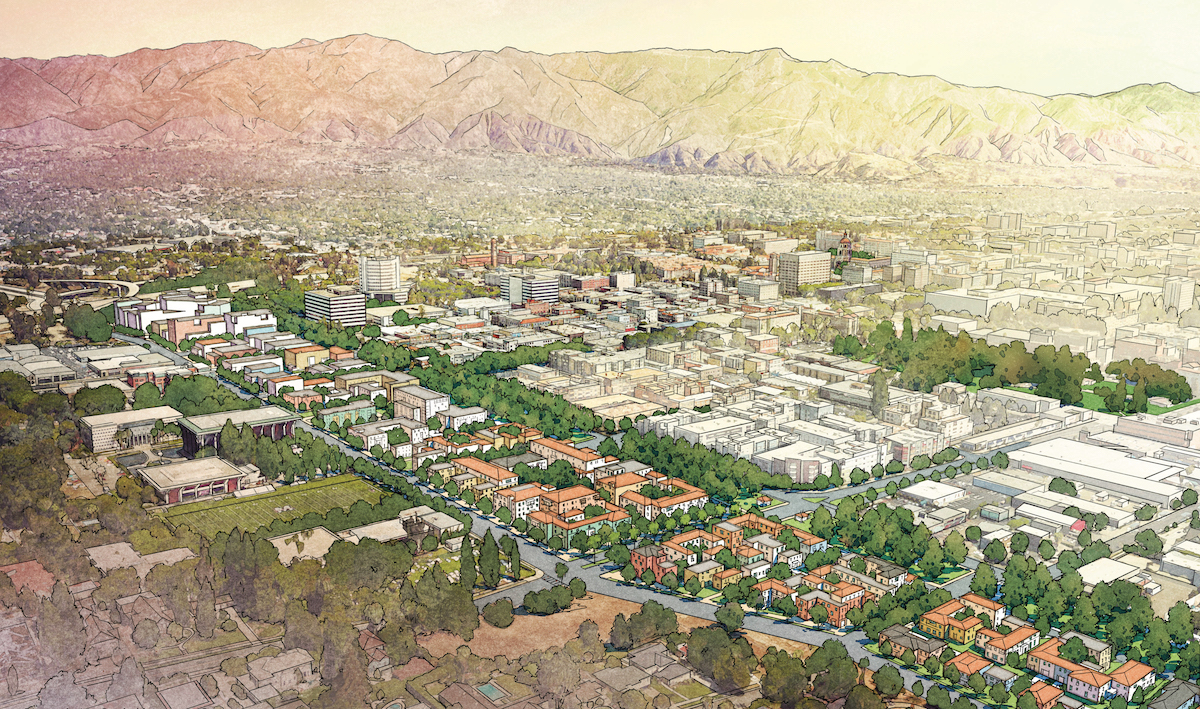 Interstate 345, Dallas, Texas
For two generations, I-345 has been a fact of life in Dallas, Texas. Running almost two miles along its elevated course, the freeway cuts off downtown from the adjacent historic Deep Ellum neighborhood, a major 20th-century jazz and blues hotspot. Now, surrounded by vacant lots, empty streets, and disinvestment, the highway is nearing the end of its original design life.
In Dallas, a firmly auto-oriented Sunbelt city, few dared to imagine downtown without this concrete behemoth carrying roaring motor vehicles above—until an audacious group of local activists began to run the numbers. Calling themselves A New Dallas, and led by locals Patrick Kennedy and Brandon Hancock, they made a compelling case for demolishing I-345 and reuniting downtown Dallas with Deep Ellum. Here is what they found, according to D Magazine:
"Blowing up I-345 would free up 245 acres for development that could bring in another 27,540 downtown residents and, based on developable-square-footage estimates, more than 22,550 jobs. … And those estimates are conservative. It would restitch the grid, reconnect Deep Ellum and East Dallas to downtown, and allow the active development happening farther up Central Expressway to move south. … What happens then? Within 15 years, as much as $4 billion in new investment and more than $100 million in yearly property tax revenue."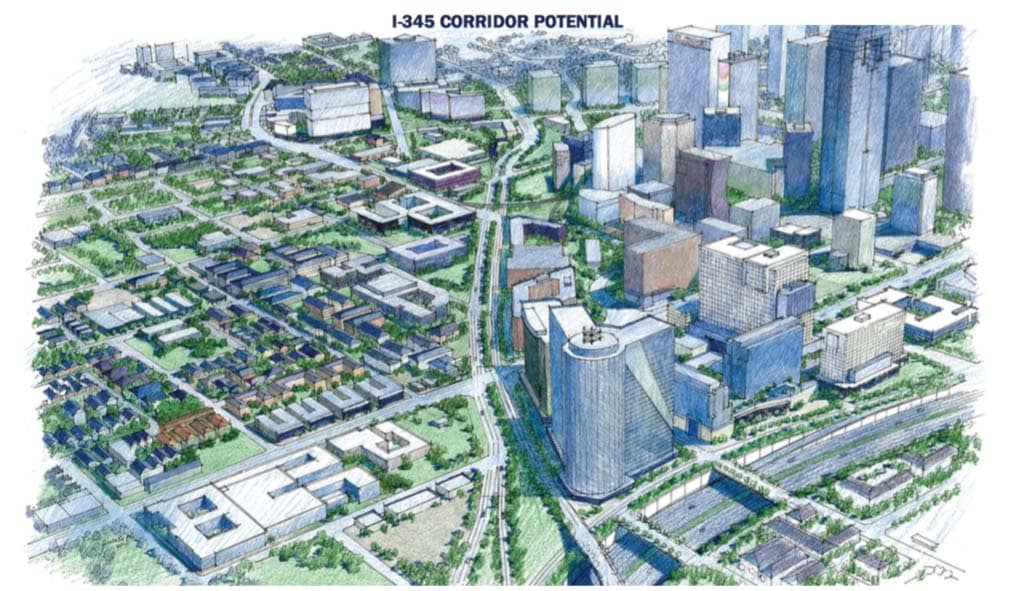 Inner Loop, Rochester, New York
First completed in 1965, the Inner Loop of Rochester, New York was designed to wrap like a noose around downtown. Combined with the rolling demolition of urban renewal, the Inner Loop served to lure and siphon residents out of the city center—and Rochester's downtown population plummeted. "We built an evacuation route," jokes Rochester City Engineer James McIntosh. "It worked. Everybody evacuated."
In the past decade, however, downtown Rochester has staged a dramatic comeback. The partial removal of the Inner Loop, a groundbreaking project currently in its finishing stages, has helped drive that renaissance.
With community support and funding assistance via a USDOT TIGER grant, a one-mile segment of the Inner Loop is being filled in and restored as a walkable, multimodal at-grade boulevard surrounded by mixed-use development. The success of this project in spurring new development has Rochester exploring removal of another section of the Inner Loop.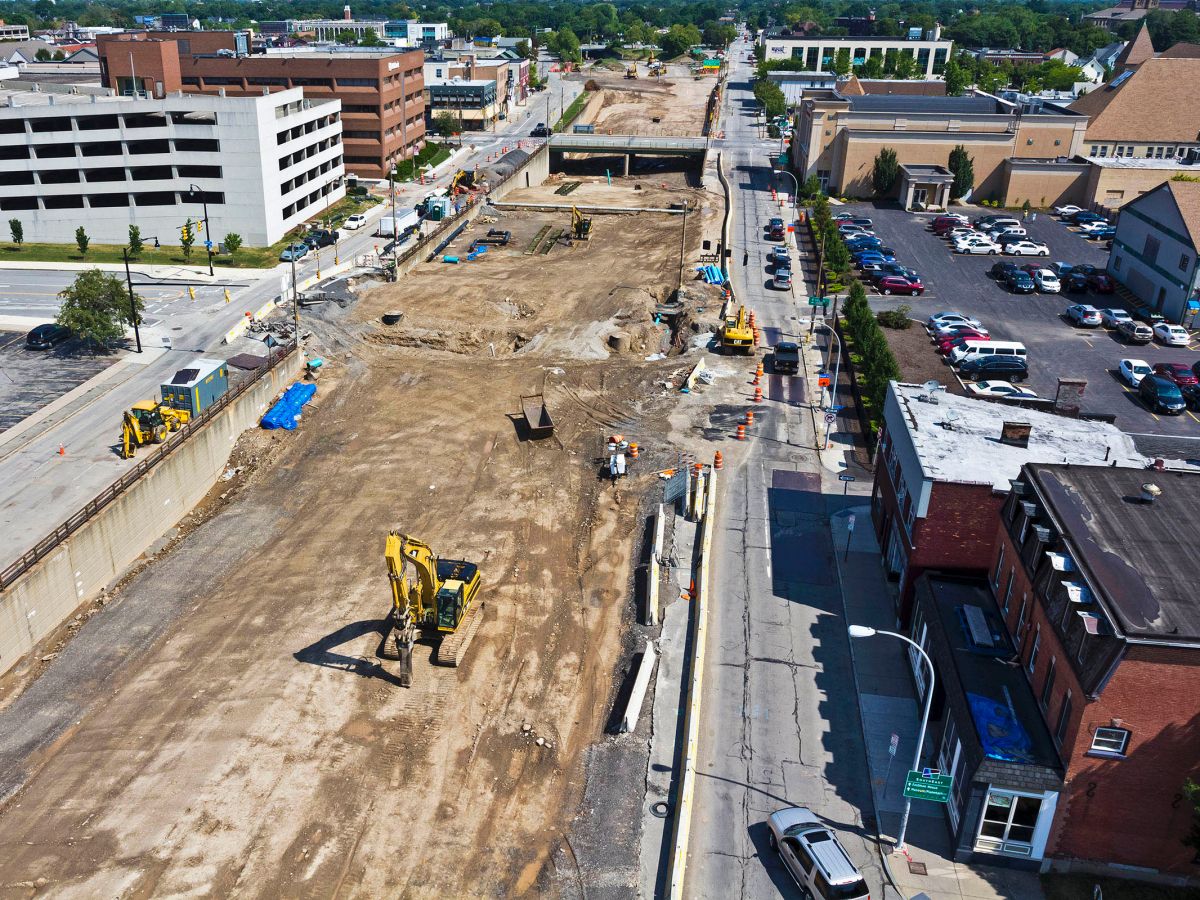 Interstate 375, Detroit, Michigan
In Detroit, Michigan, a city built largely by and for the automobile industry, demolishing a highway seems as far from likely as anywhere. Now, however, the removal of the mile-long downtown freeway spur called Interstate 375 has emerged as a possible project—and a potential major breakthrough for the city's urban renaissance.
Constructed in 1959, the four-lane below-ground spur that makes up Interstate 375 is a concrete barrier between Detroit's Riverfront, Greektown, Eastern Market, and Stadium districts. To local residents, its legacy is tied to the failed urban renewal efforts that destroyed many of Detroit's African-American neighborhoods—including several, like Black Bottom, legendary for their culture and nightlife.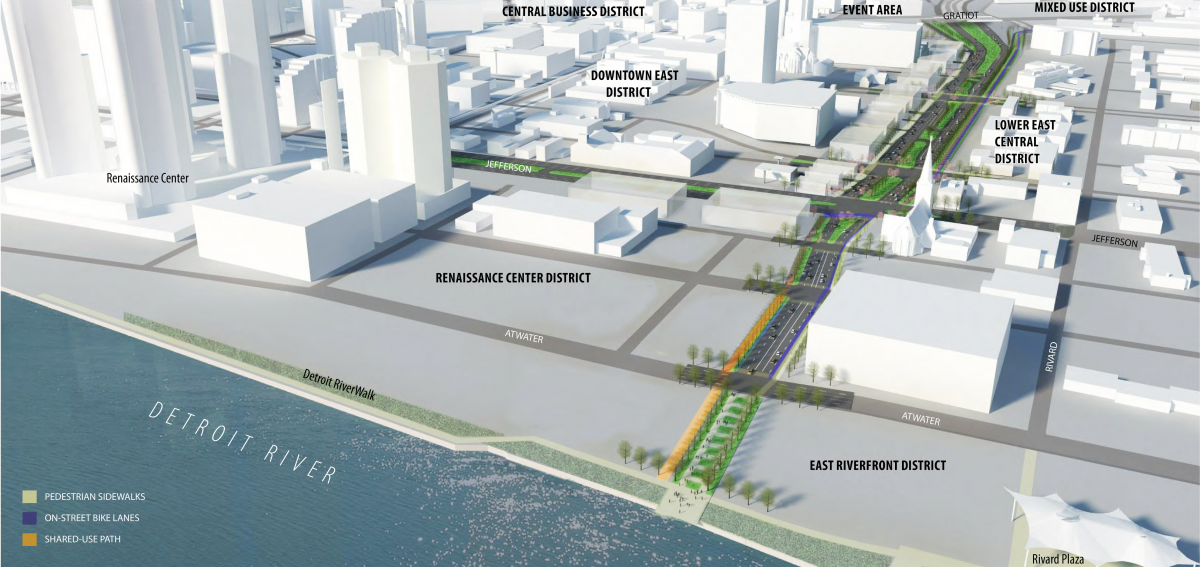 Interstate 280, San Francisco, California
When the City of San Francisco chose to demolish rather than rebuild two earthquake-damaged freeways in 1989, it began a historic natural experiment in urban planning. Ultimately, that example would prove to the world that removing in-city highways could boost quality of life, economic development, and housing affordability.
Now, the City is looking toward its first fully voluntary freeway removal: 1.2-mile spur of I-280, north of 16th Street, which currently links US 101 to Mission Bay.
Just as the property tax base rose and thousands of units of affordable housing were added after the Embarcadero and Central Freeway came down, removing the I-280 Spur would open new opportunities for market-rate and affordable development in the city's urban core.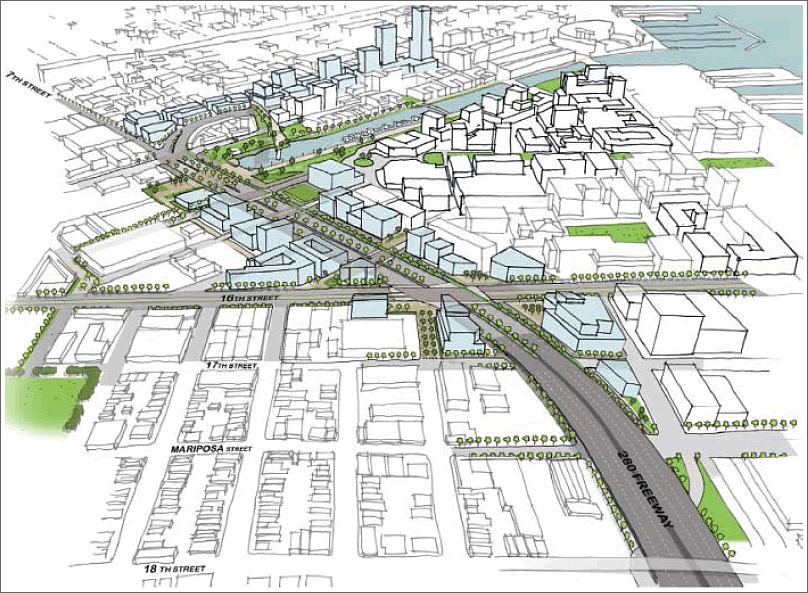 Interstate 70, Denver, Colorado
For over half a century, urban highways in North America have disproportionately impacted minority communities. Running through historic neighborhoods, they have severed connectivity, demolished homes and businesses, and left blight in their wake. In Denver, the construction of Interstate 70 inflicted its ill effects on three urban neighborhoods: Elyria, Swansea, and Globeville.
In those historic minority communities, residents were cut off from opportunity, access, and needed services. Now, like many mid-20th Century highways, I-70 in Denver is reaching the end of its life cycle—and one viaduct along its route needs major repairs.
"For me, it's not a matter of opinion — there's hard science behind this," said councilman Rafael Espinoza. "Other communities have gotten wise to the fact that you get overall better communities by removing [large central highways], not expanding them. Rather than improving the quality of life in the core, we go to the status quo of displacing people and expanding urban sprawl."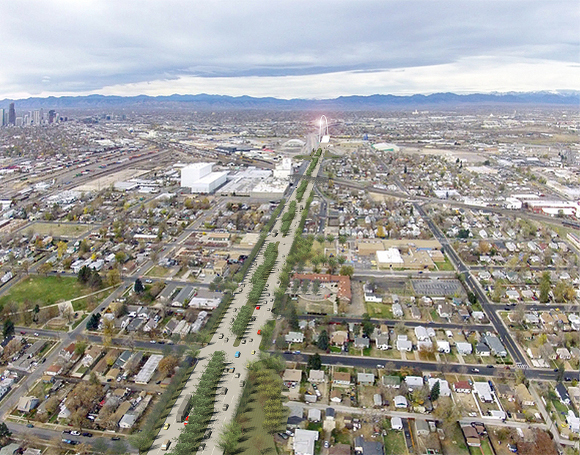 Scajaquada Expressway, Buffalo, New York
When the Scajaquada Expressway was built along New York State Route 198 in Buffalo, it bisected and severed Delaware Park—a masterpiece designed by the celebrated urbanist Frederick Law Olmsted. In May 2015, the decades-long safety consequences of that decision reached a breaking point when a sedan traveling on the expressway jumped a barrier, veered into Delaware Park, killed a three-year-old boy, and severely injured his five-year-old sister.
In the summer of 2015, following the tragic crash, NYSDOT made swift short-term improvements, decreasing posted speeds from 50 to 30 mph, and reducing all 12-foot lanes to 11 feet. Later, the DOT installed raised-table pedestrian crosswalks, new, sturdier guard railings, and additional safety improvements. In April of 2016, Cuomo dedicated $30 million in state funding for the conversion of Scajaquada Expressway into a low-speed urban boulevard.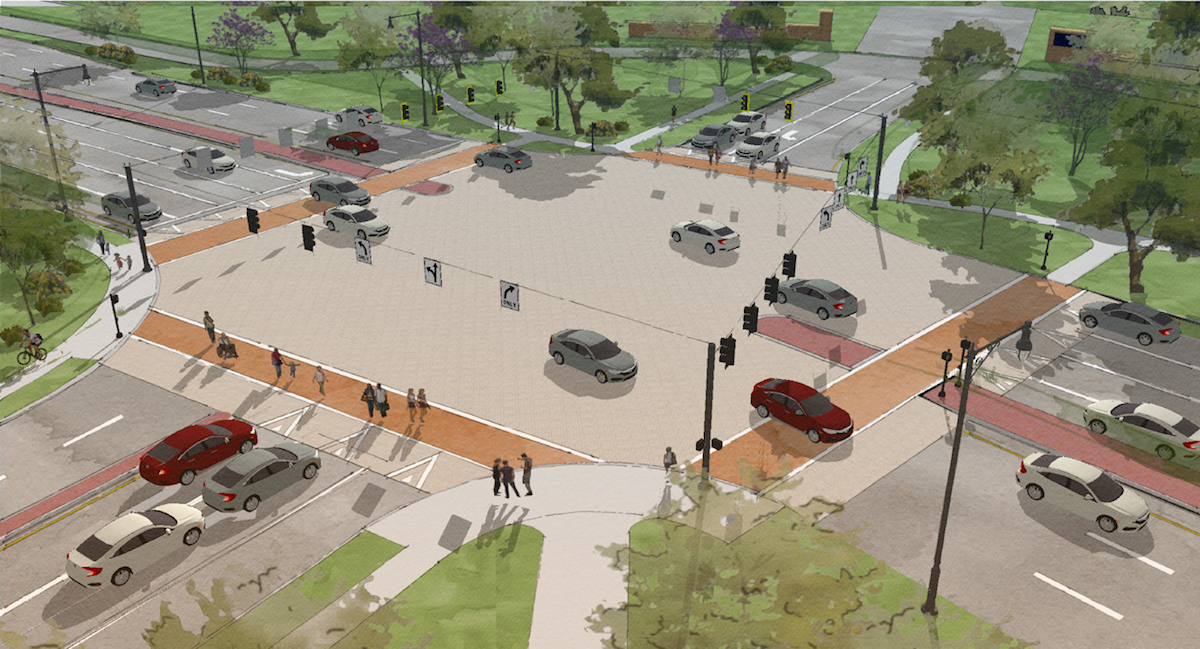 Download the full report includes more details and five additional highways that were on the list in previous years but have "graduated," because authorities have committed to their removal.