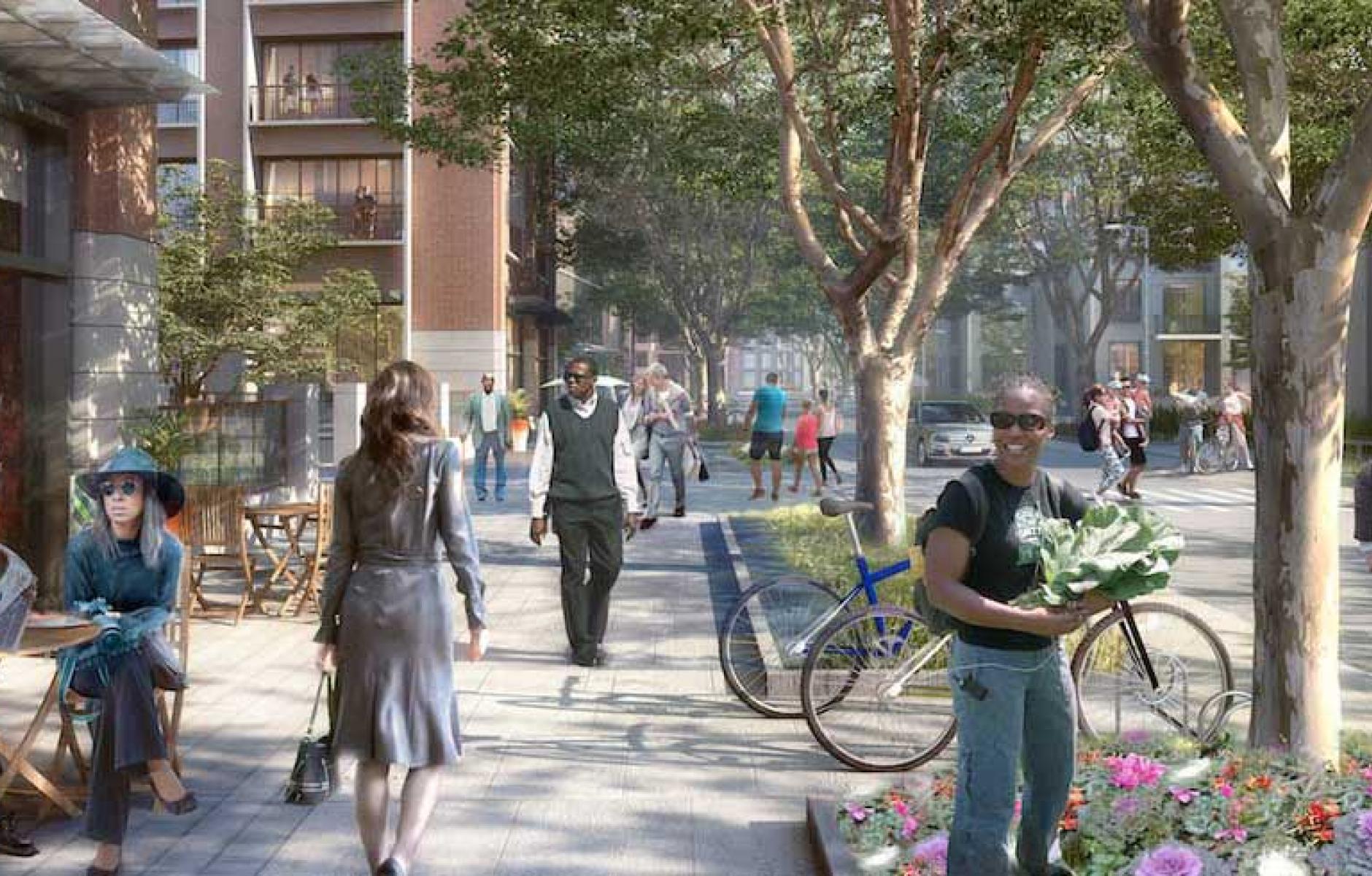 Image courtesy of City of Detroit
Detroit selects 'Pink Zone' partners
City planning department, with funds from the Knight Foundation, hires teams to explore reducing red tape in development projects.
Detroit's planning department has selected three design firms to help envision revitalizing the city's vacant commercial strips while reducing the bureaucratic hurdles that can stand in the way of redevelopment.  Farr Associates/PlaceMakers/CHA, SmithGroupJJR and Laavu were selected from among 38 submissions.
Pink Zoning Detroit is a research project that targets three commercial corridors in the city, according to an announcement from the office of Detroit Mayor Mike Duggan. The redevelopment visions created by the firms will be tested against the City's existing approval processes to identify how codes or regulations may be changed to make redevelopment simpler. Upon completion, the project's findings will be forwarded to the City Planning Commission and to City Council for their consideration.
Pink Zoning springs from the Project for Lean Urbanism. The goal is to help individual investors and builders to act by reducing bureaucratic barriers. "You can create a great place, and you won't have to go through months of red tape," says City of Detroit Planning Director Maurice Cox.
The winning teams will spend the next seven months exploring bold design and development strategies for Detroit's commercial corridors, and advising the City on zoning and building code amendments. Each team will receive a $19,000 stipend to support their work, funded through a Knight Cities Challenge Award from the John S. and James L. Knight Foundation.
The commercial corridors subject to the project's research are:
West Warren at Evergreen Road. Farr Associates/PlaceMakers/CHA and Laavu will explore how Detroit's automobile-orientated commercial strips could be made into more pleasant, walkable, mixed-use corridors.
Gratiot and the Dequindre Cut.  Laavu and SmithGroupJJR will examine how multi-acre vacant sites along Detroit's corridors might be redeveloped in creative and context-sensitive ways.
East Warren at Outer Drive. Centered on the Alger Theater, SmithGroupJJR and Farr Associates/PlaceMakers/CHA will examine how adaptive reuse of Detroit's historic assets could catalyze neighborhood revitalization efforts.
All three firms have Detroit roots: 
Doug Farr, who grew up on Detroit's East Side and attended Cass Tech and the University of Michigan before founding Farr Associates in Chicago, said "I credit Detroit with leading me to my chosen profession as an architect and town planner. Our team is thrilled at this opportunity to apply our best ideas back home."  Farr Associates is partnering with PlaceMakers—national coding leaders who recently organized the Detroit Lean Code Workshop—and Christian Hurttienne Architects, a Grosse Pointe firm with extensive experience in small-scale building design and historic preservation in Detroit.
SmithGroupJJR has been a feature of Detroit's design and development landscape since 1853, and the firm designed several Detroit landmarks, including the Guardian Building and the Riverwalk. Bringing rich experience to neighborhood revitalization is a core priority for the firm.
A small design practice based in Southwest Detroit, Laavu steered plans for Corktown's Detroit Institute of Bagels through the City of Detroit's planning processes in 2013, an experience which prompted project lead Kaija Wuollet to submit her team's ideas for consideration.