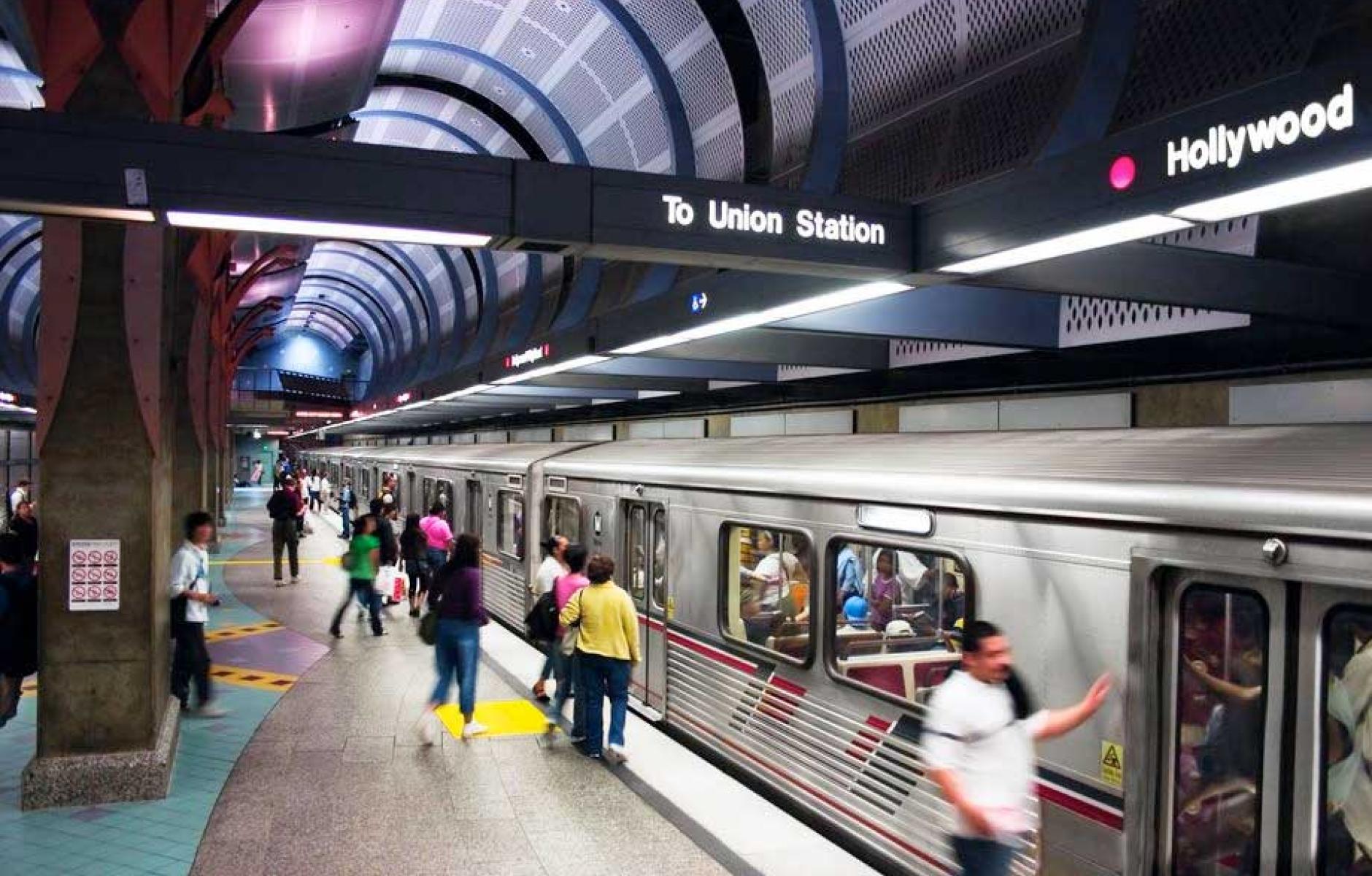 Subway station in LA, where the city voted for a tax for a large-scale transit expansion.
In urban America, transit consensus is stronger than ever
The urban support for public transit keeps growing, with expansion plans approved this week in metro areas big and small in many parts of the US.
We have no idea what a Trump administration will mean for cities. Given the conflicting promises Trump made as a candidate, such as boosting infrastructure spending while eliminating the national debt, he probably doesn't know either.
But one thing is clear: The urban consensus around public transit investments just keeps growing.
Big expansion plans passed not just in the Seattle, Los Angeles, and San Jose / Silicon Valley areas, but also in smaller metros like Indianapolis, Raleigh, and Spokane. Voters in the Oakland, Toledo and Columbus areas extended existing taxes to sustain their transit systems. Yonah Freemark at the Transport Politic is keeping score.
In fact, Detroit was the only major metro that failed to win a majority for its transit expansion plan. In California, plans in Sacramento and San Diego Counties won big majorities, though they did not reach the 2/3 required for revenue raising measures in that state. (Los Angeles and Santa Clara Counties both surpassed that high bar, as did a Bay Area measure to modernize and maintain the BART system.)
These huge pro-transit votes were not just in dense core cities. All the measures I've listed won over a big area that included a core city and a diverse range of suburbs, often with the suburban areas in the majority.
But municipal initiatives are a big story, too. Per-capita transit needs are higher at high densities, so any regional funding package that allocates funds even on a per-capita basis will underserve the dense city at the core. For this reason, dense core cities are increasingly needing to raise their own funding for added service.
Again, the voters are there. City of Atlanta voters just passed a big plan to create new rail lines and expand bus service in the city. City of Seattle voters took a similar path to expand their local bus service two years ago. In both cases, the regional transit agency will provide the service and/or infrastructure, but only within the core city, in response to that city's funding.
In short, city governments can no longer just defer to a regional consensus about transit funding. They must set their own goals, which may be above and beyond what the region will support, and form their own plans to pursue them.
Nobody knows what the Federal government will do next. But whatever it stops doing, cities and regions will have to do themselves. If you're used to your current transit funding plan, with its heavy reliance on federal funds, this prospect is terrifying and unprecented. We can hope it will not come to pass, or at least not too abruptly. 
But if it did, power would shift to states, regions, and cities — closer to the voters. And the closer you get to urban voters, the more support you find for the urban agenda.