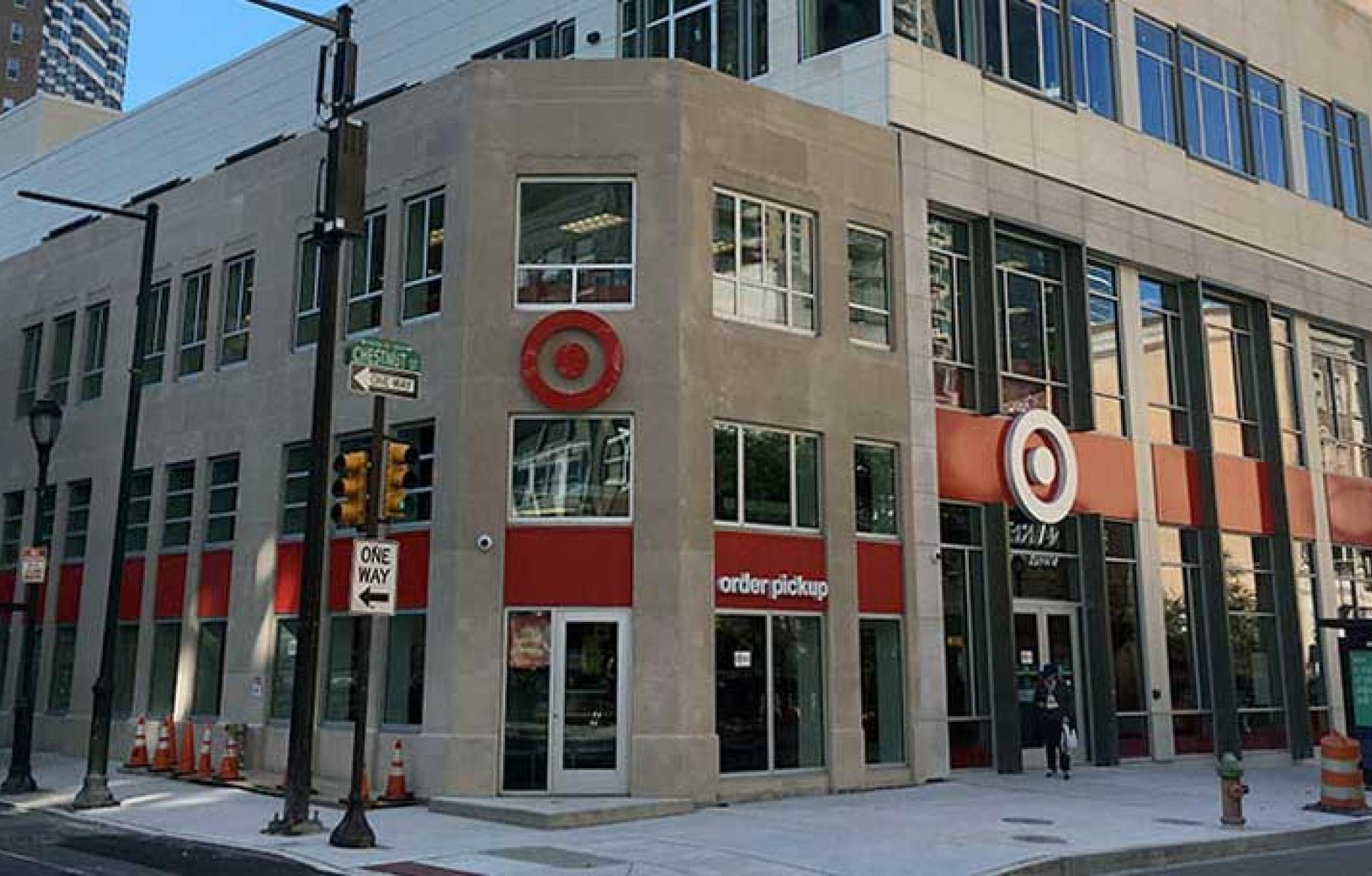 New Target near Rittenhouse Square in Philadelphia.
Target bets big on urban stores
Big box retailer evolves; chases customers to walkable urban locations.
Target is expanding its new "flexible format" urban stores in downtown locations. Two recently opened, with another set to open in early 2017, in Center City, Philadelphia. A flexible format store recently opened in Tribeca, Manhattan.
The mega-retailer is moving into large and mid-size cities and college towns.
The stores vary in size—ranging from about 20,000 to 50,000 square feet—and are packed with goods. That compares to a 130,000 square foot conventional suburban Target. The urban stores have groceries, a "home" section, a tech department, apparel, and often a CVC pharmacy and Starbucks. They offer pickup stations for online sales. That's a lot to put into a relatively small store, and the sales per square foot are likely to be high.
Target began experimenting with flexible formats called CityTarget and TargetExpress around 2012, and the early prototypes succeeded. The company rebranded these stores simply "Target" in 2015—another sign that the firm is going all-in with this concept. "We're committed as ever to our urban growth strategy, developing stores specially designed for densely populated areas," Target says on its website.
As of early October, Target had 27 flexible-format urban stores across the US, double the number of a year and a half ago. Five more are scheduled to open in 2016 and at least 19 are in the works for 2017. Locations include Chicago, Minneapolis, Cincinnati, Queens, State College, PA, and Berkeley and Cupertino, CA.
Target is taking advantage of growing population and changing demographics in walkable urban locations. Expect to see more of the red bull's eye in downtowns and urban neighborhoods in cities big and small.