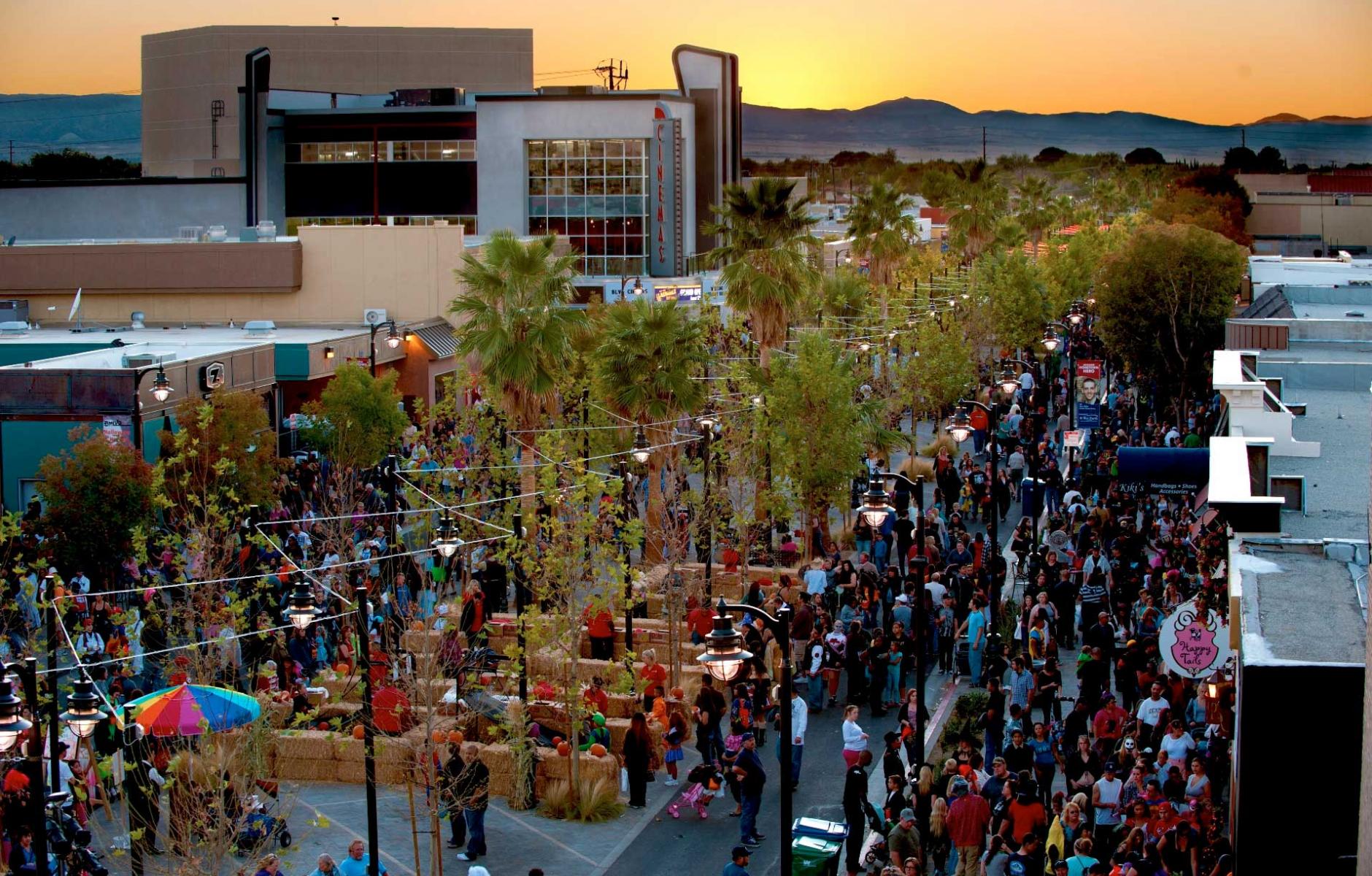 he BooLVD Halloween & Harvest Festival on Lancaster Boulevard. Source: MyAntelopeValley.com.
New streetscape spurs downtown turnaround
In Lancaster, California, a simple change in street design was a catalyst for economic and social activity.
The City of Lancaster, California, converted a drab, automobile-oriented arterial at the heart of downtown into a lively, pedestrian-friendly center. The nine-block makeover of Lancaster Boulevard has become a regional draw and attracted significant economic development in its first two years.
In a dramatic demonstration of the value of smart streetscape investment, Lancaster spent $11.5 million on a project and, within four years, attracted $130 million in private investment and generated $273 million in economic output, according to estimates by the California Redevelopment Association. Between 2007, the year before revitalization efforts began, and 2012, tax revenues from the downtown area nearly doubled .
Now, downtown Lancaster has 48 new businesses adding 802 permanent jobs and 1,100 construction jobs, according to a recent study. By 2013, three years after project completion, total collisions fell by nearly one third, and injuries among all users decreased by 67 percent.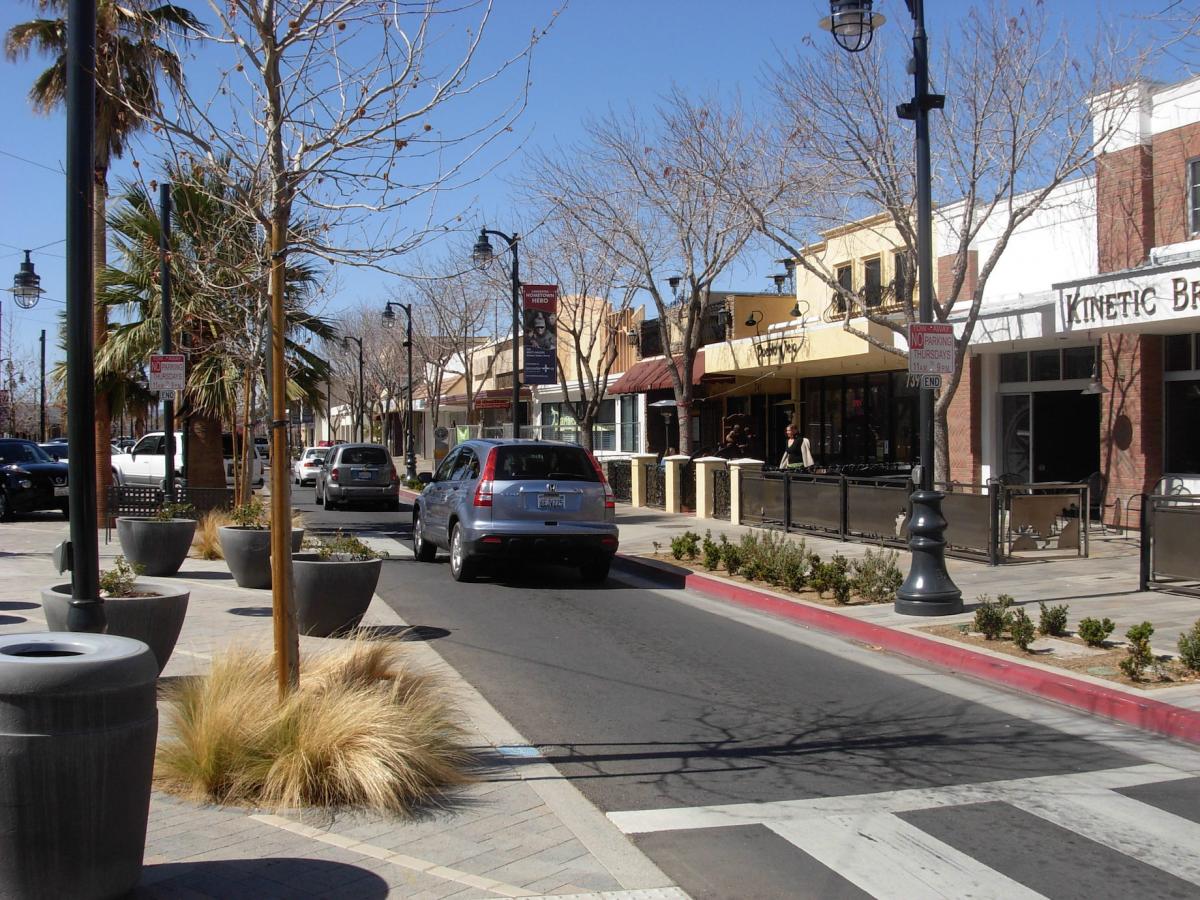 Space for automobiles along the corridor has been drastically reduced, but not eliminated, since the boulevard's completion in 2010. Five lanes of traffic, including a center turn lane, were reduced to two lanes, with a wide, tree-shaded public ramblas in the center of the thoroughfare. A true ramblas was provided only for the busiest blocks, with stylistically consistent angle-in parking anchoring the outer blocks.
More than 800 housing units have been built or restored. Street festivals now attract crowds in the tens of thousands. At the 2012 BooLVD Halloween & Harvest Festival, 30,000 people showed up in a city of 156,000. "Never before have we seen such crowds downtown," says Jason Caudle, deputy city manager. "And this happens regularly."
The city programs the space just like a performing arts center or sports field. The boulevard is two-thirds of a mile long — so it can accommodate a large crowd with multiple performance venues. The project won the US Environmental Protection Agency's Smart Growth Achievement Award for overall excellence in 2012. The lead urban design consultant was Moule & Polyzoides of Pasadena, California.
The design, with its unusual tree-lined ramblas that is perfect for festivals, farmer's markets, or just hanging out, was a key element in the success of the project, Caudle says. The public sector outreach was also important, as was private sector support. The largest investor and the first to step in was Scott Ehrlich of Insite Development, based in Los Angeles. "They saw the vision and were willing to invest," Caudle says. Insite has built nine housing developments downtown and is a partner in a number of new businesses, including an underground bowling alley, a trendy restaurant called BeX, and a nightclub—the RoShamBo Lounge.
A new art-house movie theater opened, in addition to a microbrewery, apparel stores like Urban Outfitters, and other shops and restaurants. The Lancaster Museum of Art & History also opened, which anchors one end of the boulevard. A pre-existing performing arts center anchors the other end.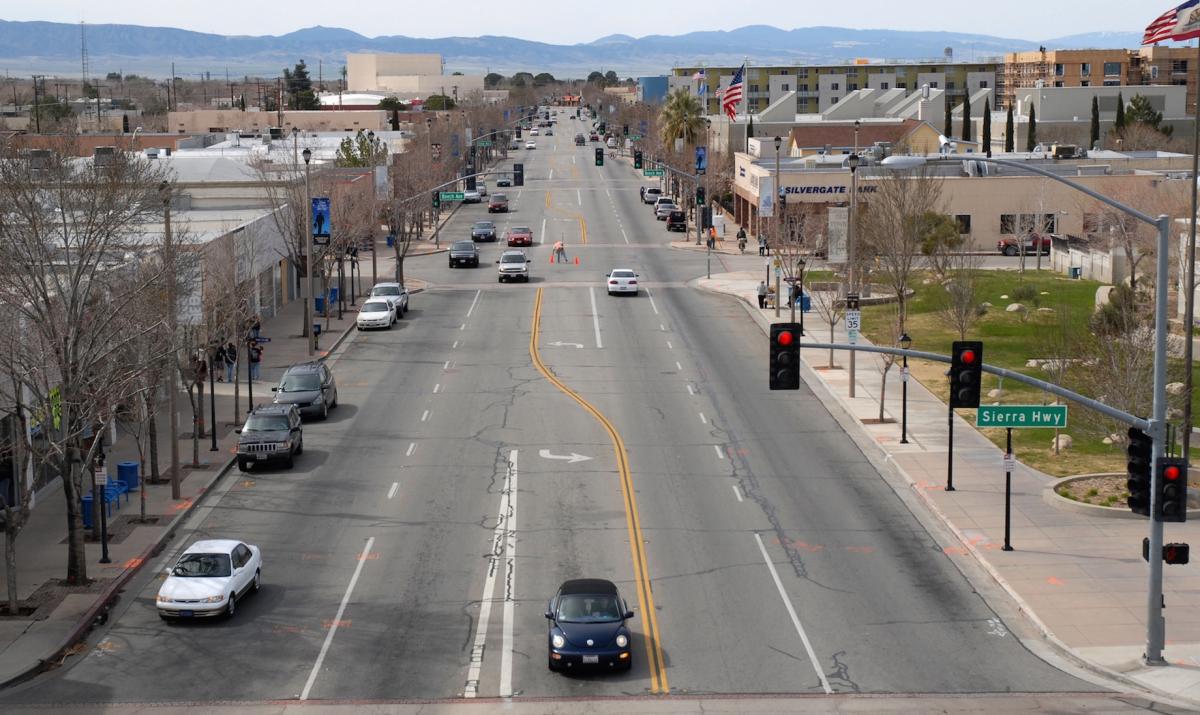 The city, historically associated with sprawl, struck on the project while searching for a new community identity. "We were looking to do something top-notch, to raise the bar," says Caudle. "Moule & Polyzoides seemed to be the firm in Southern California at the forefront of smart growth and New Urbanism."
The money came through the local redevelopment agency, part of a system that was effectively disbanded in 2012 due to a change in state policy by Gov. Jerry Brown. "This is the perfect example of blight elimination and job creation," says Caudle in reference to the redevelopment agency mission. "It's the way funds should be appropriated in this manner."
During the planning phase, skepticism about the project was rampant, Caudle says. "It was going to be a great success or the biggest waste of money ever. I don't think there was any in-between. Any time you change as drastically as we did, you consider a possible negative outcome. Fortunately the design and the way we implemented it and engaged the community caused it to be a success."
Other cities could "absolutely" do a similar project, says Caudle. "There's nothing unique about Lancaster — they could replicate the design. What is difficult to replicate is our leadership — the mayor and city council — and private partners." Lancaster is welcoming to business and development, which Caudle says is unusual in the region.