Jefferson Steet, as it goes under I-40. Photo by Alex McKeag, CNU.
USDOT explores urban design ideas for Nashville highway and neighborhood
This article is part of our ongoing coverage of the Ladders of Opportunity Every Place Counts Design Challenge, a program of the U.S. Department of Transportation (USDOT) with design assistance from CNU. Learn more at cnu.org/everyplacecounts.
The US Department of Transportation spent two days in Nashville, Tennessee this month to imagine new urban design opportunities for reconnecting a historic African-American community bifurcated five decades ago by the construction of Interstate 40 through the city.
Many people assume that Nashville's "Music City" nickname refers to its status as the capital of country music, but it stems from the Jubilee Singers of Fisk University in North Nashville, who introduced the world to the Negro spiritual in the 19th Century.
Fisk is one of three historically black colleges and universities in North Nashville, also including Tennessee State University and Meharry Medical College, and linked by Jefferson Street, which has its own storied history of 20th Century blues and jazz and civil right activism.
When Interstate 40 was built in the 1960s, more than 1,400 people in North Nashville were displaced—mostly African Americans. Jefferson Street was particularly hard hit because the highway crosses over and under it in the space of a mile and parallels the street in between, draining the vitality from the black-owned businesses that lined the street. Jefferson Street has a great history and future potential, though it is disconnected and economically impaired today.
The Ladders of Opportunity Every Place Counts Design Challenge focused on reconnecting neighborhoods and the colleges and universities divided by I-40, capitalizing on Jefferson Street's vibrant cultural and business history, and improving conditions and opportunity around its many civil rights sites. Nashville hosted USDOT's second of four Every Place Counts workshops. The first was in Spokane the third in Philadelphia, and fourth in Minnesota's Twin Cities.
"USDOT's message…was well-received, and suggestions were made both to repair and restore Jefferson Street and to cap sections of I-40," said Ellen Dunham-Jones, professor of architecture at Georgia Tech and a participant in the workshop.
In the whirlwind event, USDOT, assisted by CNU, helped residents generate ideas for restorative placemaking along Jefferson Street, including efforts to improve walkability, increase neighborhood connections, boost economic development, provide more open space and green infrastructure, enhance arts and entertainment, and ensure housing affordability. All proposed concepts sought to build upon the community's rich cultural heritage and artistic excellence.
The possible I-40 improvements discussed in the workshop included two land bridges that would create open space and better connectivity between the neighborhoods. One suggested cap would run between 16th and DB Todd Jr Boulevard, connecting Jefferson Street, Fisk University, and Meharry Medical College to Elizabeth Park to the north. Another building-lined cap was suggested to connect Germantown on the east to Fisk-Meharry on west.
Two enhanced gateways on the eastern and western ends of the corridor were also envisioned to improve connections and signal to pedestrians and motorists that they are entering a unique place—not just any commercial corridor. These gateways could celebrate the cultural history, such as the Jubilee singers, of which the community is so proud, and connect to the community's Gateway to Heritage effort already underway.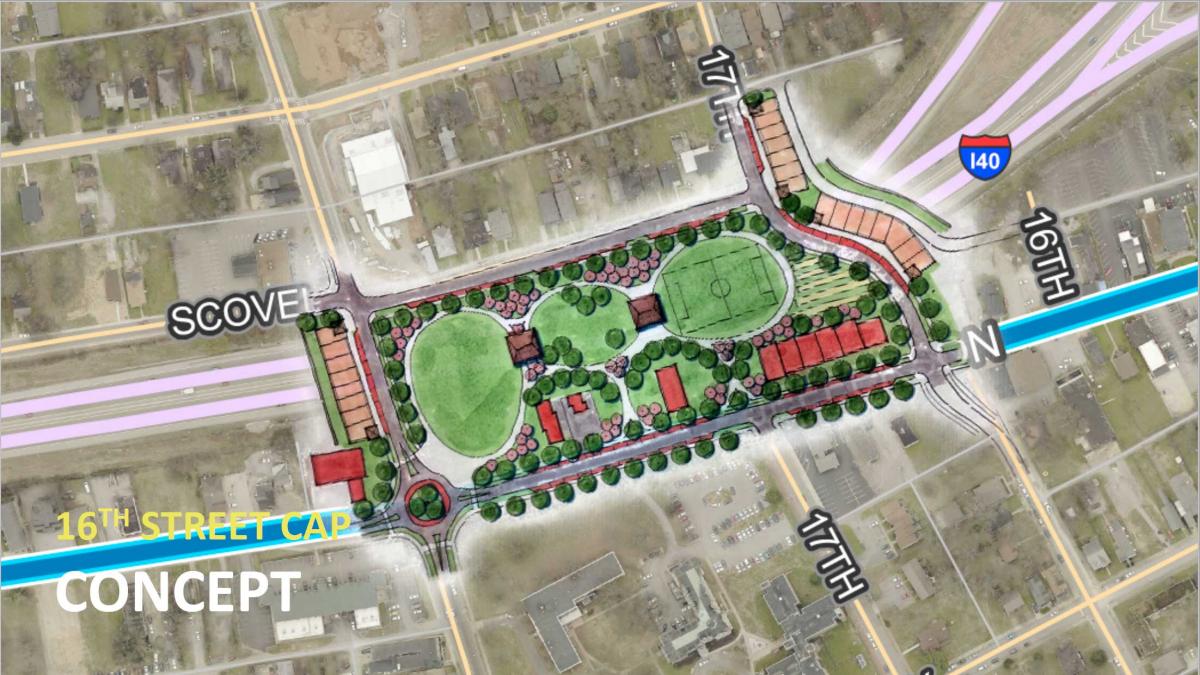 Ideas for walkability along Jefferson Street include a makeover for the street and the addition of roundabouts to calm traffic and make a beautiful two-way street road diet feasible. USDOT officials suggested performing "an inventory and assessment of the corridor to identify key areas of improvement and opportunity to make the Jefferson Street Corridor friendly and accessible for all ages and abilities," and providing "multimodal transit options" along the corridor to promote walkability and connectivity.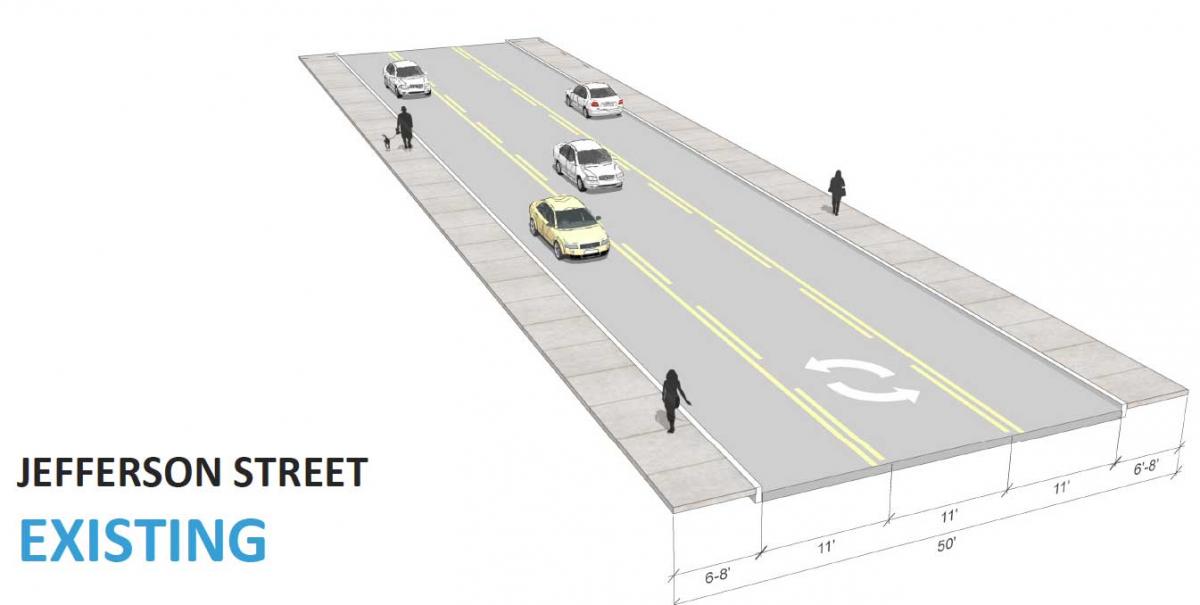 Designers and engineers suggested preserving historic buildings—but also identified opportunities for mixed-use infill development. Subsidized affordable housing was looked at as part of the mix. Nashville is growing steadily, especially in neighborhoods around downtown. With the exception of the eastern end of Jefferson Street, this corridor is not sharing in that prosperity.
"We need the city to support and promote Jefferson Street," said one resident, upset about lack of city investment in the neighborhood. Mayor Megan Berry participated in the event, signaling that a Jefferson Street revitalization is a priority for the city.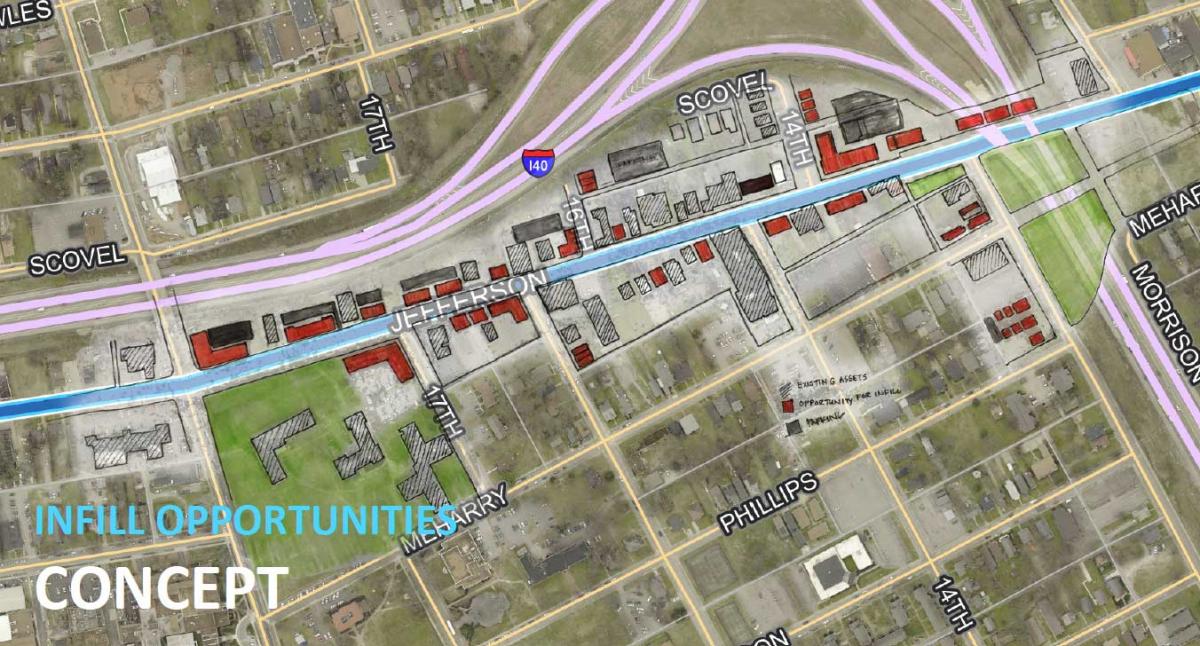 One of the suggestions is to establish "an umbrella organization that represents all the stakeholders in the Jefferson street corridor to support equitable mixed-use development that encourages small business, affordable housing, and a robust workforce. Incorporate an additional layer of easily implementable land-use policy and design standards that capture the vision, culture, and character of the Jefferson street corridor."
Development is both encouraging and worrisome to residents. "You know, I'd like to see more discussion with landowners, property owners, etcetera, about how they are impacted," said Janice Overton, who was quoted by a Nashville NPR reporter. Residents were careful to point out that the dense developments that are spouting up elsewhere in the city would be out of character along Jefferson.
In light of an ongoing development boom in Nashville, context-sensitive design standards were suggested to ensure that new growth along Jefferson Street reflects its historic character and its community's values. Design professionals like Dunham-Jones, along with multiple CNU member volunteers and a workshop team from Toole Design Group, Inc, provided quick sketches of what mixed-use development could look like.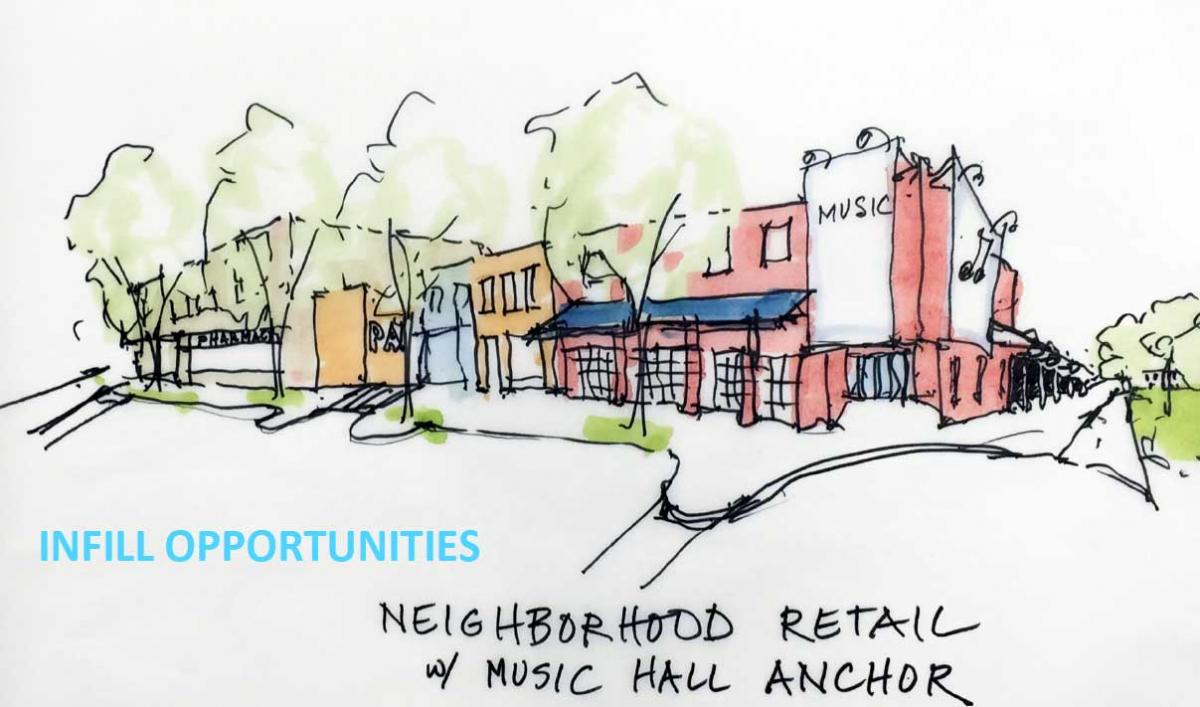 Additionally, local residents expressed hopes that the proposed improvements could help integrate the neighborhood's educational institutions—both their physical campuses and the community opportunities they offer. The workshop's leaders highlighted connectivity for neighborhood institutions as a priority in the resulting designs.
USDOT officials emphasized that the workshop is the "start of a conversation" that will continue long into the future of North Nashville. ""We are here to elasticize your mind. This process is designed to encourage you to think as far ahead as possible," says Stephanie Jones, senior counselor to the Secretary and Chief Opportunities Officer for USDOT.
Participants included students from the historically black institutions, who were among the most excited at possibilities. "These design sessions are insightful," said Joseph Love, a student and neighborhood artist. "I've been part of planning on my campus, but this is a different beast. This is big-time. Here we're thinking about the entire community. It kinda blows my mind. The best part is seeing how different people, groups, and systems work together (or not) to impact our neighborhood. …I think the vision can work. I think we gotta get people to cooperate and compromise. We need to make sure all decisions are fair and balanced."