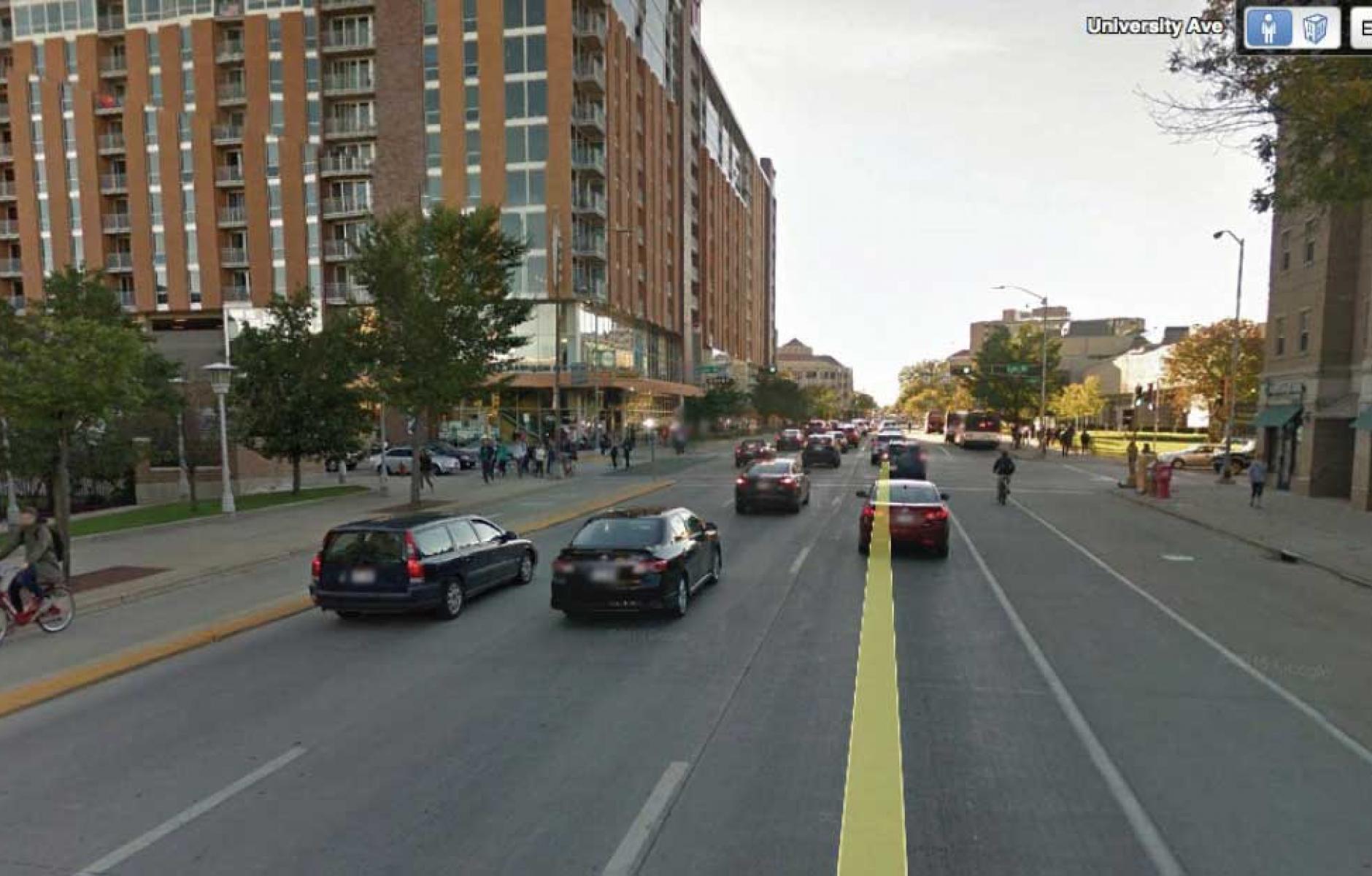 Campus Drive in Madison, WI. Google Street View.
FHWA proposal would undermine traffic calming
There is still time for public comment on an ill-considered rule tying lower speeds on urban streets to "excessive delay." Please read the article and tell FHWA to drop or change this proposal.
To increase speeds for cars and trucks during peak hours, FHWA (Federal Highway Administration) is proposing a rule that could harm walkability and quality of life 24 hours a day on specific urban streets.
The FHWA, a division of US DOT,  is focused on highways—so maybe the Administration doesn't give much thought to users of National Highway System (NHS) roads who are not inside motor vehicles. But in many instances FHWA has authority over urban streets—when these streets are designated as part of NHS.
You should care because a proposed "congestion rule" will have a negative impact on people and communities. There is still time for public comment—through August 20—and I provide a link to comment below. First, here's a little explanation: The proposed FHWA rule sets standards for "excessive delay" that includes any average speeds under 35 miles per hour (mph) on expressways and under 15 mph on other National Highway System roads.
The 35 mph standards may be fine for expressways, which have one purpose: To move motor vehicles. But the 15 mph standard is likely to impact NHS thoroughfares that go through downtowns and urban neighborhoods.
Those thoroughfares have multiple purposes: People live on these streets; they talk to their neighbors; they shop and do business. Children walk across these streets to go to school. People catch transit rides and they ride bikes. Those behind the wheel of an automobile are driving through somebody's neighborhood. These neighborhood functions are not compatible with higher speeds.
Under this standard, thoroughfares classified as having "excessive delay" may have speeds below 15 mph at any time during the day, usually in weekday mornings or evenings. Average speeds are higher at other times. The finding of "excessive delay" sets the stage for road widenings and other measures that increase speeds to ensure that vehicles don't dip below the 15 mph threshold. Doing so is likely to create significantly higher speeds and less safe conditions at all hours of the day for non-automotive users. Surely the FHWA is familiar with this or similar graphs:
At the top of this article see a Google image of Campus Drive in Madison, Wisconsin, provided by Chris McCahill of the State Smart Transportation Initiative. In the photo observe somebody on bicycle, lots of people on foot (more than the number of cars), multifamily residences, businesses, and other buildings with commercial, residential, workplace, and institutional uses. The street is a vital corridor for students, staff, and others associated with the University of Wisconsin. It borders the campus, forming a seam between the city and the university. It is also an NHS road. See a map of the thoroughfare below. Drivers are impacted by congestion about two hours a day for about a half mile, and lesser congestion beyond that.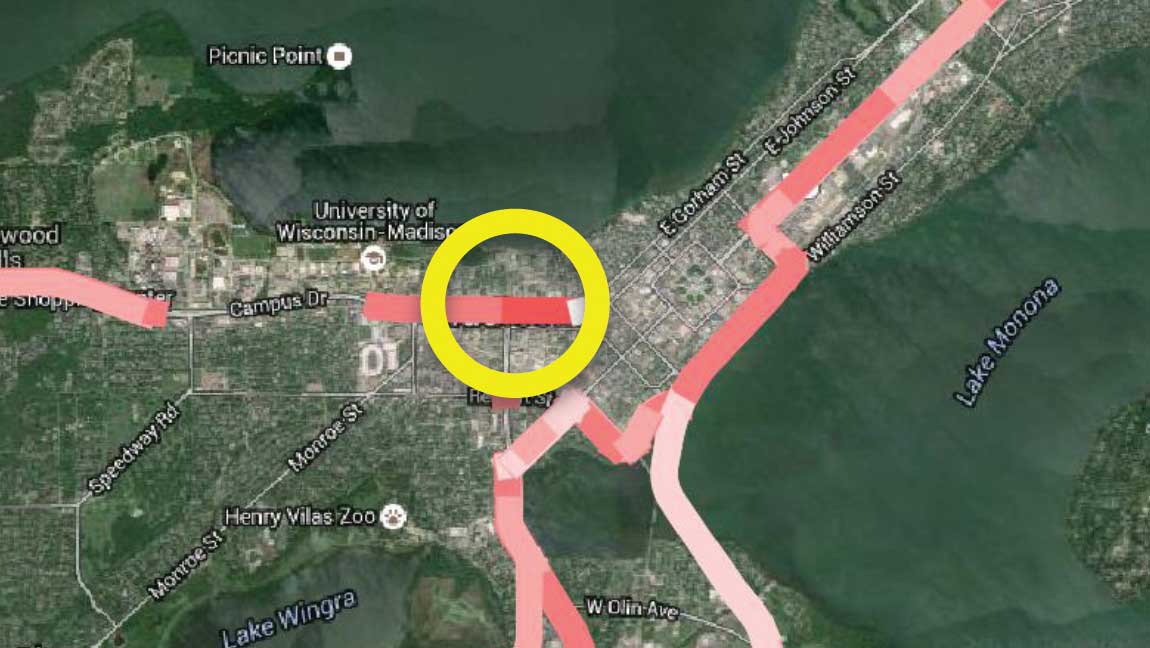 Campus Drive is the kind of thoroughfare that could be impacted by this rule. Others can be found in Madison and in metro areas throughout the US. Please comment on this rule and let the FHWA know that this proposal is a bad idea because urban streets are not single-purpose corridors. They are the hearts of our cities and towns—the places where we live, work, and play. If the FHWA is in charge of such vital places, the Administration is obliged to protect all of the important functions—not just driving—and the safety of those who live in our communities.
The Mayor's Innovation Project notes that the rule "sets conflicting and unrealistic goals for traffic speed, which would work against efforts to calm traffic, provide active transportation and transit options, and to foster efficient, compact development." The Innovation Project posted a letter making a number of recommendations, including "eliminate the congestion threshold for roads posted at 30 mph or less," which would effectively eliminate the problem on streets like Campus Drive.
Other recommendations: Keep day-to-day reliability measure but eliminate hour-to-hour reliability measure; Measure person-hours of delay instead of vehicle-hours; Consider accessibility measures instead of mobility measures; Use speed data to identify excessive speeds, not just delay.
Transportation for America wrote a letter asking DOT secretary Anthony Foxx to change this rule—and anyone can sign on. "The final rule should provide a more robust analysis of the entire transportation system and not just the speed with which single-occupancy vehicles and trucks move through a corridor," says Transportation for America.