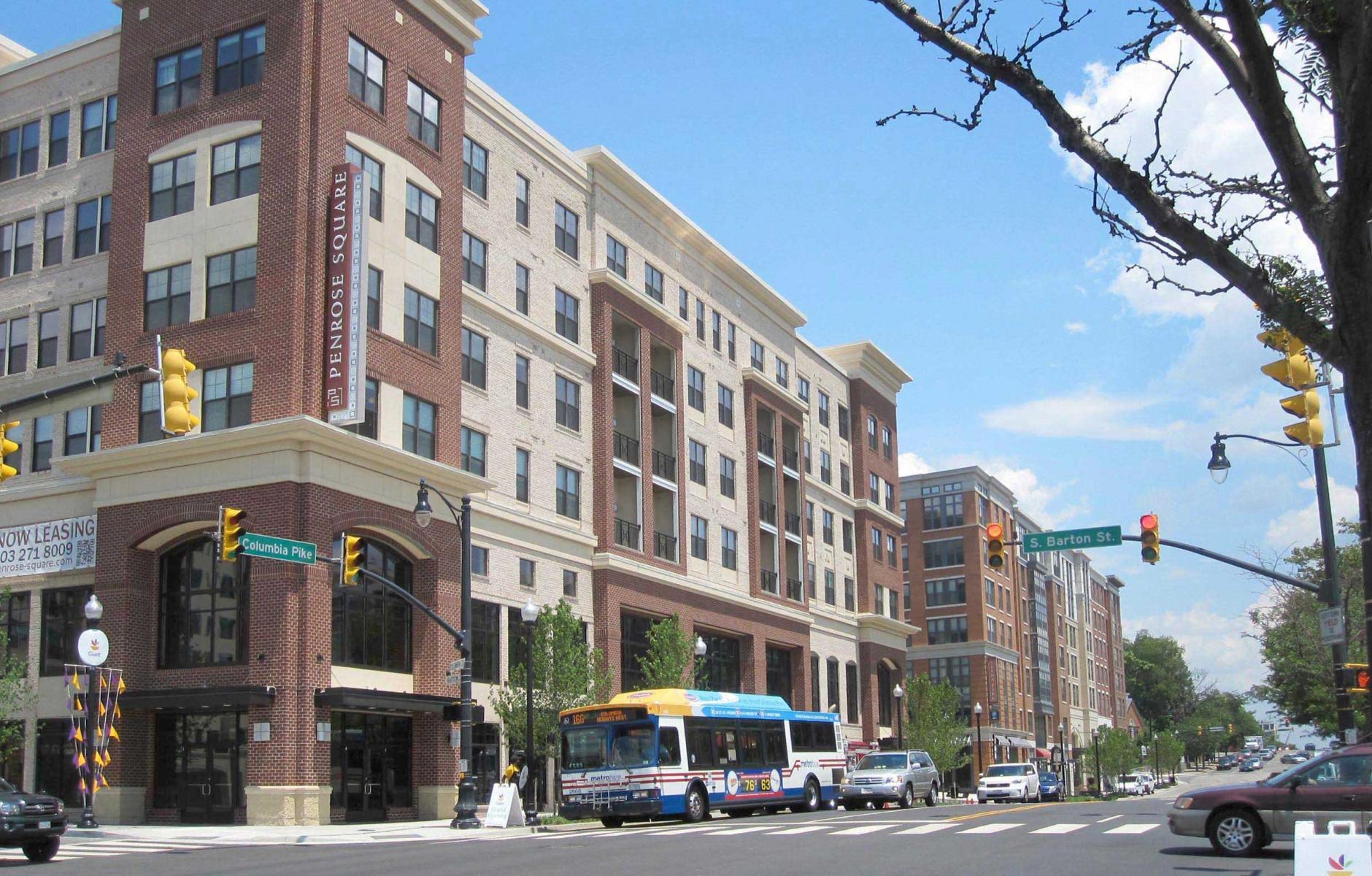 New mixed-use building line Columbia Pike. Source Dover, Kohl & Partners
A code transforms a commercial strip corridor
First built over 200 years ago as a toll road connecting Washington, D.C. to greater Virginia, the Columbia Pike now serves as a direct route to the Pentagon and other capital landmarks. Until recently, this Arlington, Virginia thoroughfare was an aging commercial strip stifled by outdated single-use zoning regulations.
In 2002, an extensive public charrette process revealed widespread support for an efficient and innovative form-based code for Columbia Pike. As a result, mixed-use developments were built, sidewalks were widened, and lighting was installed for pedestrian and bicycle-friendly purposes. "Thanks to skilled designers, a clear, implementable code, and a truly capable client, this plan is getting built, and well," says Walkable City author Jeff Speck.
Following a successful second public charrette in 2011, the county is committed to improved bus transit and the smart growth vision for the Pike. More mixed-use developments are under construction and in the pipeline—all shaped by the code to transform this corridor into a striking and appealing urban place. Noted planner Brent Toderian praises "the impressive, real-life success of the initial phases of actual design and construction."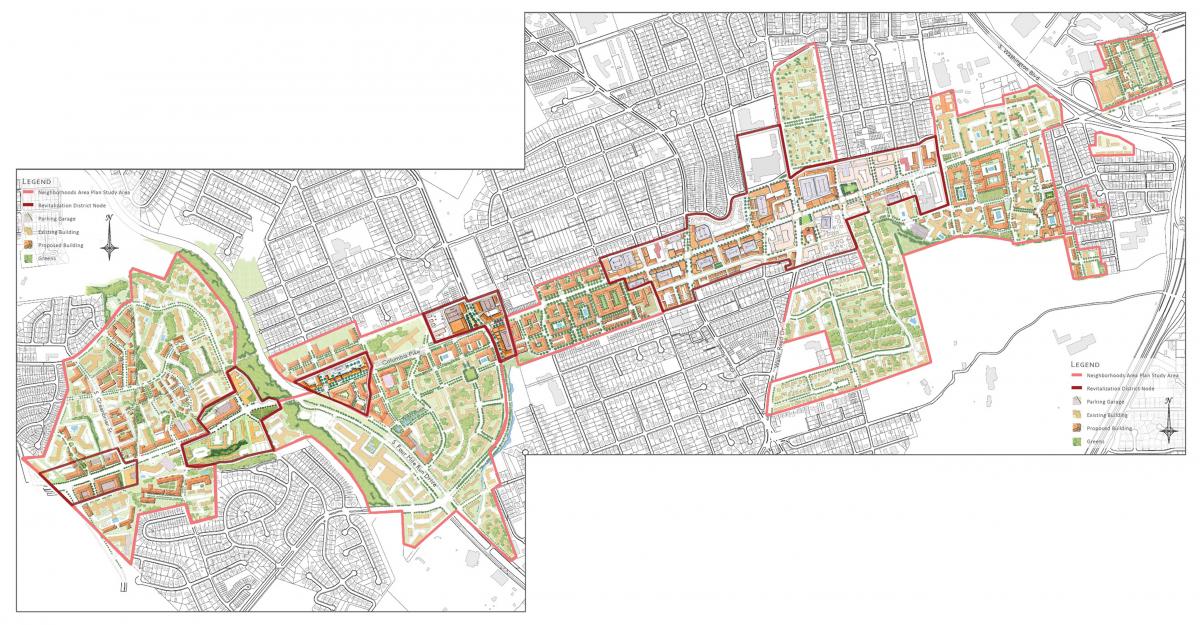 In addition to supporting walkability, Arlington has adopted an ambitious plan to maintain affordable housing. Affordability is disappearing all over Arlington because the fast-growing, 229,000-person county is close to downtown Washington, D.C. and its attendant high-paying jobs. The new Arlington plan calls for 10-11,000 additional housing units along the Columbia Pike in the coming three decades—while maintaining the current supply of affordable housing. With over 6,000 units planned within 40 to 80 percent of the area's median income, diversity is a key goal.
Housing along Columbia Pike was originally built to house workers for the Pentagon in the 1940s, and today these housing units are occupied by multicultural residents. "It's been called a world in a Zip Code," says former County Commissioner Chris Zimmerman. "There are 90 or 100 languages spoken, and immigrants from all over the world."
By the turn of the 20th century, Columbia Pike itself was a fading commercial strip. Much of the county's planning energy had until then focused on its two Metro corridors, where development pressure was high. Columbia Pike had tremendous potential, yet little redevelopment was taking place.
The zoning at the time fostered a "drivable suburban" pattern. Developers were not interested in negotiations to obtain higher densities that would allow public officials to demand improvements. 
Zimmerman began talking to experts from around the country—particularly Peter Katz, author of The New Urbanism—who recommended a form-based code as a way to get the Pike moving in a different direction. Residents were attracted to the idea of the Pike as a mixed-use, walkable place. Arlington hired Dover, Kohl & Partners and Ferrell Madden to write the plan and code.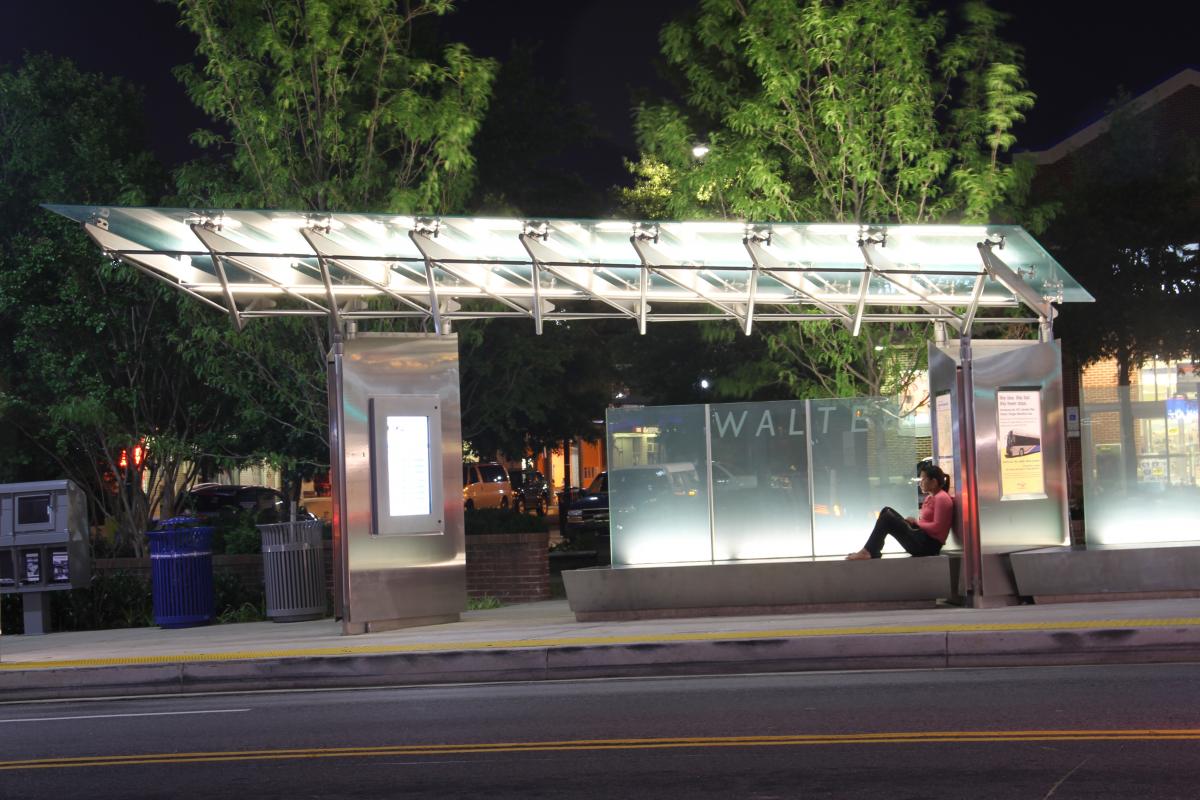 There was a vision of Columbia Pike not simply being a commercial strip, a way of moving people from one side of the county to another," says Zimmerman. "People wanted a main street serving the neighborhood—that's what led to looking at the form-based code and related New Urbanism concepts. These were tools to make it happen."