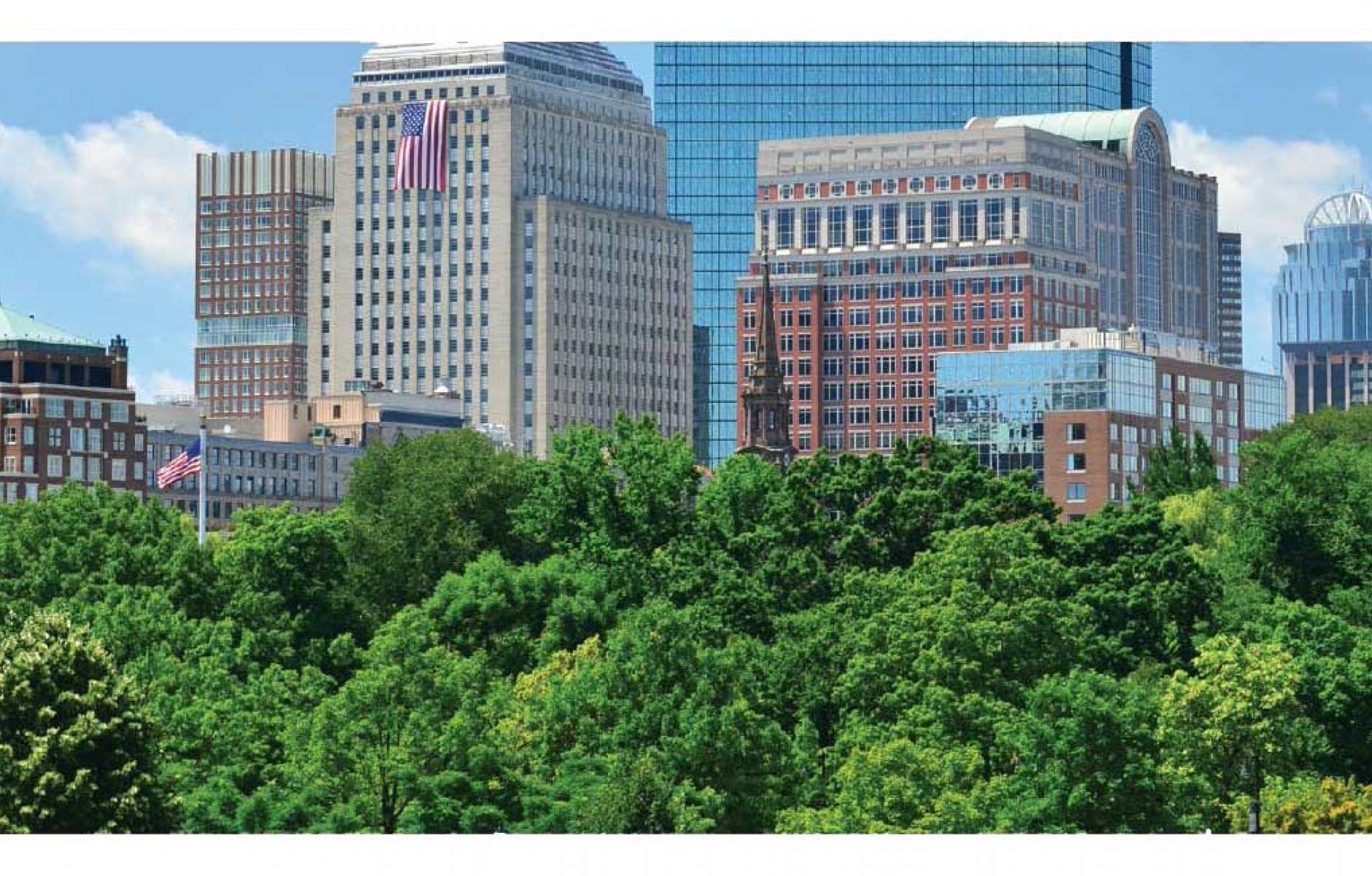 Source: Foot Traffic Ahead
'Walkable urban' dominates US commercial development
Mixed-use, walkable commercial development is outpacing large-scale conventional suburban construction in every major metro area, according to the new report Foot Traffic Ahead: Ranking Walkable Urbanism in America's Largest Metros, 2016.
For perhaps the first time in 60 years, walkable urban places in all 30 of the largest metros are gaining market share over their drivable sub-urban competition—and showing substantially higher rental premiums, the report says.
"This research shows that metros with the highest levels of walkable urbanism are also the most educated and wealthy (as measured by GDP per capita)—and, surprisingly, the most socially equitable."
The latter point—more socially equitable—runs against the common narrative. Foot Traffic Ahead confirms that walkable urban places are pricier today. "There are substantial and growing rental rate premiums for walkable urban office (90 percent), retail (71 percent), and rental multi-family (66 percent) over drivable sub-urban products. Combined, these three product types have a 74 percent rental premium over drivable sub-urban," notes the report by by Christopher B. Leinberger & Michael Rodriguez of The George Washington University School of Business.
"Counter-intuitively, measurement of moderate-income household (80 percent of AMI) spending on housing and transportation, as well as access to employment, shows that the most walkable urban metros are also the most socially equitable," the authors write. "The reason for this is that low cost transportation costs and better access to employment offset the higher costs of housing." The graph below correlates the percentage of development in walkable urban places and social equity.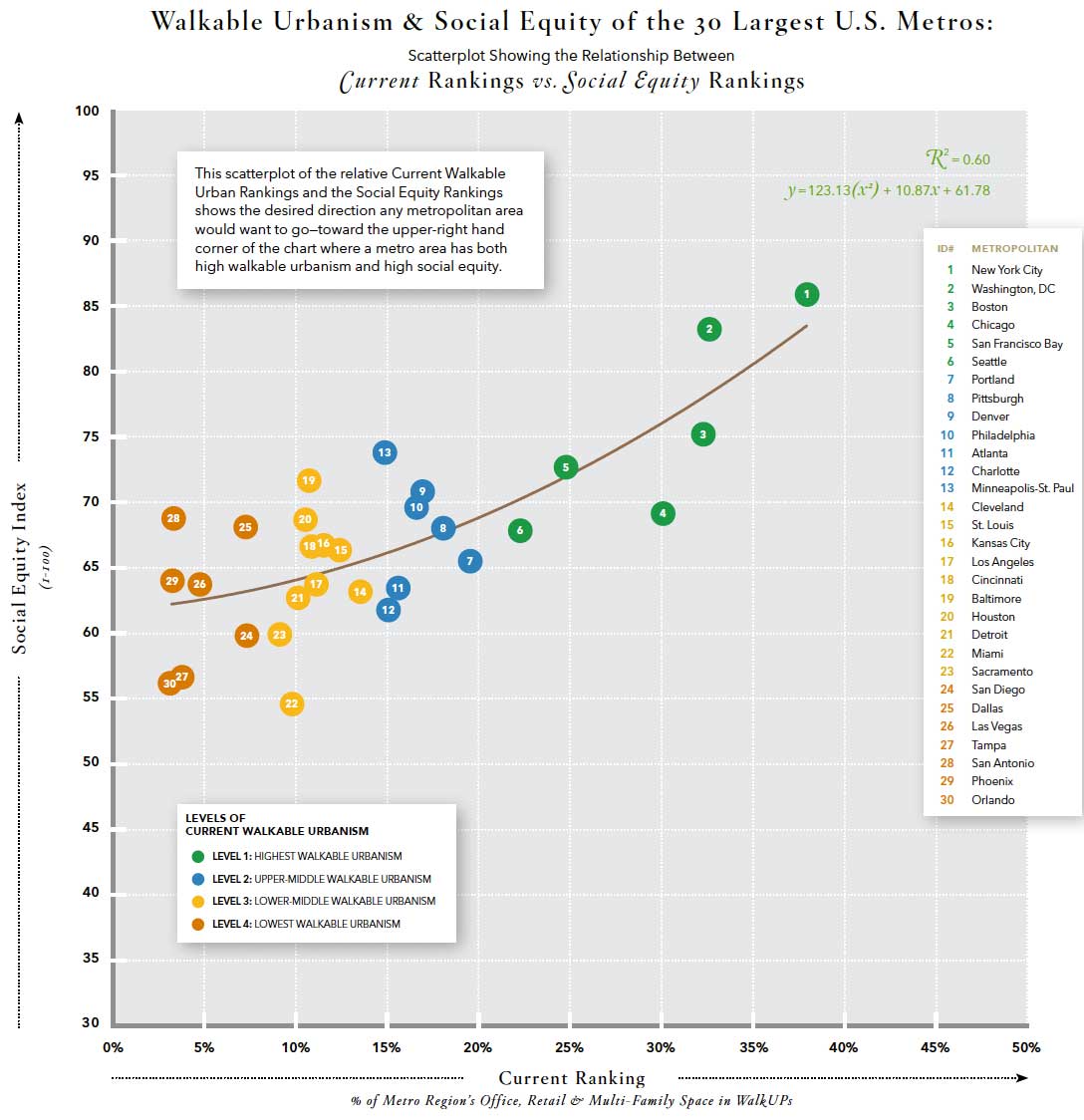 To reinforce that positive finding, the authors recommend aggressive development of affordable and subsidized housing in walkable urban places to ensure that lower-income people can continue to afford to live in these areas.
Also counter-intuitively, the suburbs hold the greatest opportunity for future urbanization of nearly all metro areas, the authors say. "Metro Washington, DC, serves as a model, splitting its walkable urban places relatively evenly between its central city (53 percent) and its suburbs (47 percent)."
The report focuses mainly on large-scale commercial development, which takes two basic forms. Walkable urban places include downtowns, mixed-use neighborhoods adjacent to downtown, older suburban downtowns, and new town centers. They account for about 1 percent of the land area of metropolitan regions, but a disproportionate share of economic activity. Drivable edge cities include major regional malls and business campuses—they account for 5-7 percent of the land area of regions.
There are 619 regionally significant, walkable urban places in the 30 largest US metropolitan areas, the report states. These 30 metros represent 46 percent of the national population (145 million of the 314 million national population) and 54 percent of the national GDP.
"Not surprisingly, the metros of New York, Boston, Seattle, and Washington, DC, rank in the highest group for both current walkable urbanism and walkable urban development momentum. A little more surprising, however, is that the metros of Detroit, Los Angeles, and Phoenix appear just as likely to experience a boom in walkable urbanism." Below is graph that shows the degree to which walkable urban places are gaining market share over edge cities. An index of 1.0 would mean that neither are gaining market share. Every city is above 1.0, the authors note. In the latter half of the 20th Century, most cities would have scored 0.4 to 0.6, they say.